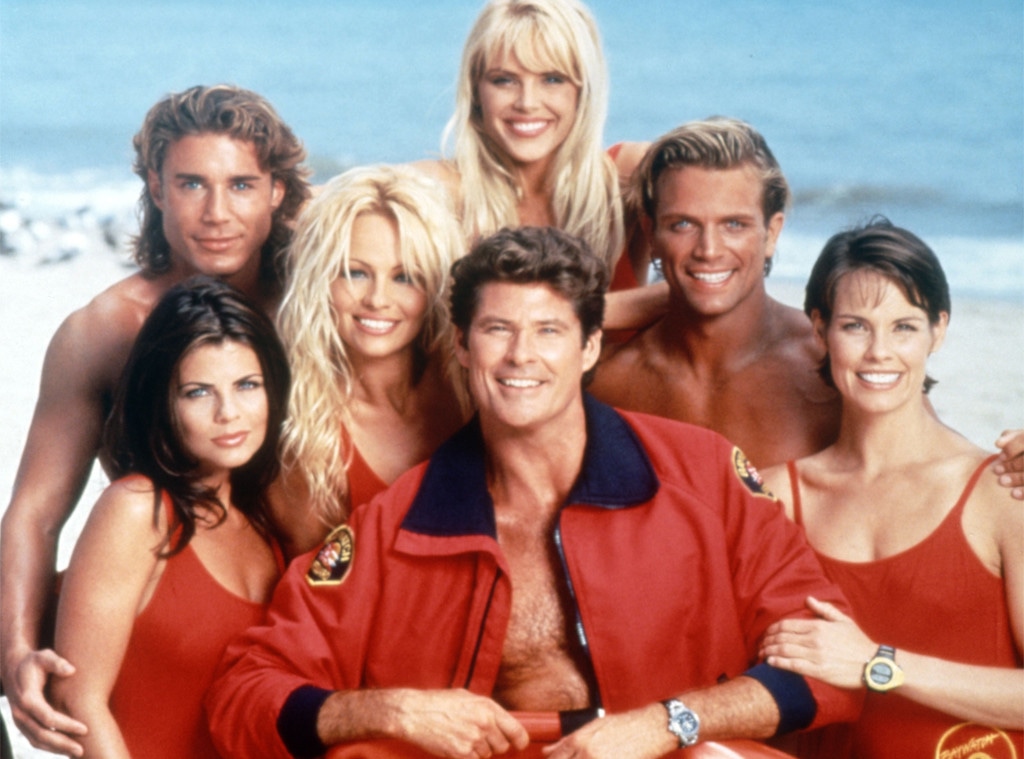 Fremantle Media/Shutterstock
Once upon a time, 30 years today, Baywatch bounced into our consciousness.
From the slow-motion running and idyllic beach scenery to the glistening torsos and iconic red swimsuits, the soapy prime-time drama had everything it took to both entertain the masses and not be taken one bit seriously.
Which isn't to say that the show, which renewed David Hasselhoff's momentum post-Knight Rider and turned Pamela Anderson into a household name, wasn't a certain kind of classic in its own right.
It ran for 11 years, after all, withstanding a mind-boggling number of cast changes, increasingly improbable plots and the fact that NBC canceled it after one season.
Hasselhoff recalled on the E! True Hollywood Story, which did a deep dive into the series in 2001, being "not surprised" to get the ax. "The show was taking a completely wrong direction."
But the creative team behind Baywatch wouldn't take no for an answer—and what they did was rescue their own show from the one-and-done dustbin of TV history.
Here are 30 things you should know about how Baywatch came together, almost fell apart and ultimately stayed afloat for all those years:
Baywatch may have been one of the cheesier shows in modern TV history, but it's also unarguably one of the most successful—and it is going to be the show, as Alexandra Paul said, that almost every person who was on it is going to be most remembered for. 
"I loved being active—running in the sand, working out, being in the ocean," Pamela Anderson told Esquire, per Yahoo. "A lot of the people that came on to the show before or after me weren't really comfortable in the ocean, and I grew up on an island, Vancouver Island, and I'd swam in a lot colder ocean than California, so I was like, 'This is easy! This is great! Are you sure you want to pay me for this?' I was Baywatch. I was that girl growing up. I was really, really lucky to get that job, and everything else has just kind of been... not as good."
Added Paul, "People would criticize Baywatch for being a fluffy show, and we never pretended to be doing brain surgery. We were a fluffy show. Everyone else seemed so disappointed and shocked about it—our show did do a lot of good things, especially in places like China or Iran, where people saw women wearing bathing suits and it was OK. To me, in a way, culturally, we did a lot of good. I think people don't give us credit for that."
"For a while it was just Baywatch that was really penetrating the international market, so we had some rock-star status," David Chokachi, who played Cody Madison for four seasons, recalled to Esquire. Traci Bingham (Jordan Tate, two seasons) estimated she definitely made more than $1 million from Baywatch—not in salary but from her connection with the show.
"It was like being on Baywatch was a cash cow," she said.
For his part, despite some well-publicized financial issues down the road, Hasselhoff's Baywatch haul was once estimated at around $100 million.
Yet even The Hoff has admitted that there were some trade-offs involved. Gleefully taking pride in steering Leo DiCaprio down another path in life, he told GQ in 2017, "You make a lot of money and you get worldwide fame...but when it comes to parts, they go, 'Uh, no, not you.'"
He said yes to appearing in the 2017 Baywatch movie with Dwayne Johnson and Zac Efron "because it's Baywatch," Hasselhoff said. "It's part of my legacy. And it would be stupid not to."
(E! and NBC are both members of the NBCUniversal family.)