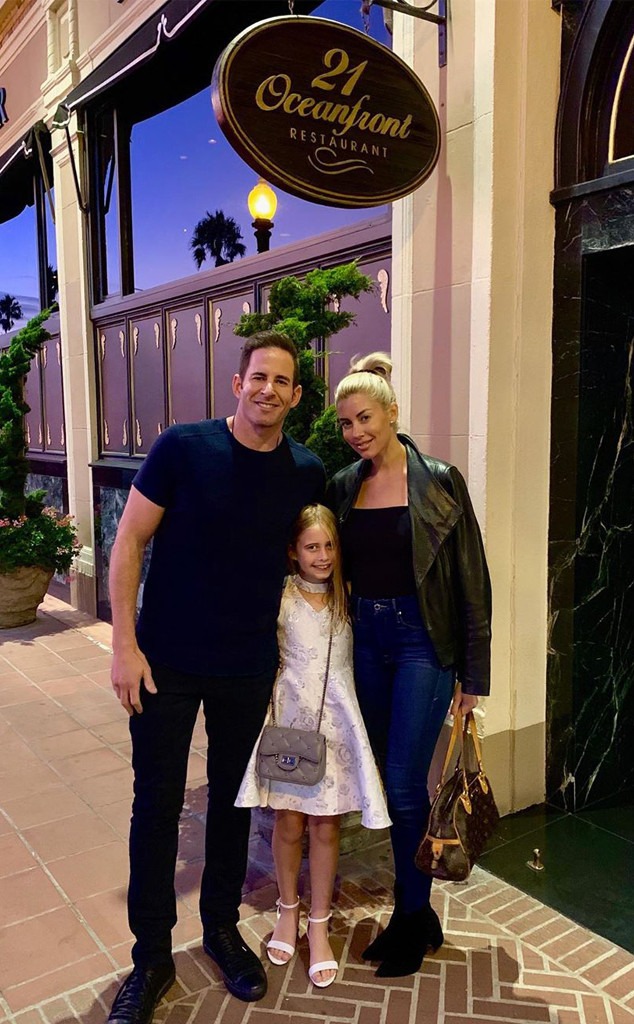 Instagram/Tarek El Moussa
Tarek El Moussa was surrounded by his favorite girls on date night!
The 38-year-old Flip or Flop star and his girlfriend Heather Rae Young, 32, recently took his daughter Taylor El Moussa out to dinner to celebrate her birthday. The little girl turns 9 this weekend.
"I know it's a little late for a post but....it's date night with my girls!!" he wrote on Instagram on Thursday, alongside a photo of the three. "For the past few years Tay and I have always gone to her favorite steakhouse! It's special to her because it's a 'me and her only' dinner spot. This time she asked me if we could bring @heatherraeyoung and my heart melted. Heather is just amazing with tay and they adore each other:)❤️ I just wanted to share our special 'date night' with you:)"
Tarek and Heather also posted selfie photos and videos of them with Taylor on their Instagram Stories. The three are seen raising a toast while sitting in a booth. Taylor is then presented with a sundae as her dad sings "Happy Birthday" to "the love of my life."
Tarek, who also shares a son with his ex-wife and Flip or Flop co-star Christina Anstead, confirmed in August that he is dating Heather, the star of Netflix's real estate program Selling Sunset. The two had first sparked romance rumors in July.
Instagram / Tarek El Moussa
"This is a new word for me, I never thought I'd say this word again, but this beautiful young lady, Heather Rae, is my girlfriend, officially, yeah," Tarek said on E!'s Daily Pop. "She's awesome. She's just, I feel really, really lucky to have met her. We have so many things in common. She's amazing."
Instagram / Tarek El Moussa
He also revealed at the time that Heather had just met his kids at a family gathering that also included his parents and sister.
Instagram / Tarek El Moussa
"Taylor and her friends put a dance show together—I recorded it—about how 'Tarek and Heather, sitting in a tree'...like a whole thing, and it was like the cutest thing ever," he said. "So the kids were really excited."
Tarek and Heather recently celebrated their own birthdays together. For hers, he surprised her with a lavish gift, a $250,000 Ferrari.