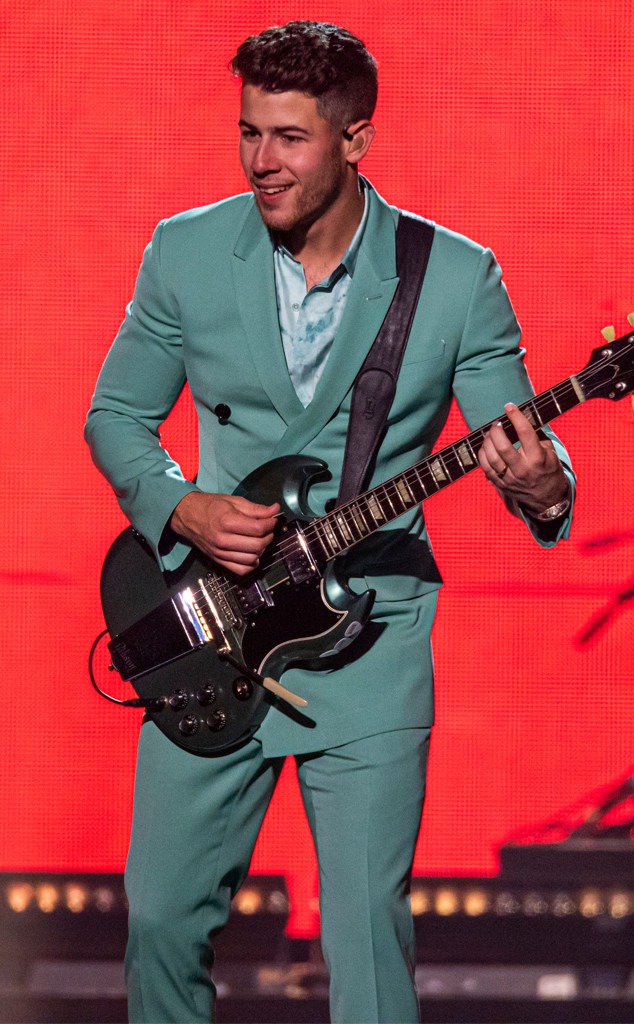 Scott Legato/Getty Images
It's a birthday Nick Jonas won't soon forget.
Earlier this week, the Jonas Brothers member stayed quiet on social media when he turned 27. But on late Tuesday night, the birthday boy revealed just how epic his celebration was.
Let's just say Priyanka Chopra didn't disappoint.
"I've been lucky enough to celebrate my 27th birthday over the past couple of days with family, friends, and fans in Chicago and St. Paul. My beautiful wife surprised me with a touch football game with some of my closest friends and family on the one and only Soldier Field in Chicago (!!!) followed by a few hours of Topgolf, and then a party where pizza, tequila, cake, and cigars were involved," Nick shared on Instagram. "The next day we played a sold out show in St. Paul where so many of you brought birthday signs and sang me Happy Birthday on stage."
He continued, "I can't thank you all enough for the outpouring of love and birthday wishes over the past couple of days. Means the world to have you all in my life. I'm endlessly grateful. Here's to 27!"
As seen in Nick's collage of photos, the football stadium that's the home of the Chicago Bears was able to change signs to read "Happy Birthday Nick."
And for those who didn't score an invite to the party, guests enjoyed a cake that read "Life as it should be. Happy birthday Nick." And yes, plenty of Nick's line of tequila called Villa One was served.
"The light of my life. Everyday with you is better than the last" Priyanka shared on Instagram when sharing a video with some of her favorite moments with Nick. "You deserve all the happiness in the world. Thank you for being the most generous loving man I have ever met. Thank you for being mine. Happy birthday Jaan. I love you @nickjonas."
So how is Nick kicking off a brand-new year? By doing what he loves, of course!
The Jonas Brothers continue traveling across the country for their Happiness Begins tour with opening acts Jordan McGraw and Bebe Rexha.
And who knows? Maybe Priyanka and Nick will be starting a family in the next year. After all, they have both expressed the desire to expand their crew in the future.
"I definitely want to be a father someday," Nick shared last December—and nearly a week after getting married to Priyanka. "And I have seen a lot of life at an early age and I hope to be able to share that with a kid of my own someday."