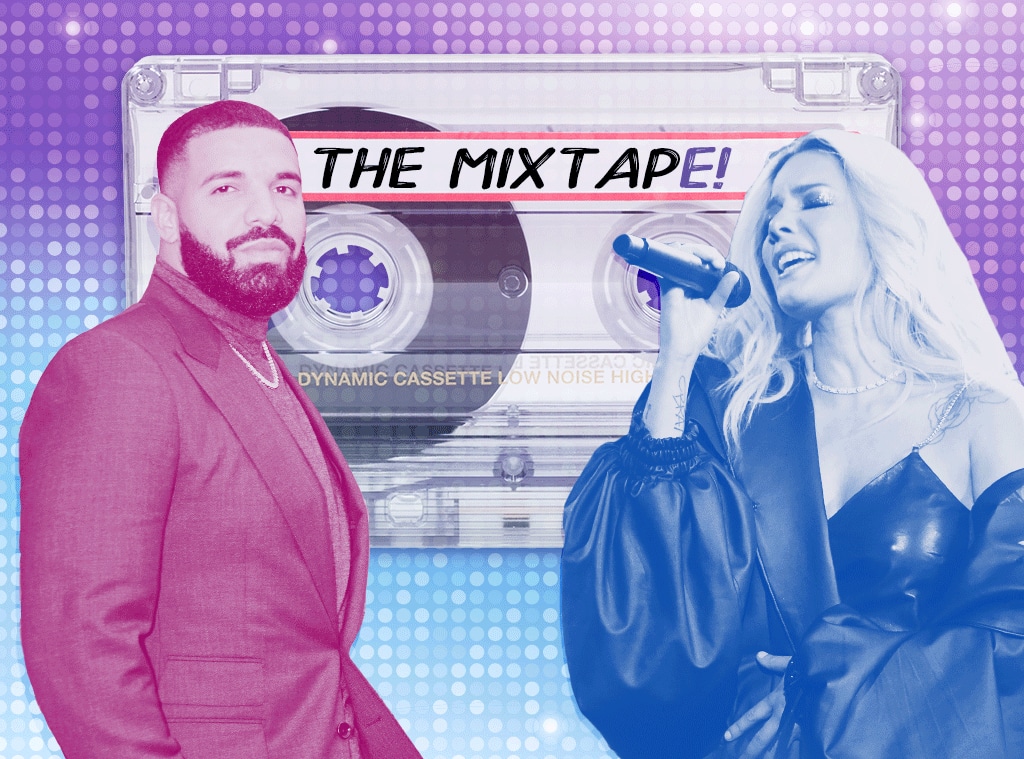 Getty Images/E! Illustration
New music Fridays are a thrilling, yet daunting prospect for any music lover. 
It's essentially a weekly holiday where fan-favorite artists and fresh faces alike drop their latest offerings for all the world to hear, flooding streaming services and digital retailers with an onslaught of aural goodies. But who has the time to sit there and listen to everything before updating their playlists? There's just too much good stuff! (And, if we're being honest, usually a few stinkers, too.)
As it turns out, we do. Welcome to The MixtapE!
By now, you've probably already given Ariana Grande, Miley Cyrus and Lana Del Rey's "Don't Call Me Angel," released on Friday, Sept. 13 off the Charlie's Angels soundtrack, a listen or two. But that's truly just the tip of the iceberg. From the start of Halsey's new album era to Drake's contribution to the Top Boy soundtrack, we've listened to practically all of it, separating the wheat from chaff. Here are our picks for the best of the best. You're welcome.
Halsey — "Graveyard"
To kick off promo for her third studio album Manic, due on January 17, 2020, Halsey dropped this track, an unexpectedly buoyant pop track produced by Jon Bellion and The Monsters and the Strangerz (Camila Cabello's "Shameless" and "Liar") alongside Louis Bell (Taylor Swift's "I Forgot That You Existed") and Ojivolta (Shawn Mendes' "If I Can't Have You") that finds her singing about a relationship she'd follow anywhere over some percussive hand claps. "Oh, 'cause I keep diggin' myself down deeper/I won't stop 'till I get where you are," she promises in the chorus. "I keep running when both my feet hurt/I won't stop 'till I get where you are/Oh, when you down all your darkest road/I woulda followed you all the way to the graveyard." Oof.
Drake — "Behind Barz" 
The 6 God didn't just help bring UK crime drama Top Boy back to life for a third season on Netflix, he also popped up with an appearance on an album of music inspired by the show, released the same day the new episodes dropped on the streaming giant. And he's in total beast mode on the track, which began as a freestyle on British rap-based YouTube channel Link Up TV over a year ago. "I don't give a f--k about jeans and crap/Or goin' to Milan or goin' to the Met," he swears in the second verse of a menacing production that means business. "I just wanna make these songs for the set/I just wanna load that and let that wet." 
Charli XCX — "White Mercedes"
It's been a while since Charli released her last official studio album, Sucker. But five years, two mixtapes, and a delightfully ubiquitous presence in the pop music scene later, Charli is finally here. And despite the fact that she released nearly every major collaboration on the album (of which there are quite a few) before dropping the album, the 15-track album is full of goodies just waiting to be discovered. Top of that list is "White Mercedes," which finds the singer baring her soul to a suitor who she's worried she'll never be good enough for. "This is one of my favorite songs from the album," she told Apple Music. 'I guess it's my version of a ballad." When she sings "The only good inside of me is you" your heart might break right in half. (And if you're looking for something a bit more party, look no further than "Shake It." Featuring verses from Big Freedia, Cupcakke, Brooke Candy and Pabllo Vittar, it's basically a twerk song for the future when the robots outnumber the humans. And we mean that as a compliment.)
Charlie Puth — "Mother"
The maturation of Charlie Puth continues with this track, the second released ahead of his third studio album. And like "I Warned Myself," this one finds Charlie feeling himself just a bit—and deservedly so. While the title may hint at a sweet song dedicated to his mama, "Mother" is anything but. "If your mother knew all of the things that we do," he sings in the chorus. "If your mother knew, she'd keep me so far from you." It's a flirty little pop song that'll have you singing along in no time.
Miranda Lambert feat. Maren Morris, Elle King, Ashley McBryde, Tenille Townes and Caylee Hammack — "Fooled Around and Fell in Love"
What better way to highlight all the acts she's bringing along on her Roadside Bars and Pink Guitars Tour, kicking off on Friday, Sept. 13, than to gather them all for this gorgeous cover of Elvin Bishop's classic blues track? If this is what Miranda has in store for ticket holders, this is going to be one special tour indeed. What can we say? There's not a single misstep here. Just six women at the top of their games making music magic.
Sam Fender — "You're Not the Only One"
Named one of the BBC's Sound of 2018, Sam's been referred to as the Geordie Springstreen. All it takes is one listen to his debut album Hypsersonic Missiles to see why. With tracks like "The Borders," "White Privilege" and "Dead Boys," he's not afraid to take on capital-I issues while staying true to his rock sound. It's this track, though, where his lyrics about small town frustration come alive in a truly standout track. By the time the sax kicks in, you'll feel like you're flying. Trust us.
Sampa the Great — "OMG"
OK, so this one is a bit of a cheat. This track from the Zambian-born Australian rapper has been out since July, but considering her debut album, The Return, just dropped today, we're making an exception. And when you give it a listen, you'll see why. (Besides, we make the rules around here, which means we can break them as we see fit.) There's something so wildly original about Sampa's sound, a melding of styles that cross continents and eras. And the video? F--king stunning.
Wrabel — "the real thing"
We've been fans of singer-songwriter Wrabel since his gorgeous track "11 Blocks" dropped in 2016, followed by a feature on Marshmello's "Ritual" that same year. Having written for the likes of Ellie Goulding, Adam Lambert and Lea Michele, he dropped his new EP one of those happy people today. And while this track, the collection's lead-off song, has been around for a few months, we're bringing it to you today because it's just that good. If the music supervisors for shows like Grey's Anatomy or Riverdale aren't fighting to secure this as the soundtrack to a racy scene between one of the show's couples, a crime will have been committed.
Masego — "Big Girls"
How to describe the Jamaican-born, Virginia-raised Masego's (born Micah Davis) sound? He refers to it as "TrapHouseJazz." Whatever you want to call it, it's delicious. On this new track, an ode to the titular ladies, the plucking of a stand-up bass marries with a house beat to create something lush and truly one-of-a-kind. We can't get enough.
Major Lazer feat. J Balvin and El Alfa — "Que Calor"
Diplo's continued and questionable cowboy drag aside, this track from the dance music legends that finds them going global with the Colombian singer and Dominican rapper could've been a Song of Summer contender—if only it'd been released in the summer. But we won't hold that against the track. Not when it's this good. If you're not moving your body by the time El Alfa's verse kicks in, something is very, very wrong. What heat indeed.
Bonus Tracks:
Fall Out Boy feat. Wyclef Jean — "Dear Future Self (Hands Up)": Hot girl summer is over, so, naturally, it's time for fall out boy. (We know, we know. We'll see ourselves out.) Though, with this hot new track, we don't have to say goodbye to the season just yet.
Ariana Grande, Miley Cyrus and Lana Del Rey — "Don't Call Me Angel": Lana's verse sounds like it's from another song (or planet) entirely, and yet, it's our favorite part of the song. Don't @ us.
Jason Aldean — "I Don't Drink Anymore": One of four new tracks released ahead of the star's forthcoming ninth album, appropriately entitled 9, this classic country ballad totally subverts your expectations by the time the first chorus is over. And that's why we're into it.
The Knocks feat. Gallant — "Exit Sign": So many people out there unwilling to let summer go just yet. These guys are three of them. Gallant's silky-smooth vocals are right at home over the duo's funky house production. There's gonna be a lot of sweating on the dance floor to this one.
Xavier Omär & Sango — "Thief": This song is so sultry, it should be illegal. That's it. That's the tweet.