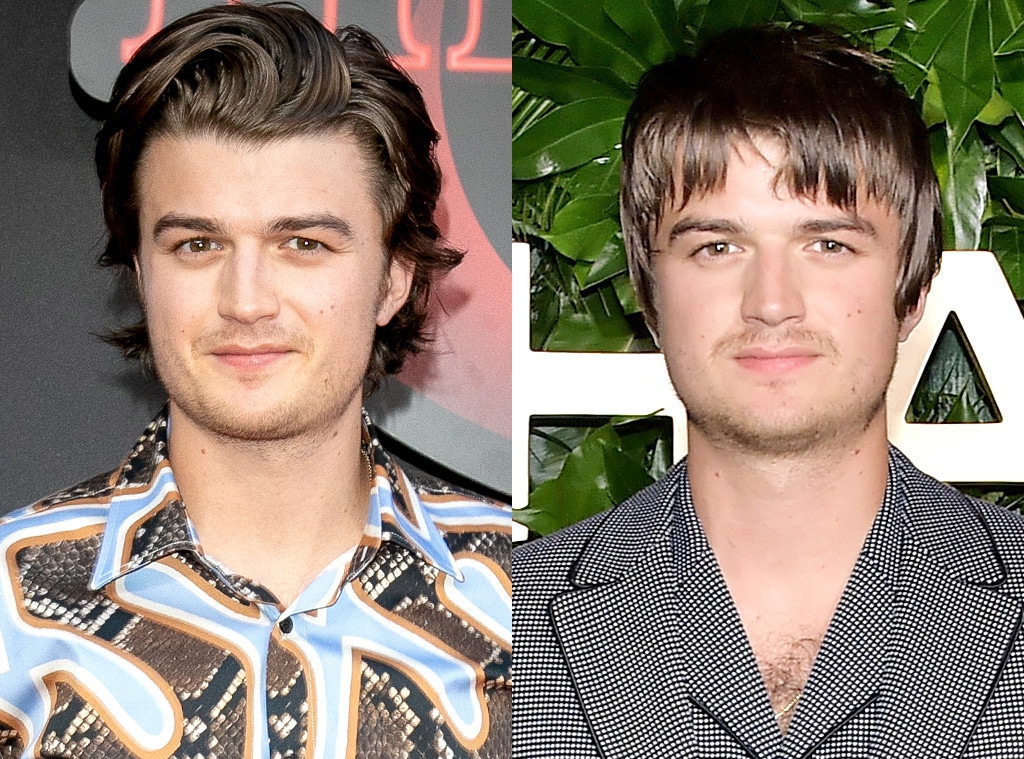 Getty Images
Note to self: Never get bangs.
The Stranger Things community is in mourning after learning the unfortunate news that Joe Keery has cut his beautiful locks into a bowl cut. He debuted the new hairstyle at Margot Robbie and Chanel's celebration for the Gabrielle Chanel Essence in West Hollywood on Thursday night. Joe and his girlfriend Maika Monroe walked the carpet together in gray and black outfits that stylishly stood in stark contrast to the green floral background. 
While his outfit was chic and trendy as usual, the hairstyle seems to be a disappointment to fans who adore the actor's wavy locks. Gone is the abnormally sexy mullet that Steve "The Hair" Harrington rocked in Stranger Things and in its place is a shaggy bowl cut. Some might say that the cut elicits memories of Jim Carrey in Dumb and Dumber. 
One person on Twitter shared, "I am in mourning of joe keery's hair please do not speak to me for at least 3 hours."
But Joe isn't the only star going rogue at the hair salon. Harry Styles literally caused chaos when he debuted a similar bowl cut. In fact, the new 'do had fans drawing comparisons between Harry and Charlie Heaton's Stranger Things character, Jonathan Byers. "ok but can someone tell me when the f--k harry styles cut his hair like, it was so short?????? how did he jonathan byers his hair in like a week," a Twitter user joked.
Haircuts aside, Joe's career is thriving. In season three, he and Maya Hawke single handedly stole the show with their lovable characters that worked at Scoops Ahoy. And now, he is making waves with solo album debut. 
"Twenty Twenty is out today, so many people to thank, but I wanna give @theinada a shout, this wouldn't have been realized without you. Thanks for listening," the 27-year-old shared on his Instagram on Friday. 
The artist formerly was the guitarist and did vocals for the indie rock band Post Animal, but took some time off to focus on his acting career. But now, that he has some time off from filming, he is returning to the studio to focus on his solo music career, and thank god, because the album is a bop.