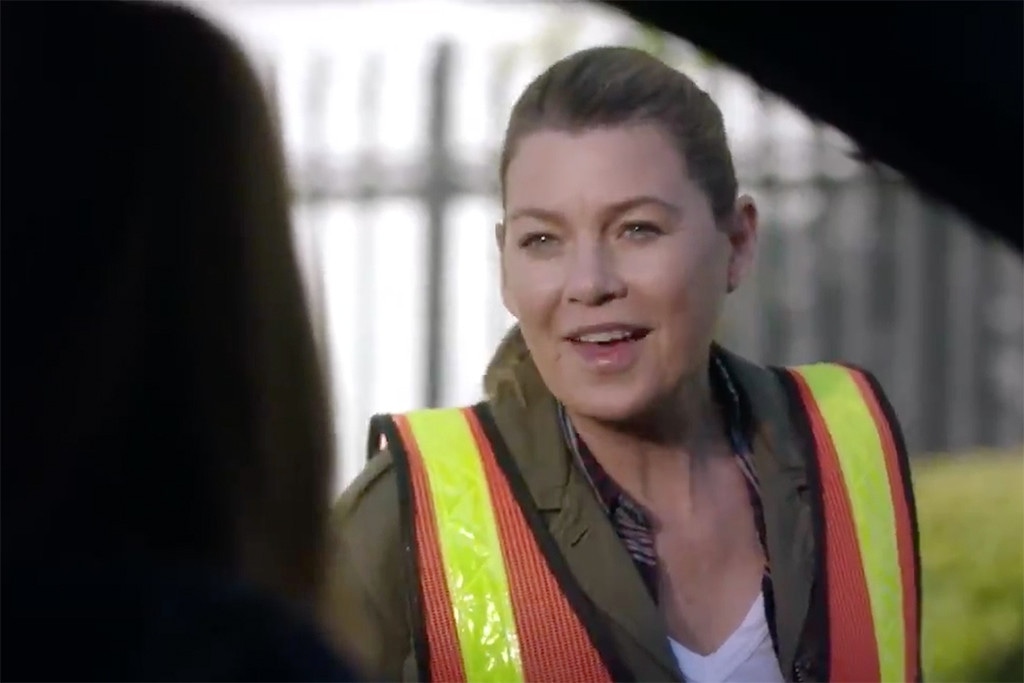 ABC
No one is getting off easy in Grey's Anatomy season 16. 
After everybody had a good time falling in love and committing the occasional crime in season 15, they're now facing the music in a way they never really have before on this show, to the point where showrunner Krista Vernoff tells us it was like "a party in the writers' room," especially for the writers who had been around for up to 16 years. 
"Any time when you're 16 seasons in, you come up with a stroke that bold, it inspires all of your conversations moving forward," she says. "The danger in a long-running series is simply repeating yourself all the time, and this felt like a thing we had never done, a thing no one expected us to do, and it sets us up for a season 16 that feels really different and alive and fresh." 
The bold stroke she's referring to is that after Meredith (Ellen Pompeo) committed insurance fraud to get a little girl the surgeries she needed, Meredith and her co-conspirators Richard (James Pickens Jr.) and Alex (Justin Chambers) were fired. Mer is now also facing the law, since she had to turn herself in to get DeLuca (Giacomo Gianniotti) out of jail for taking the fall for her. 
Vernoff tells us that the premiere will pick up right where the finale left off, and will then span four weeks, but that won't be nearly the end of this particular story, which marks a "pretty radical" change for the series that she says is "playing through this season in a real way." 
"I promise you we're not wrapping it up on one episode, but we're spanning some time," she says. "And we're sort of setting our foot forward on the new path for the season in the premiere, but the ramifications of last season play through this season." 
In fact, that may just be the long-awaited theme of season 16. 
"We talked about season 15 as the season of love, and we've been saying in the writers' room this year that it feels like the end of 15 was the end of the romantic comedy. Like if you think of season 15 as a romantic comedy movie—I often see romcoms and wonder what happened after that. Like often in a romcom a person chooses someone they love over someone else, but you don't play through the consequences. You don't get to see what happens after the happily ever after, and we've kind of been joking that season 16 is like the fallout from season 15."
What happens after you say "I love you?" to your jailed boyfriend? What happens after Teddy (Kim Raver) chooses Owen (Kevin McKidd), while Tom (Greg Germann) is building her a nursery?
"Like that's a fun, dramatic, romantic thing, but then there are consequences, and it feels like the early part of season 16 is about the consequences," Vernoff says. "And so for Meredith and DeLuca, it's like they were in the puppy love stage and now there's pretty dramatic stuff happening her life, and that will test a new relationship." 
And if you're wondering if that means we should be worried for MerLuca, the answer is yes, always yes. And that goes for all the couples. And for everyone in general.
"When you guys have the question, 'should we be worried?,' My answer is yes across the board," she says. "Anyone who's thinking they can come in knowing what couples are solid or safe, or what to expect, should be a little worried." 
Vernoff says she's really excited about this "dynamic, dramatic season 16." 
"We've shaken everyone up at the end of season 15," she says. "We're playing that through, and it's kind of like what's happening with this season is right when you think you know what's gonna happen next or right when you think think you know what to expect, we're taking a left turn." 
Here's what else there is to know about what's happening: 
Jackson and Maggie: "We left them in not a great place and we pick them up in not a great place, and you have to watch to know how it plays out." 
We now know thanks to the first episode's description that Jackson (Jesse Williams) is not dead and has to "help a man in a dangerous situation as his relationship with Maggie (Kelly McCreary) comes to a new crossroad." But none of that is making us feel any better. 
Jo and Alex: Jo (Camilla Luddington) committed herself at the end of last season, and Vernoff says the season "follow[s] through on that story in away that feels really beautiful and honest to me." 
"We play a little bit of it in the season premiere and then we play a little bit more of it a few episodes into the season, and I feel really hopeful for Jo and Alex because she's addressing her mental health, but that can be frightening for Alex because he has a history of women in his life with mental health problems," Vernoff says, reminding us of Alex's mother and ex. "So for sure as we head into our season, Alex is shaken up and it's hard to know exactly where they're going to land." 
Richard and Alex: Richard and Alex may not have exactly committed the same crime Mer did, but they're fired for knowing about it. This results in both comedy and drama. 
"Jim [Pickens] and Justin [Chambers] are very funny this season, and it's not just comedy. This show lives in that dramedy place, so there are dramatic ramifications and consequences, particularly for Richard. It's a dramatic shift to be fired from the place that you've worked all these years, and to have your wife sit by and not do anything about you being fired. So there are dramatic consequences for sure, but there's a lot of comedy surrounding it." 
Grey's Anatomy returns Thursday, September 26 at 8 p.m. on ABC.