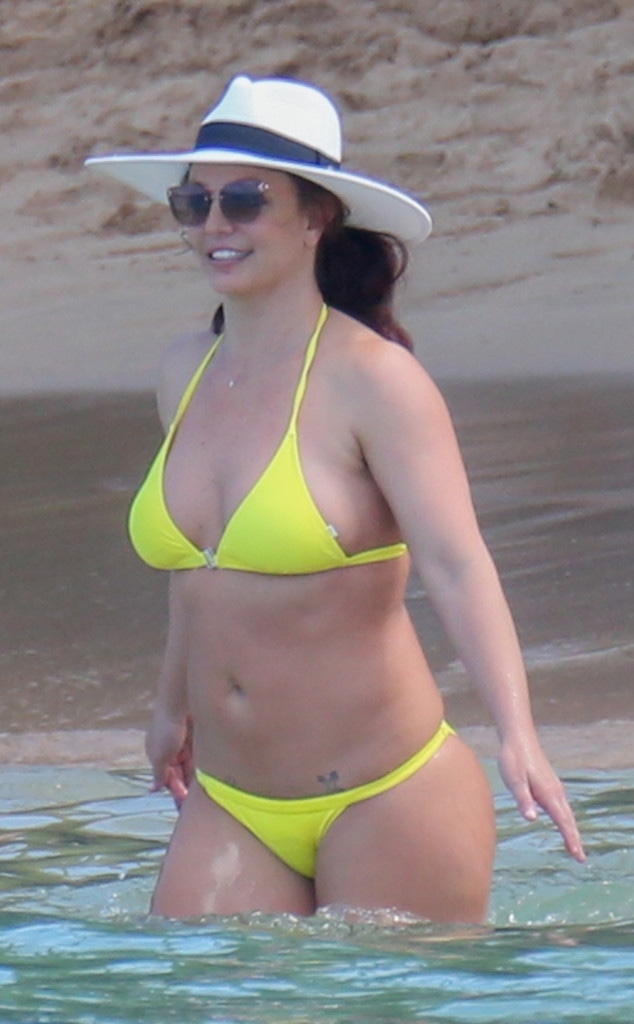 BACKGRID
Britney Spears appears to be feeling stronger than yesterday.
The superstar singer, who has been dealing with family drama in recent weeks, traveled to Hawaii for a much-needed getaway. E! News has learned that Spears arrived in Maui on Monday, with an assistant and two bodyguards, and checked into an ocean front room.
"On Tuesday, she hit the beach and she seemed happy and relaxed," an eyewitness tells E! News. "She wore a yellow bikini and headed straight for the ocean. She squealed as she jumped over the waves. All her troubles seemed to melt away. She loved being at the beach and outside."
The source adds that Spears "seemed excited and the big grin never left her face."
"When she got out of the water she went back to her beach chair. She drank water and did some stretching," the eyewitness shares. "Her security was watching over her and making sure nobody bothered her. With her dark hair nobody noticed it was her. She didn't stay long and went back to her room."
According to the insider, Spears, 37, spent Wednesday at the hotel gym and in her room.
"She kept to herself and just checked the views from the balcony," the source says. "She visited the hotel shop and bought some snacks. She didn't stay long and went back to her room."
Watch:
Britney Spears' Dad Jamie Spears Requests to Step Down As Conservator
Spears' trip to Maui comes amid a trying time for the star. In late August, Spears' ex-husband, Kevin Federline, filed a police report, accusing the singer's dad, Jamie Spears, of abusing their 13-year-old son Sean Federline. Federline filed the report after an alleged incident between his ex-father-in-law and his and Spears' eldest son. The former couple also shares son Jayden James Federline, 12.
A representative for Federline told E! News that his client was acting in Sean and Jayden's "best interest."
In early September, after news of the alleged incident made headlines, a source told E! News that Spears was "very upset" with her dad. Days later, E! News obtained documents showing that Spears' father had requested to temporarily step down as her conservator due to "personal health reasons."