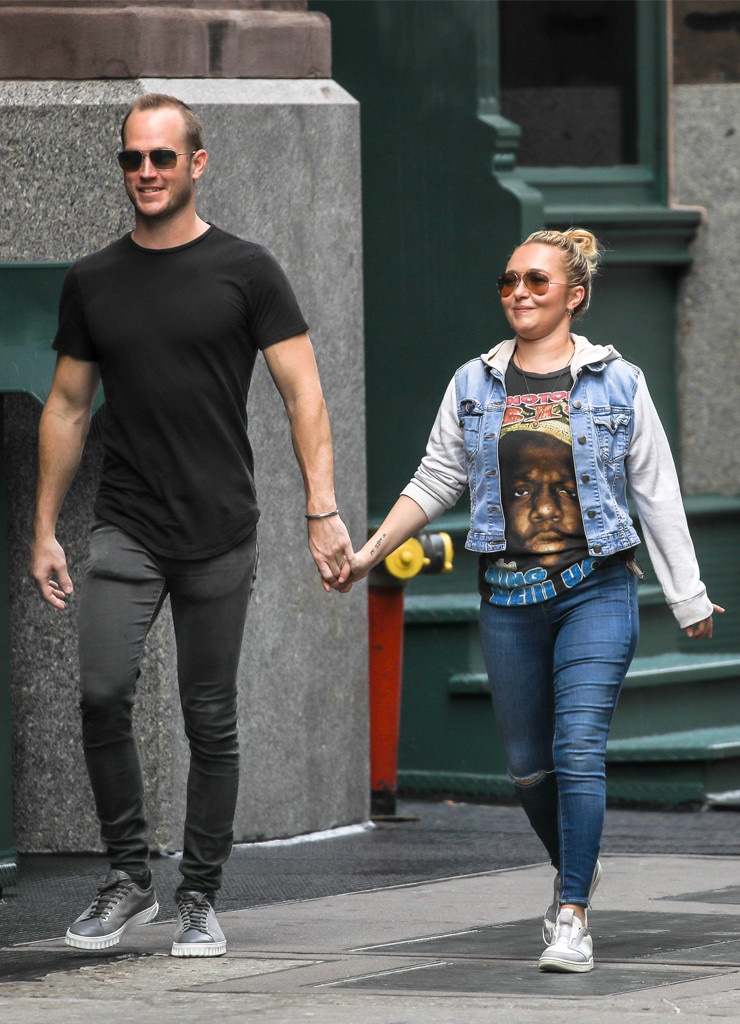 TheImageDirect.com
Moving on?
Hayden Panettiere appears to be in good spirits after a chaotic few months with her ex-boyfriend, Brian Hickerson. In fact, the Nashville star was recently spotted holding hands with her ex's brother, Zach Hickerson, in New York City.
According to an insider, the two walked arm-in-arm on Sept. 4 in the SoHo neighborhood. And even as photographers captured their every move, the source said they "continued holding hands, laughing and smiling."
"They looked very comfortable. Like a real couple," the insider shared of their afternoon stroll. "They looked playful, happy and also very close and affectionate."
This news comes nearly four months after Brian was arrested for domestic violence for allegedly getting into a violent alteration with the 30-year-old actress. Additionally, he was ordered by a judge to stay away from Hayden and was prohibited from owning firearms. Following the court's rules, the Nashville star separated herself from her boyfriend.
With so much going on in the actress' life, a separate source told E! News that she "has been leaning on Zach with the hopes of getting over Brian." However, those in Hayden's inner circle aren't too happy about it, according to our source.
"Many of those closest to her feel hurt by Hayden's decision to spend time with Zach after they supported her move to NYC with the hopes that it would bring a fresh start to her life," the source explained. "A month ago everyone was feeling very optimistic about her situation, but the consensus now is that Hayden simply doesn't want to get her life back on track."
But despite how close the 30-year-old actress and Zach have become, In Touch Weekly (who first broke the news) reports there is nothing "romantic" going on between them. A source close to the Hickerson family told the publication, "Hayden and Zach are just friends. They have been friends for as long as she's been dating Brian."
It appears Hayden is simply trying to moving on after her split with Hickerson.
Back in June, an insider told E! News she was "focused on herself" and it looks like she's in better spirits.
"It's been really hard for her, but her family has advised she take time for herself right now and get her priorities straight," the source shared at the time. "Hayden knows she needs to focus on herself and had to split with Brian for now in order to make huge positive strides in her life. She is taking it day by day trying to heal. Hayden is trying to stay low-key and process what's next for her."