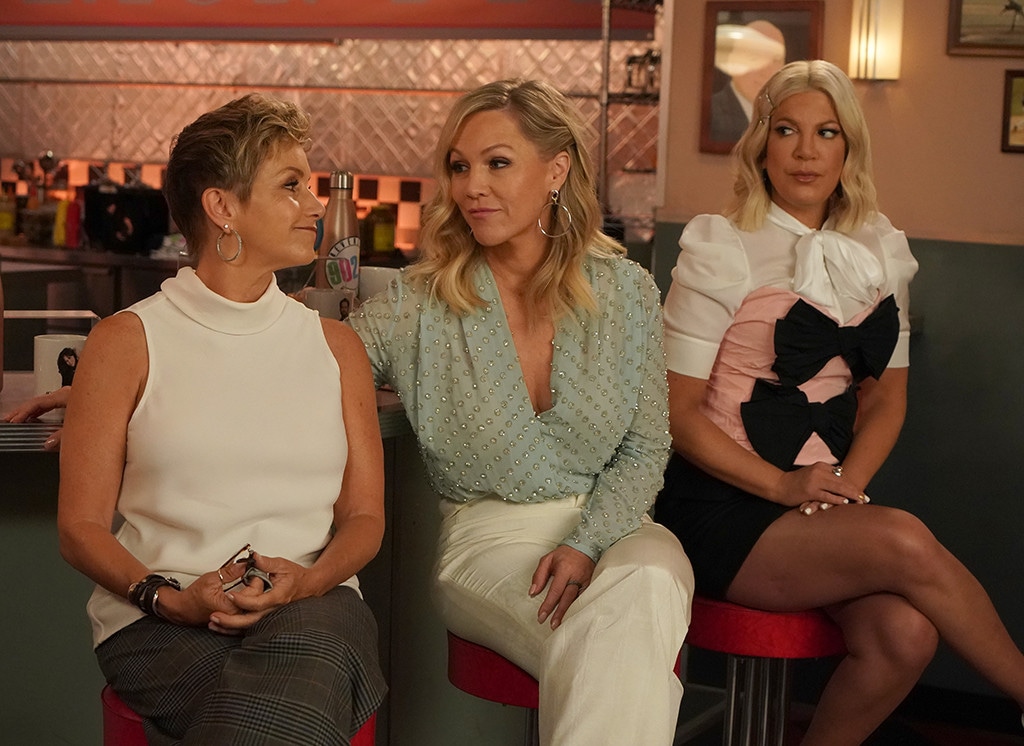 Fox
So, about that The O.C. reboot...
BH90210 just ended its first (only?) season after a battle for pick up by Fox, and if there's a season two it's going to be quite something. The reboot's been picked up, but the pilot will be reshot, production is moving to Vancouver, one of the seven leads will have to be fired, and both the writer and Jennie's daughter are being replaced. 
In this universe, the show was battling against a reboot of The O.C. that miraculously revived Marissa, and which Mischa Barton was passionately promoting on Twitter. This aspect of the finale, this joke about The O.C., was the most entertaining part of this finale, which wrapped up this six-episode season with a series of bummers. 
Jennie's hot bodyguard turned out to be a little nuts and got her initials tattooed on his chest. Brian Austin Green's secret son turned out to not be his son, which made him very angry at his own wife, and it turns out the secret son might actually belong to Jason, who just ended things with Camille. 
Ian Ziering reunited with former 90210 guest star Denise Richards and hooked up with her, right before discovering his previous hook up, writer Anna, was none other than Denise's daughter. And Tori and her husband are fine, though there's still that spark with Brian, while Gabrielle vaguely introduced her husband to Christine. 
The season ended with the entire cast walking out at Fox's Upfront presentation, and we found ourselves confused. What was the point of this? Why did this exist? But also, can we have more? 
We definitely expected more to come out of the stalker storyline that apparently did end with a random fan being arrested last week, and we can't say that the plot of this six episode experiment wasn't lacking. But what we can say is that watching all of these people make fun of themselves and their legacy while at the same time respecting the cultural impact of their primetime soap opera was pretty delightful, and if there is a season two, and if it can iron out a more consistent plot (with less focus on fake marriages we don't care about), then we'd watch a whole lot more of this odd show. 
If there is a season two, Tori Spelling told E! News that it would be "a show within a show" as the cast films the full reboot, as if this show weren't already meta enough. 
BH90210 aired on Fox.