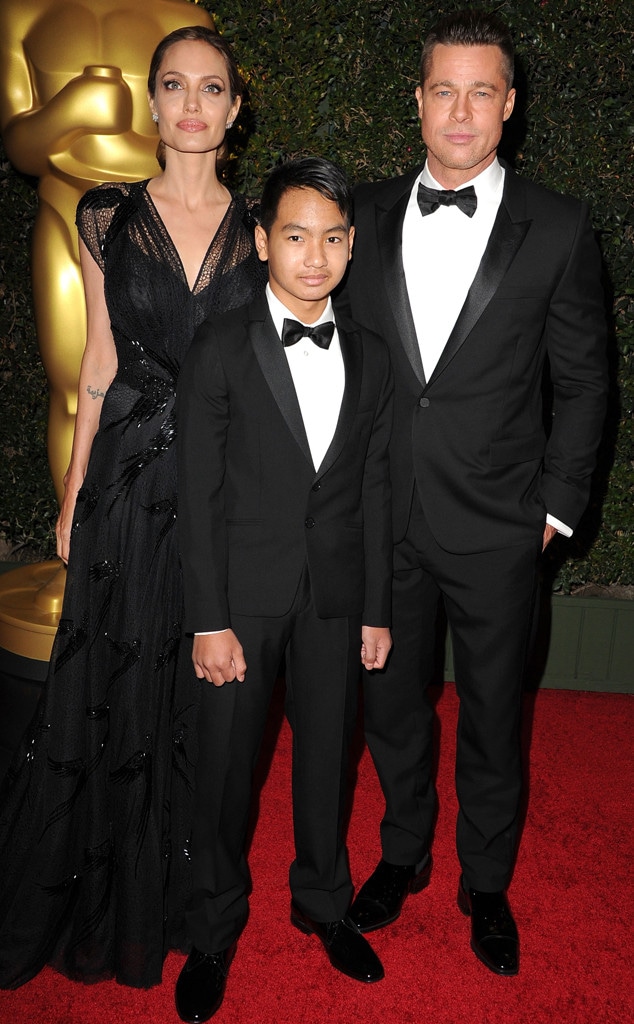 Steve Granitz/WireImage
Back in August, Angelina Jolie was as proud as ever as she dropped son Maddox Jolie-Pitt off at college in South Korea. And now, she's likely just as impressed with how well he handled this situation.
The 18-year-old, who kicked off classes at Yonsei University, was recently approached by a paparazzi and asked about whether dad Brad Pitt planned to visit him at school. 
"I don't know about that, what's happening," he replied according to a video obtained by InTouch. "Whatever happens happens." Seemingly taking a cue from his expert interviewee mom, he turned the conversation to his life as a college freshman. He said he's living in the dorms, doesn't speak Korean (yet) and isn't a fan of K-pop (yet).
The father-son duo have had a strained relationship since his parents' split began to dramatically unfold in September 2016. Days before Angelina filed for divorce, the Ad Astra actor, 55, and his eldest son reportedly had an altercation mid-flight on a private plane, which prompted an investigation from the Los Angeles' Department of Children and Family Services.
At the time, a source told E! News that the incident "was a parent/child argument," with a second insider saying the verbal altercation was the kind of disagreement "that sometimes occurs between teenage boys and their father."
Both sources confirmed to E! News that no abuse took place. "There was no punching, and there was no inappropriate contact,"  one insider shared. "This was a very normal family argument."
Afterwards, Maddox refused to see Brad. They finally met face-to-face in October of that year with a therapist present.
Watch:
Angelina Jolie Reveals if Maddox Will Produce Again
And while their relationship continues to have its ups and downs, Maddox remains tight as ever with his mom. In 2017, he served as the executive producer on her film First They Killed My Father.
Indeed, working with Angelina was a delight, as he told People, she's "fun, funny, and easy to work with. She's a wonder."
She is equally in awe of her brood. In a recent interview with Hello!, the Oscar winner reflected on motherhood now that her six kids are growing up.
"I find my children are strong individuals but still open-minded," Angelina told the publication. "I try to lead by example and be kind and gracious, as my mother was–and loving and tolerant. But when there's a fight that needs to be had, get in there. We need to prepare the next generation because there's so much happening in the world–they're up against it."