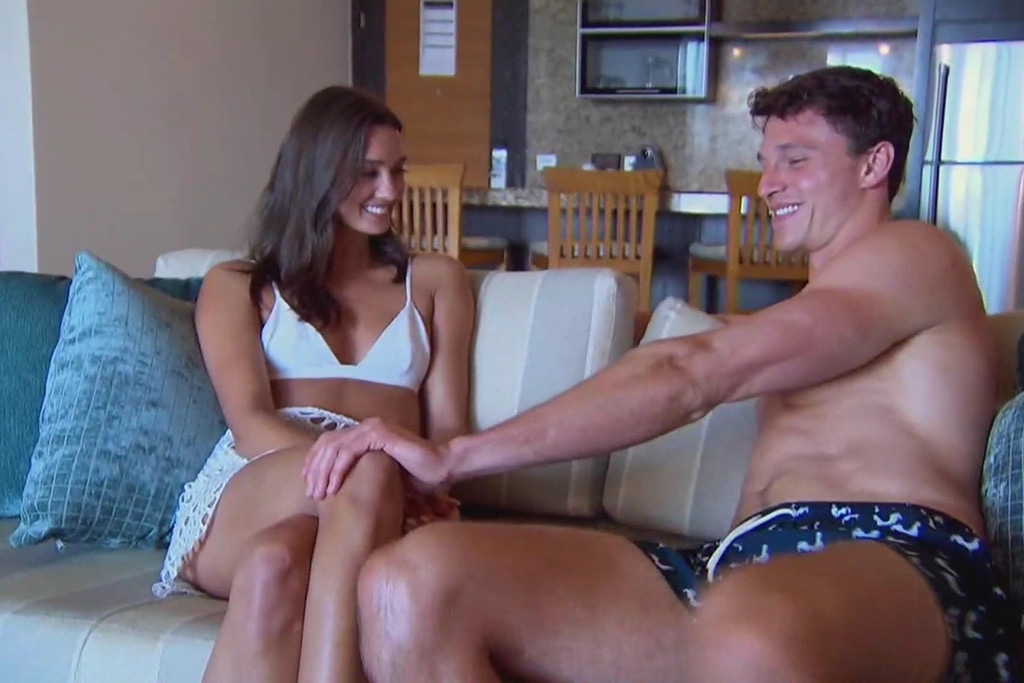 ABC
Bachelor in Paradise may have just given us its most beautiful, most dumb love story all season, all over the course of 20 minutes. 
Connor, who had just had his heart a little bit broken by Caelynn taking off with Dean in his van, made it known that at this point, the only person he was waiting for was one Whitney Fransway, who he clicked with the night of Chris and Krystal's wedding. 
When Whitney didn't walk down the stairs, he decided he was going to leave to find her himself. And so, dramatically, Connor left...just as Whitney was making her way to the beach, to meet Connor. 
She arrived about 25 minutes after Connor left, and once she found out that he left for her, she left too. She showed up at his hotel room, and he couldn't believe it! She couldn't believe how big his hotel room was! 
Anyway, they were happy. And maybe better off away from all the sand. 
Elsewhere, Clay told Nicole he could fall in love with her but wasn't in love with her at this time, which is entirely reasonable after like three weeks but devastating at the end of a reality show, and everyone else was like, uh, maybe we're getting engaged tomorrow? 
Tonight featured the final rose ceremony before the finale, and started off with one of the most awkward rose givings ever. Let's break it down. 
Ended: Luke and ? 
While Haley went on and on about how Luke is the poor man's Nick Viall, and Nick Viall is way hotter, Luke offered his rose to Bri. Bri then turned down that rose, and Luke stood there awkwardly until Chris Harrison turned to the other women in the group and went "Does anybody want Luke's rose?" 
Nobody did. Buh bye, Luke. 
Ended: Matt Donald and Bri
Bri did accept Matt Donald's rose, leaving Sydney alone, but then Bri went and told Matt she doesn't see this going any further. Feels kinda rude, but also Matt couldn't stop referring to her as "the supermodel," so maybe we get it. 
Dylan and Hannah
Hannah obviously accepted Dylan's rose after they professed their love on their awkward kid's birthday party date. They might as well already be married, honestly. 
Ended: John Paul Jones and Tayshia
Tayshia accepted JPJ's rose after their afternoon of Tayshia drawing JPJ like one of her French girls while he was wearing his formal denim speedo, but things went south later when he professed his love, and she just couldn't feel it back yet. It was the most dramatic break-up this season so far, with her chasing him down the beach yelling, "I'm sorry!' 
RIP to this weirdo relationship. 
Ended: Chase and a Brunette (Angela)
Pretty sure it's Angela who accepted Chase's rose but her hair was covering her face the entire time and we didn't even hear him call her name and genuinely we forgot he was dating Angela. Also forgot who Chase was. Later, they told each other they didn't know if they were "there" yet, so bye.
Clay and Nicole
Clay gave Nicole his rose. Nicole accepted the rose. 
Demi and Kristian
These two had a big week (2 days?) of talking some things out, and they seem to be pretty strong heading into next week. 
Chris and Katie
Feels like every time these two talk it starts with "I know we had a rough couple of days." But they're still exchanging roses and crying into each other's arms, so they're doing OK for now. 
Haley, Revian, and Sydney were all left single after the rose ceremony, so they're also gone. Four couples remain heading into the finale, but will they make it all the way to an engagement after three long weeks of dating? We'll have to wait untli next Tuesday to find out!
That's right—Bachelor in Paradise is still airing next week, despite the debut of Dancing with the Stars on Monday. And you won't want to miss this finale, because we were there, and it sure was something, all right. 
Bachelor in Paradise's three-hour season six finale airs Tuesday, September 17 at 8 p.m. on ABC.