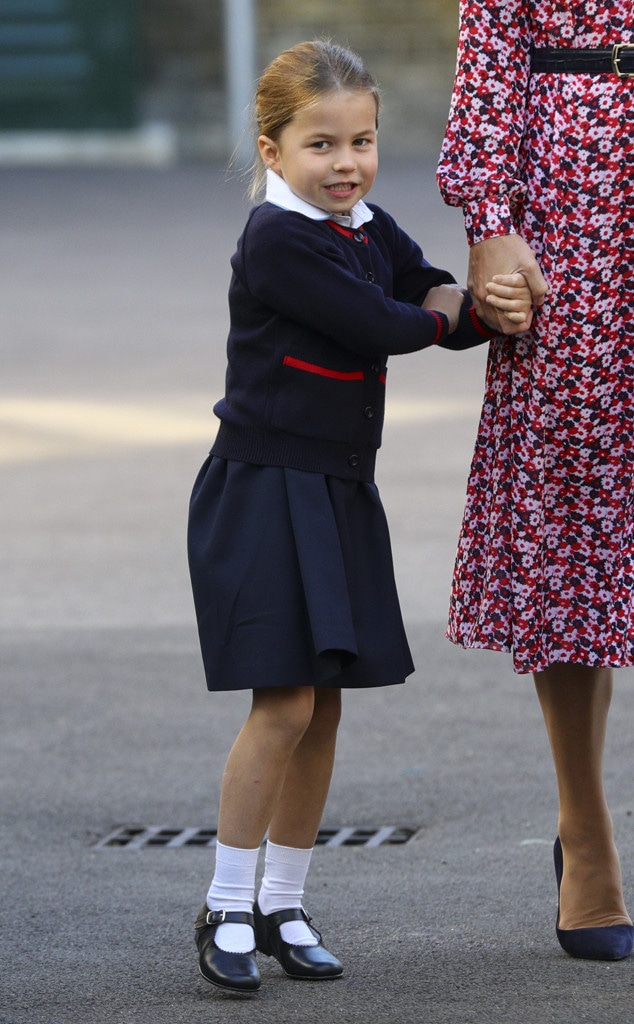 Aaron Chown - WPA Pool/Getty Images
Princess Charlotte is no longer the baby Kate Middleton and Prince William  debuted to the world back in 2015. 
Just last week, the now-4-year-old youngster stepped out with her mom, dad and older brother, Prince George, for their first day of school. 
Ever the scene-stealer, the tot twirled her ponytail and shook hands with the head of the school, simultaneously proving how quickly time has flown for this royal. 
For eagle-eyed observers, you might have noticed a telling accessory on Charlotte's bag in mom Kate's hand: a sequin unicorn key-chain. It turns out the little lady loves unicorns. 
During an appearance at the Fire Fighters Charity's Harcombe House on Monday to mark Emergency Services Day, the royal father of three shared his only daughter's latest interest. 
Aaron Chown - WPA Pool/Getty Images
According to Hello!, William noticed a unicorn horn in artwork made by a firefighter's children during an art therapy session at the center. 
"My daughter loves unicorns," the Duke of Cambridge reportedly said. "Loves them. Very cool."
Meanwhile, he showed love and support for the men and women of emergency services. "As a society, we owe our well being, and indeed our lives, to the men and women in our emergency services who work tirelessly to protect us in some of the most difficult circumstances," he said in a statement shared on Instagram in honor of 999 Day. "It is only fitting that we should recognize the vital role that they play, and pay tribute to the bravery and dedication of those who have made the ultimate sacrifice for their communities."
Additionally, a new service was announced for the community.
"Today @GiveUsAShout announced a new partnership with the emergency services community," Kensington Palace tweeted. "Members of frontline emergency service communities, retired or serving, and their families can text BLUELIGHT to 85258 at any time to be connected to a trained & supervised Crisis Volunteer."