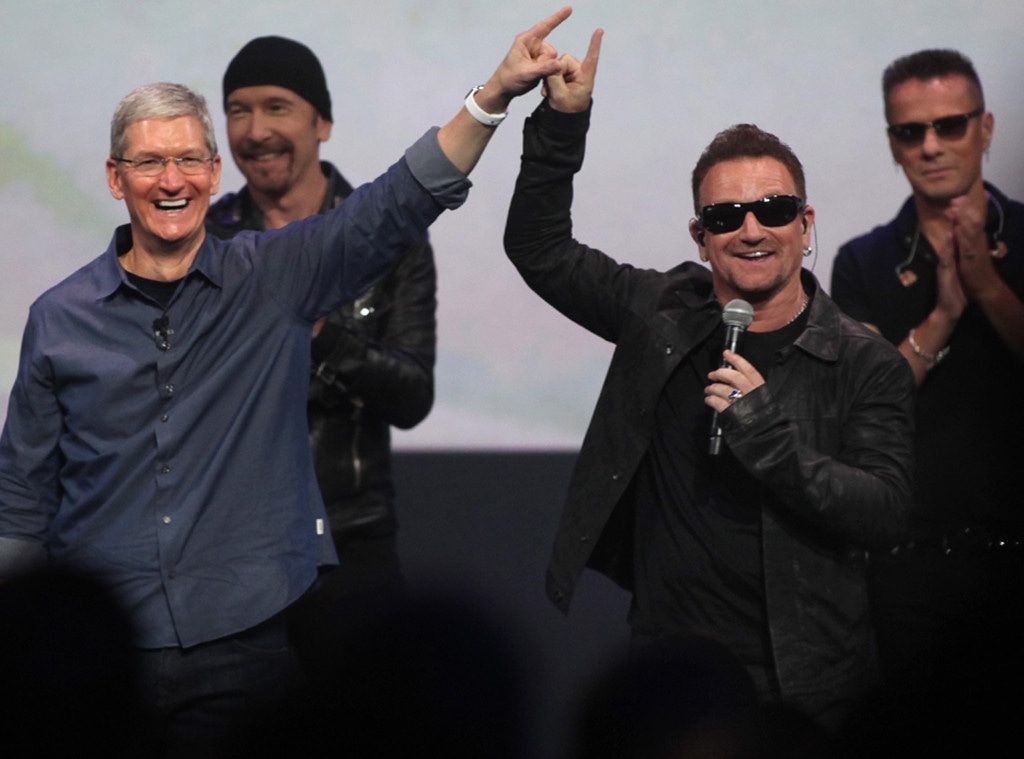 MediaNews Group/Bay Area News via Getty Images
September 9, 2014 started out like any other day.
The birds were chirping, the sun was shining, and everyone was gearing up to hear what new Apple products the tech giant would be launching out of Cupertino at what would be the last of their famed launch events to be held in the Flint Center for the Performing Arts at De Anza College. And the news announced by current CEO Tim Cook at the very site where the late Steve Jobs unveiled both the original Mac in 1984 and the first iMac in 1998 was pretty big. Not only did the company unveil the iPhone 6, the eighth generation of their ubiquitous smartphone, but they also revealed what Cook described as "the next chapter in Apple's story," the Apple Watch.
But that was all dwarfed by the moment when Cook brought out U2 to announce their new album Songs of Innocence, which had been commissioned by the tech company and would be made available to each and every one of the over half billion iTunes customers at no cost. And instantly, whether any of us liked it or not, the album was automatically added to the "purchased" sections of our music libraries and downloaded to our personal devices.
Cook touted the release, which made the album available in 119 countries worldwide as "the largest album release of all time." U2 frontman Bono said the intention was to get new music to "as many people as possible, because that's what our band is all about." Guitarist The Edge later told TIME that the launch was "actually incredible subversive. it's really punk rock, it's really disruptive."
Not everyone was thrilled by the disruption.
Critics of the move mobilized just as swiftly as the release they were decrying. The Washington Post called it "rock-and-roll as dystopian junk mail." Slate asserted that it was "extremely unsettling" that "consent and interest are no longer a requisite for owning an album, only corporate prerogative." Musicians like the Black Keys' Patrick Carney and Pink Floyd's Nick Mason argued that the free release "devalued" music, despite the fact that Apple paid a lump sum to the band and Universal Music Group for the five-week exclusivity window in which it distributed Songs of Innocence to its customers before it was physically released at retailers on October 13, 2014. (Billboard estimated that UMG could've landed a $52 million payment for the exclusive rights, based on standard label profit from 26 million album sales, while an upfront fee, excluding royalties, was estimated to have been in the $5 million range. Reps for Apple and U2 declined to comment on the deal terms.)
According to Apple, 33 million people accessed the album in its first week of release, either by downloading it from the iCloud account, streaming it, or listening to it through iTunes' radio player. A month after the surprise release, Eddy Cue, Apple's VP of internet software and services, told Billboard that the album had earned 26 million complete downloads with over 81 million Apple customers listening to it in some capacity. 
"To help put this into perspective," he told the music trade publication, "prior to this, 14 million customers had purchased music from U2 since the opening of the iTunes Store in 2003."
In a statement to Billboard, U2 said, "Apple is a tech company fighting to get musicians paid. The idea that they wanted to make a gift to the very people that actually purchase music is both beautiful and poetic, and for that we are very grateful."
Not everyone wanted the gift, however.
Nearly immediately, those of us who didn't necessarily want a new U2 album, free or not, taking up precious space on our iPhones discovered that deleting the thing wasn't nearly as seamless as its blink-of-an-eye arrival, with the usual slide-to-delete functionality in the Apple Music app not active for Songs of Innocence, leaving frustrated users forced to go to the "Purchased" screen on iTunes' desktop software to hide it from their collections as a means of working around the unwanted gift.
A week later, on September 15, Apple launched a dedicated removal page for the album, telling customers, "If you would like U2's Songs of Innocence removed from your iTunes music library and iTunes purchases, you can choose ti have it removed. Once the album has been removed from your account, it will no longer be available for you to redownload as a previous purchase. If you later decide you want the album, you will need to get it again." After warning that if the user wanted the album after October 13, they'd have to pay for it, the page asked, "Do you want to remove Songs of Innocence from your account?" A button that read "Remove Album" appeared beneath the question.
U2's manager Guy Oseary defended the move in an interview with Mashable, saying "It's a gift from Apple. If someone doesn't like the gift, they should delete it...There are people who are going to be thrilled to get a gift. There are people who are not going to care to have this gift. We knew all of that going in. No surprises here. If someone doesn't like it, then great, that's OK, delete it...We just want to share it with as many people as possible. If you don't want it and you don't need it, delete it."
While Bono told NPR he was unaware of the automatic download option in October, he described the "kerfuffle" as: "We wanted to deliver a pint of milk to people's front porches, but in a few cases it ended up in their fridge, on their cereal. People were like, 'I'm dairy-free.'"
A day later, during a Facebook Q&A named #U2NoFilter, he issued an apology when a fan requested that the band never repeat the launch because "It's really rude."
"Oops," Bono said. "I'm sorry about that. I had this beautiful idea and we got carried away with ourselves. Artists are prone to that kind of thing: [a] drop of megalomania, touch of generosity, dash of self-promotion and deep fear that these songs that we poured our life into over the last few years mightn't be heard. There's a lot of noise out there. I guess we got a little noisy ourselves to get through it."
However, nobody with the band was interested in issuing a public apology for the stunt, with Oseary telling Rolling Stone, "By this point, seven percent of the planet has gotten the album. It might be too big, but we like to thing big."
Bono was even more succinct when asked about the decidedly mixed response to Songs of Innocence, telling the publication via e-mail, "If you don't want it, delete it."
And, while there was never any press release to tout those numbers, that's just what many of us did.