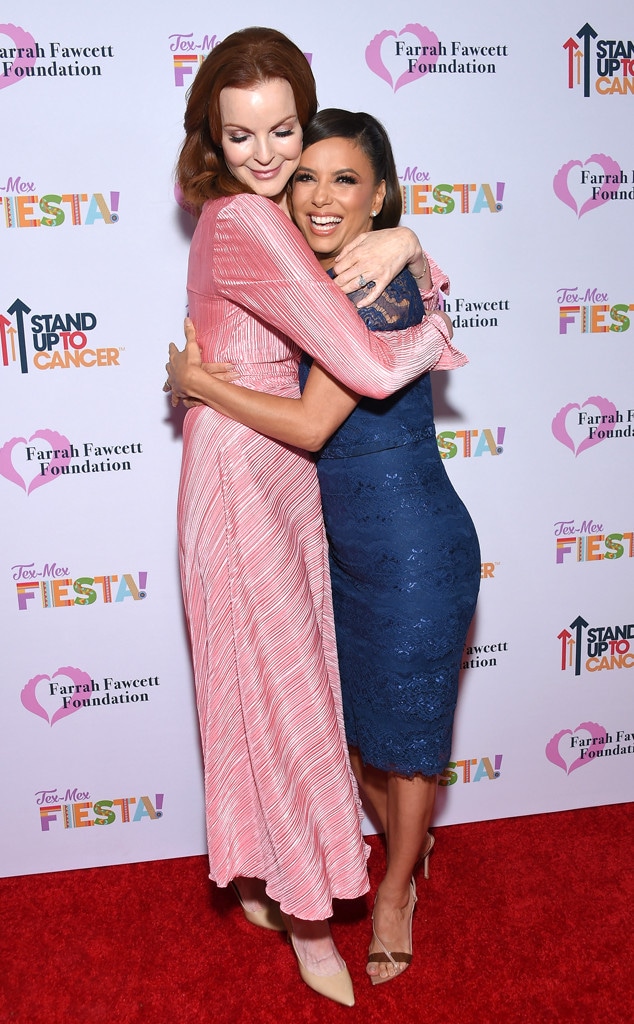 LISA O'CONNOR/AFP/Getty Images
Desperate Housewives fans, rejoice!
Former co-stars Eva Longoria and Marcia Cross reunited on the red carpet as they attended the Farrah Fawcett Foundation's Tex-Mex Fiesta in Beverly Hills. On Friday night, the Hollywood actresses couldn't help but hug it out and laugh it up while they posed for pictures during the star-studded event. It was definitely an unforgettable Desperate Housewives reunion.
For the special occasion, the Dora and the Lost City of Gold actress dressed to the nines, wearing a royal blue lace cocktail dress that she paired with beige strappy heels and diamond earrings. As for Cross? She was perfectly pink in a blush-colored long-sleeve gown that she wore with beige heels and dainty jewelry pieces.
In fact, during the ceremony, the 57-year-old star was honored.
The news of this Desperate Housewives reunion comes a day after it was revealed that Longoria praised her former co-star Felicity Huffman, who faces a one-month prison sentence for her involvement in the college admissions scandal.
It turns out the 44-year-old actress wrote a letter to a judge, speaking highly of Huffman.
Watch:
Eva Longoria's New Show, Rob Kardashian & More - Full Episode
In her lengthy statement, Eva shared the many ways her former co-star "impacted" her life.
"Felicity was the first one to take my under her wing. From the first table read of the script, she noticed me sitting alone, scared and unsure of where to and what to do," she wrote. "Her gentle character and kind heart immediately opened up to me. She approached me, introduced herself and said, 'Don't be scared, we will get through this together,' as she sat down beside me and never left my side since that day."
Longoria also talked about how Felicity stood by her side when she was dealing with a bully on the set of Desperate Housewives.
"There was a time I was being bullied at work by a co-worker. I dreaded the days I had to work with that person because it was pure torture," she revealed. "Until one day, Felicity told the bully 'enough' and it all stopped. Felicity could feel that I was riddled with anxiety even though I never complained or mentioned the abuse to anyone."
Despite her not-so-great experience on the beloved television series, it's clear Eva made life-long friends from her time on Desperate Housewives.