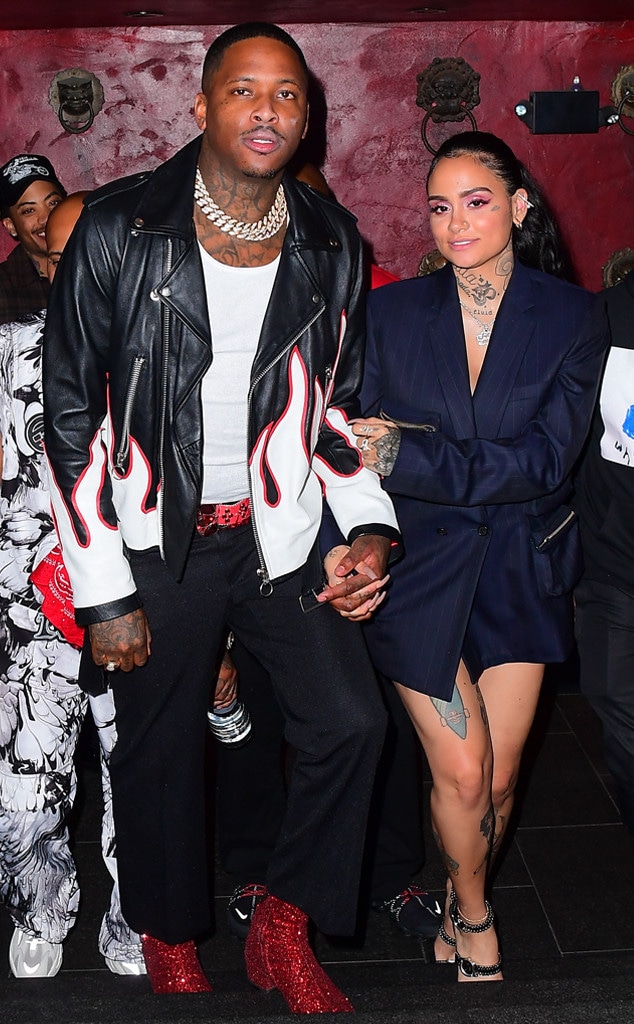 DIGGZY / SplashNews.com
It looks like Kehlani has a new man. 
The 24-year-old singer attended New York Fashion Week with 29-year-old rapper YG. The artists headed into the Kith runway show hand in hand. 
When reporters asked if the two are "official," the "Gangsta" star seemingly confirmed the new romance.
"Mhmm," she replied, as shown in a video captured by TMZ.
The two also enjoyed a private dinner at TAO after the appearance.
Later on, Kehlani posted a picture of YG giving her a sweet smooch.
"Cats out the bag," she captioned the shot.
The celebrities made a stylish pair. Kehlani wore a blue, pinstriped blazer for the outing and accessorized her look with plenty of bling. She also slicked her hair back into a chic ponytail. Meanwhile, YG opted for a black leather jacket with a firey design, which he paired with a white shirt, dark pants and some sparkly red shoes.
It certainly has been an exciting time for the duo. Back in March, the two-time Grammy nominee gave birth to a baby girl named Adeya. Kehlani announced the pregnancy news in October 2018; however, not everyone congratulated her on the big news. 
"I've gotten everything from 'I thought she was a lesbian' to 'she was using queerness to promote her career, then went and betrayed us with a man' to 'her baby father is just a sperm donor,'" she told Nylon in an interview published in November. "One, I never identified as a lesbian. I've always been pansexual. My first mixtape included songs about males, and songs about women. My first album had songs about a nonbinary ex, an intersex ex, and male/female exes. I don't always make it a point to identify pronouns in the music because that isn't the focal point. I think what steered everyone in the direction of categorizing my sexuality (which is still really narrow-minded) was my song 'Honey,' and a couple of the features I'd done after."
YG also reportedly welcomed his second child, a daughter named Vibe Jackson, in July.
Kehlani has been romantically linked to celebrities in the past, including Kyrie Irving and PartyNextDoor.