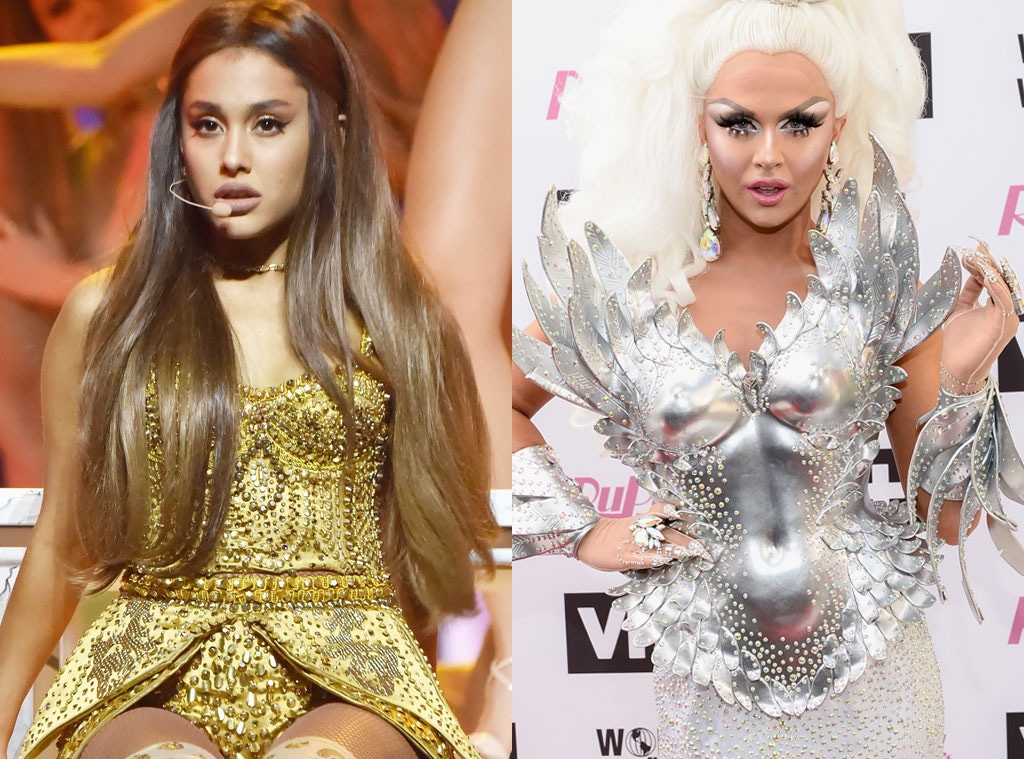 Kevin Mazur/WireImage; Tara Ziemba/Getty Images
Sometimes, imitation isn't the sincerest form of flattery.
RuPaul's Drag Race star Farrah Moan has a bone to pick with Ariana Grande. But before we dive into the reality TV personality's gripe with the 26-year-old singer, here's some backstory. On Tuesday, news broke that the pop star filed a $10 million lawsuit against Forever 21 and Riley Rose, after accusing the retailers of false endorsement, trademark infringement and copyright infringement (among other complaints).
According to the suit, which E! News obtained, both brands tried striking up a deal with the "7 Rings" singer, however, it wasn't to up to her standards.
Despite never reaching an agreement, the brands launched a "misleading campaign across its website and social media platforms primarily in January and February 2019," the lawsuit claims. "The campaign capitalized on the concurrent success of Ms. Grande's album Thank U, Next by publishing at least 30 unauthorized images and videos misappropriating Ms. Grande's name, image, likeness, and music in order to create the false perception of her endorsement."
Now, Moan is accusing the 26-year-old pop star of "stealing" from her for similar reasons.
"Ariana should give me a cut of that 10M since her team literally sent a pic of me to the designer and paid them to copy my look from as4," Farrah shared on Twitter on Wednesday evening, along with a side-by-side photo of her and Grande wearing similar outfits. "(Finally met the designer and got told the Tea) I guess stealing from queer artists for profit is fine tho."
After the reality TV personality released the statement online, a Twitter user commented, "doesn't the fault here lie with the designer knowingly & willingly being paid to copy your look??"
However, the RuPaul's Drag Race star made it clear that she wasn't upset with the designer.
"I don't fault the designer because the designer she hired was a local queen and paid them ALOT of money to do it, money they couldn't turn down. And then was honest with me about it," Moan wrote. "So no, I don't fault the drag queen that made it at all. Ariana has COIN."
Watch:
Ariana Grande's Road to "Thank U, Next"
In fact, the 25-year-old drag queen revealed that she wasn't going to open up about her claims but felt she couldn't hold this information any longer, especially after learning about Grande's lawsuit.
"I wasn't gonna even say anything or care because I was actually flattered by it and I've known for MONTHS but now it's kinda getting to me since she's just racking in millions over it," Moan explained.
Despite many online saying the "7 Rings" look Ariana rocked in the music video seems universal, the reality TV star explained that she does "own that look."
"I do own that look," Moan said in response to a tweet. "I wore it on national television and it's in my closet. I just think it's wrong for someone to claim they're for lgbtq but then steal from them. It's not cute."
The drag queen added, "But the point is her team also stole. U can attack me all day but it's not gonna change anything. I can admit I was petty with that gif I posted& I'll apologize for that but at the end of the day they did what they did. Idc about suing anyone, just needed to put this out there."
Unfortunately for Grande, this isn't the first time "7 Rings" has stirred controversy. Back in January, rapper Princess Nokia accused the 26-year-old star of ripping off her own song, "Mine." Additionally, Soulja Boy also claimed the pop star stole his song, "Pretty Boy Swag."
Of the accusations made in early January, the pop star issued an apology, however, she has yet to release a statement on Moan's recent complaints.
E! News has reached out to Grande's team for comment.