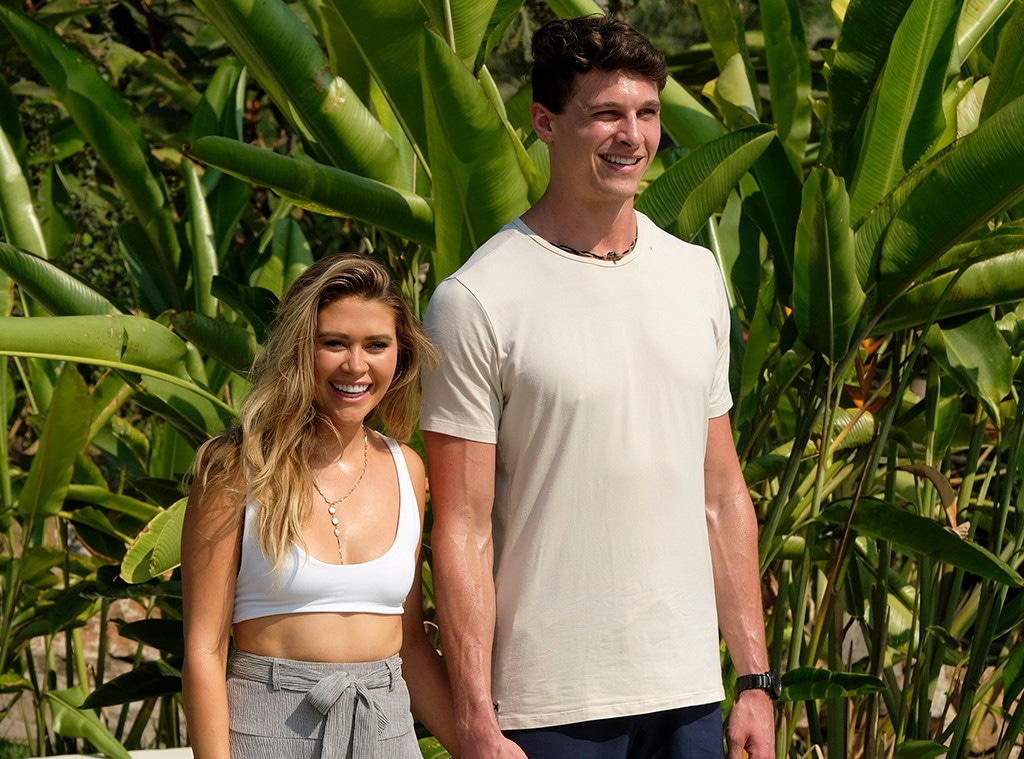 ABC
Two weeks away from the finale of Bachelor in Paradise, it's time to do a little check-in. 
The couples are switching things up left and right this season, and everything has already changed since we checked in last time, about two weeks ago. In fact, it's changed since the rose ceremony that happened 3/4 of the way through tonight's episode. These people are busy on the beach!
There was also one heartbreaking departure tonight, along with a few confusing decisions and one major and possibly bogus realization that what he was looking for was right in front of him all along! Let's get into it all below, in order of rose ceremony appearance. 
Clay and Nicole
After much ado about Angela, Nicole offered Clay her rose, and he was so excited to see where things go from here. 
Kristian and Demi 
Kristian gave her rose to Demi, and these two are still going strong, saying I love you, etc etc. It's still feeling slightly weird that they're there when they're very clearly together and only half a part of Bachelor Nation, but we're happy to see them there anyway. 
Hannah and Dylan
Sometimes Hannah and Dylan emerge from their pool makeouts to hand each other a rose, which is what Hannah did tonight. Hannah's talking about moving to LA so they can—wait for it—go on walks! 
Katie and Chris
After Chris asked her to be his girlfriend, Katie gave him her rose, and Chris Bukowski might actually end a season of this franchise successfully. He's even talking about kids! 
Haley and Luke
We actually forgot these two were here but congrats to them! 
Caelynn and Connor 
Caelynn was thrilled to be exploring things with Connor. She gave him her rose, and they were happy to hold hands on the beach...until a certain former mustache showed back up and asked Caelynn to leave with him. 
Caelynn and Dean
We were left with a cliffhanger, but according to Caelynn's pals, they're pretty sure she and Dean are meant to be. Will Caelynn leave the show with Dean? Unclear! 
Sydney and Matt Donald 
Sydney gave up Mike for Matt Donald and now he has her rose, and while we were big fans of Matt Donald for the five seconds he was on The Bachelorette...who would give up Mike?! Matt Donald then accepted a date with fake Australian Bri, and after he was so hesitant to to kiss Sydney, he was straight up making out with Bri. So...
Bri and Matt Donald
Sorry, Sydney? 
Tayshia and John Paul Jones
Still a tad baffling just because John Paul Jones is so very John Paul Jones, but very cute. 
Kristina and Blake
Sigh. Blake's still in this thing and Mike's been eliminated, which is dumb. Suddenly tonight, Blake had a revelation. He has feelings for Kristina! He likes Kristina so much! And yeah sure, fake Australian Bri is super hot and looks like a model and she's tall and beautiful and stuff, but it was totally the right decision for Blake to turn down that date so he could bring all the romance to Kristina by telling her about how his dad sleepwalks, and one time he sleepwalked into the garage and into his car in his underwear. What a romantic story! Also apparently romantic...the color of his pee? 
Next week, we'll learn whether or not Caelynn's heading off to Dean's van, and what else Blake thinks of as romance!
Bachelor in Paradise airs Mondays and Tuesdays at 8 p.m. on ABC.