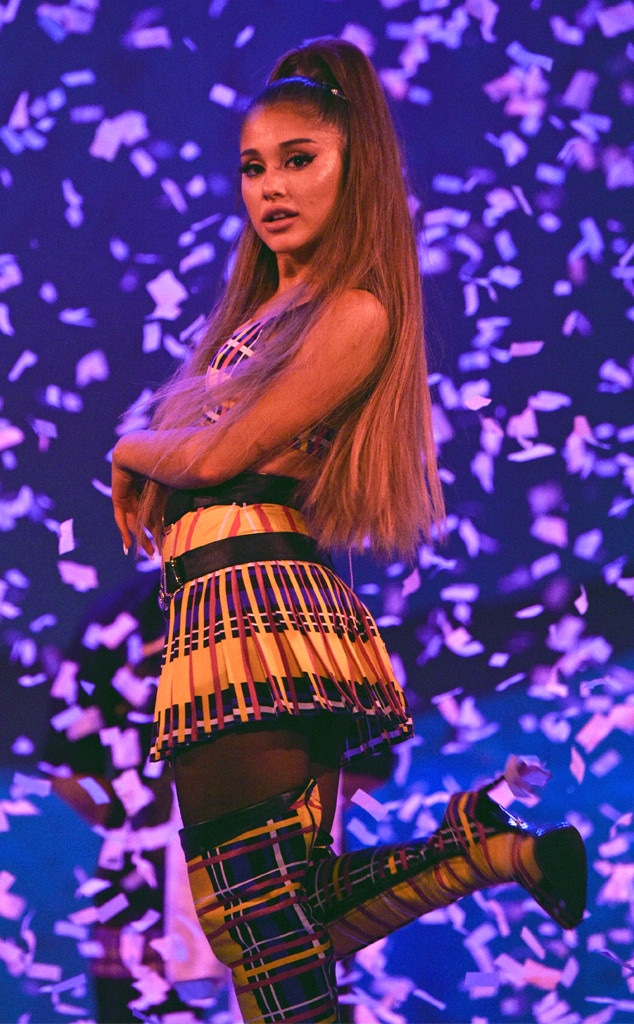 Kevin Mazur/Getty Images for AG
Ariana Grande has a problem with Forever 21. 
According to legal documents filed in California court on Monday and obtained by E! News, the songstress has filed a lawsuit against the fast fashion retailer and Riley Rose, a website and brick and mortar beauty boutiques started by Forever 21's founders' daughters, accusing them of false endorsement, trademark infringement and copyright infringement among other claims. 
According to the lawsuit, filed by an attorney on the pop star and her company's behalf,  Forever 21 contacted the triple threat's representatives about the possibility of having her endorse the brand through social media marketing, including posts on Instagram and Twitter. "Given her stature, influence, and social media following, the market value for even a single Instagram post by Ms. Grande is well into the six figures, and she commands in the mid-seven figures to over eight figures for longer-term endorsement deals, marketing campaigns, and/or licensing deals for use of her name and likeness," the documents read. 
While negotiations took place around December 2018 and January 2019, according to the lawsuit, an endorsement deal was never reached because the amounts that Forever 21 "offered to pay for the right to use Ms. Grande's name and likeness were insufficient for an artist of her stature," the documents state. 
Despite no deal, the brands launched a "misleading campaign across its website and social media platforms primarily in January and February 2019," the lawsuit alleges. "The campaign capitalized on the concurrent success of Ms. Grande's album Thank U, Next by publishing at least 30 unauthorized images and videos misappropriating Ms. Grande's name, image, likeness, and music in order to create the false perception of her endorsement."
The lawsuit further alleges the defendants "falsely suggested" Grande's endorsement by posting photos of a "look-alike model" in clothing and accessories resembling ones from the star's music videos, including "7 Rings." 
According to the filing, Grande "discovered the infringement" around February and her representatives demanded Forever 21 take down the unauthorized uses, though, per the lawsuit, they allegedly remained up until at least mid-April despite repeated contact from her team. 
"As a result, Defendants improperly misappropriated and profited from Ms. Grande's influence and star-power for approximately 14 weeks," the lawsuit reads. 
Grande is seeking "an award of compensatory and treble damages in an amount to be proven, but in no even less than $10 million," as well as "the disgorgement of Forever 21's and Riley Rose's profits attributable to the infringement of Plaintiffs' intellectual property rights and rights of publicity," "punitive damages in an amount sufficient to deter unlawful conduct by Forever 21 and Riley Rose in the future," "a permanent injunction restraining and enjoining Defendants from using Ms. Grande's name, images, likeness, persona, copyrights and Plaintiffs' trademarks," "pre-judgment and post-judgment interest according to proof and to the maximum extent allowed by law,"  attorneys' fees and costs. 
A spokesperson for Forever 21 responded to the suit in a comment to E! News: "Forever 21 does not comment on pending litigation as per company policy. That said, while we dispute the allegations, we are huge supporters of Ariana Grande and have worked with her licensing company over the past two years. We are hopeful that we will find a mutually agreeable resolution and can continue to work together in the future."