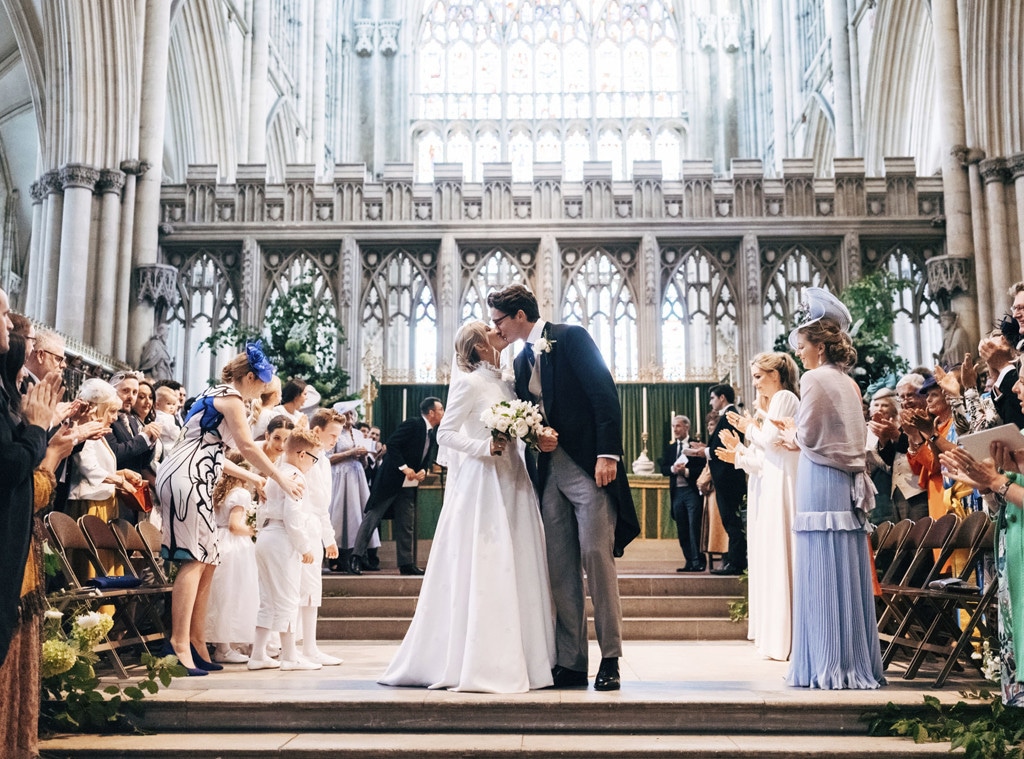 Mark Nicol/PA Wire
Congratulations are in order for Ellie Goulding and Caspar Jopling!
The singer and art dealer exchanged vows in an elegant wedding in York, England on Saturday, the star's rep confirmed. The pair tied the knot inside the historic York Minster in York's city center. 
The musical bride arrived to the cathedral in a blue Volkswagen campervan adorned with flowers, donning a long-sleeved, high neck white Chloé design decorated with floral embellishments. The Grammy nominee waved to onlookers as she made her way inside, a lace-embroidered veil covering her face and clutching a bouquet of cream-colored garden roses." She looked relaxed and happy," a source said of the bride. Her bridesmaids, matching in pale blue Chloé dresses, straightened the train of Goulding's gown before she entered.
Famous faces like engaged pair Katy Perry and Orlando Bloom, Sienna Miller and royals Princess Eugenie, Princess Beatrice and Sarah, Duchess of York were among the guests to join the couple on their special day. Eugenie's husband Jack Brooksbank served as one of Jopling's groomsmen. 
As for decor, the cathedral was adorned with hundreds of white blooms by Tattie Rose flowers and the entrance had an archway of greenery featuring white hydrangeas and white wildflowers, the source said. 
After the hour-long ceremony, the bride and groom shared a long kiss at the altar while guests stood and clapped. The couple exited the church holding hands and posed for photos on the steps. 
"She had a big smile on her face as she looked adoringly at her new husband," the source described. "They thanked people for coming and kissed several times. They giggled together and looked extremely happy to be man and wife."
Following photos, the couple headed to their reception at the grand Castle Howard in the colorful car, according to the source. 
It's been nearly a year since the star and her beau announced that they were engaged in The Times' forthcoming marriages section. The posh statement read: "The engagement is announced between Caspar, son of The Hon. Nicholas Jopling of Yorkshire and Mrs. Jayne Warde-Aldam of Yorkshire, and Elena, daughter of Mr. Arthur Goulding of Hertfordshire and Mrs. Tracey Sumner of West Midlands." 
The announcement otherwise went unnoticed since Ellie went by her birth name of Elena. That is, until Caspar gushed on Instagram about marrying the love of his life. Then again, who can blame him? He proudly declared, "I get to spend the rest of my life with this truly extraordinary and beautiful, beautiful person. No one has ever made me feel more full of life, knowledge, happiness, or love. Hope, passion, confidence, and more love. There is no one I have ever been more complete with and there is no one I will ever feel more complete with. I look forward to a lifetime of exploring the world together, crying with laughter at stupid jokes, chatting into the early hours of the morning about art, music, the world, and the future."
Watch:
Sophie Turner, Joe Jonas & More Celeb Summer Weddings
Ellie later revealed that he popped the question in the most spontaneous, romantic and purely delightful way. According to her, they were doing a puzzle together when he simply pulled out the ring and asked without even getting down on one knee. She laughed, "It was quite romantic for some reason."
And Caspar and Ellie reportedly have Princess Eugenie to thank for bringing them together. For years now, rumors have swirled that Eugenie introduced the newlyweds in March. Which would actually make sense since both Eugenie and Caspar work in the art world and there's a photo of Eugenie on Caspar's Instagram from 2016, but this is all pure speculation.
What we do know is that Princess Eugenie and hubby Jack Brooksbank have enjoyed numerous double date nights with Ellie and her beau. Plus, Ellie was in attendance at their October nuptials. 
Congratulations, Ellie and Caspar!