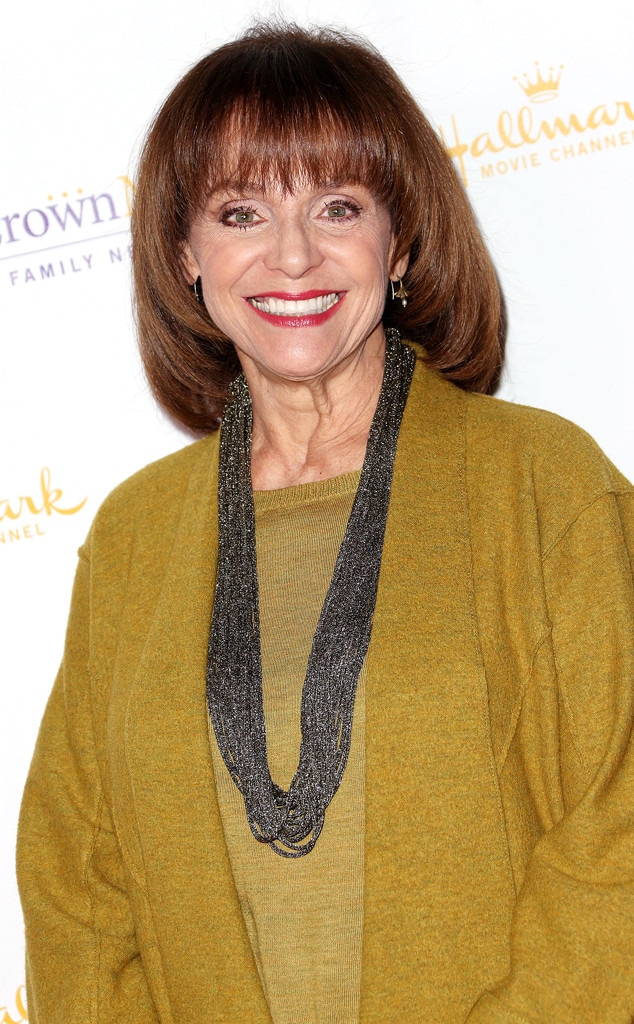 Frederick M. Brown/Getty Images
Mary was always going to make it after all—but she did usually have Rhoda by her side.
Valerie Harper died Friday morning, her family first confirmed to ABC 7 Los Angeles. Her husband, Tony Cacciotti, confirmed the news in a tweet from Valerie's daughter, which read, "My beautiful caring wife of nearly 40 years has passed away at 10:06am, after years of fighting cancer. She will never, ever be forgotten. Rest In Peace, mia Valeria."
The actress, best known for her iconic role as fierce best friend and neighbor Rhoda Morgenstern on The Mary Tyler Moore Show and later her own spinoff, was 80.
Co-star Ed Asner described Harper as a "beautiful woman, a wonderful actress, a great friend and with balls bigger than mine." He tweeted after her passing, "Her brilliance burst through and shined its light upon all of us. Goodnight beautiful. I'll see you soon."
Harper revealed in 2013 that she had been diagnosed with terminal brain cancer, but she seemingly didn't let the grim prognosis slow her down for a minute. The vivacious entertainer competed on Dancing With the Stars that fall, and continued to appear on TV and in plays, including a production of Nice Work if You Can Get It in 2015.
Kelsey McNeal/ABC via Getty Images
In May 2015, Harper told People that she sometimes felt "icky," but was happy and proud to be using her own experience to help others.
"Maybe because I'm working or I'm talking about cancer in a positive way—I think that might have something to do with it," she said.
Harper added, "When I wake up in the morning I don't say 'Oh, I have cancer. I say 'Another day. How you feeling? Good? Good. And when I do have little twinges of something I go, 'Oh my god, is that a headache? What is that?' And I say wait a day or two, it might just be a headache and usually it is … so far."
The brunette beauty scored what would be her career-defining role—quick-witted window dresser Rhoda—in 1970 on the Minneapolis-set The Mary Tyler Moore Show. She won three Emmys for Best Supporting Actress and then, in 1974, Rhoda packed up her array of signature head scarves, moved back to her native New York and got her own self-titled spin-off.
Harper won her fourth Emmy (and a Golden Globe) in 1975, for Lead Actress in a Comedy Series, and was nominated three more times before Rhoda was canceled in 1979.
Born on Aug. 22, 1939, in Suffern, N.Y., Harper got her start as a dancer and chorus girl on Broadway, appearing in the 1959 musical  Li'l Abner when she was 20; she moved on to roles on stage in Wildcat, Take Me Along and Subways Are for Sleeping.
While doing theater in Los Angeles, she was approached by a casting agent about auditioning for the role of Rhoda.
"I was in a fog of my own just learning my lines and understanding what all these men were doing there behind cameras," Harper recalled shooting the MTM pilot in a 2009 interview for the Archive of American Television. "It was a massive amount of people. I'd only worked in the theater."
CBS Photo Archive/Getty Images
"I found out in retrospect that they hated the first show…I was told that they didn't understand Rhoda, they didn't like her..." she recalled. "'Who was this brash, horrible New York broad?'"
Harper also recalled not being quite onboard with Rhoda getting her own show when the idea was first presented to her.
From the first year, Freddy Silverman, who was then head of the network was saying, 'we're going to spin you off,' and I thought I was being fired until I asked somebody what the term meant…Then finally, the fourth year [of MTM], I said, 'I don't want to go, I don't want to.' [Tyler Moore] said, 'You don't want to be my sidekick all your life.'' I said, 'Yes! Yes, I do!' I said, 'What if it fails?'
"She said, 'If it fails, you'll move back to Minneapolis and I'll have you back in my life again.'"
Mary Richards would reunite with Rhoda Morgenstern, who married and divorced David Groh's Joe Gerard over the course of the spin-off, a few more times on MTM, including during the iconic series finale. Then the besties went their separate ways until the 2000 TV movie Mary and Rhoda, where they picked up right where they left off in spirit.
The longtime friends, onscreen and off, appeared in an episode of Hot in Cleveland together in 2013, which also marked an MTM reunion with Betty White, who played man-eater Sue Ann Nivens back in the day.
Kevin Winter/Getty Images
After the mega-success that was her original run as Rhoda, Harper starred as the titular mom to three boys, including Jason Bateman, on the 1980s NBC sitcom Valerie. She left following a contract dispute at the end of season two, after which the family was all of a sudden being looked after by their aunt and the show was called The Hogan Family.
Other notable TV roles in more recent years included the wise psychologist mother of one of Carrie's suitors (played by Justin Theroux) in Sex and the City and Aunt Claire to Teri Hatcher's Susan on Desperate Housewives.
Harper returned to the stage in 2005 as Israeli Prime Minister Golda Meir in the one-woman drama Golda's Balcony and she played Tallulah Bankhead in Looped, which premiered at the Pasadena Playhouse in 2008 before having a brief Broadway run.
Harper is survived by her second husband and their daughter.