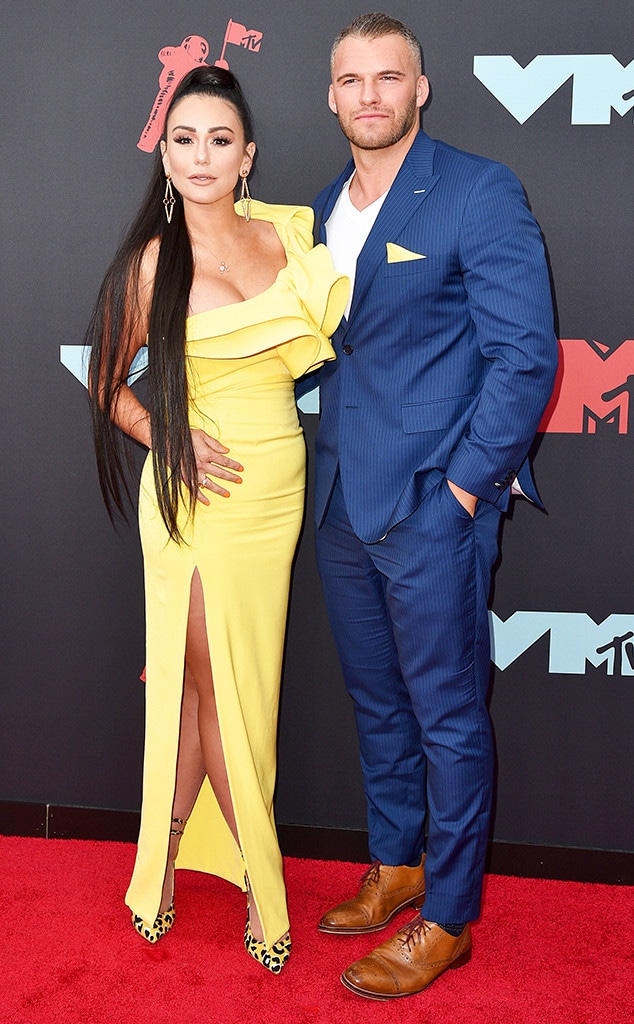 Bryan Bedder/WireImage
Ladies and gentlemen, Jenni "JWoww" Farley is not pregnant!
During Monday evening's 2019 MTV Movie Awards, the Jersey Shore Family Vacation star thought she was going to enjoy a fun date night with boyfriend Zack Clayton.
But after posing on the red carpet with her MTV co-stars and boyfriend, JWoww faced some speculation from a few online trolls that she could be expecting.
Ultimately, Zack decided to set the record straight Tuesday night with a message on Instagram Stories.
"Jenni is NOT pregnant," he wrote to his followers. "Stop being idiots." Boom! And if you needed any more confirmation, JWoww herself decided to respond to some commentators online.
"Hmm sneaky preggas?" one user wrote. The reality star replied, "Nope. Just a burger."
And when giving credit to her stylist for the night, Jenni wrote that he was the absolute best and that "next time I won't eat ice cream and drink too much wine the weeks prior."
Ultimately, JWoww looked pretty darn beautiful at the star-studded event in her LS dress and Laruicci earrings. As for Zack, he looked handsome in his David Alan suit while posing with his leading lady.
"Most beautiful woman in the world," he wrote on Instagram. "My queen."
This isn't the first award show the Hollywood couple has attended together. The duo enjoyed the 2019 CMT Music Awards in Nashville where JWoww served as a presenter.
And for those wondering just how close these two are, we learned back in May that Zack had already met JWoww's kids—and they get along great!
"She knows Zack as my friend's brother, so she's always like, 'That's Erica's brother, that's Erica's brother,' and then she knows him from Disney, because we all went as a group, so she always thinks of him as the one who...goes on the rides and is super fun and that's basically how I always want to present the situation, as just like, a friend," JWoww explained to E! News. "So it doesn't get wishy-washy."