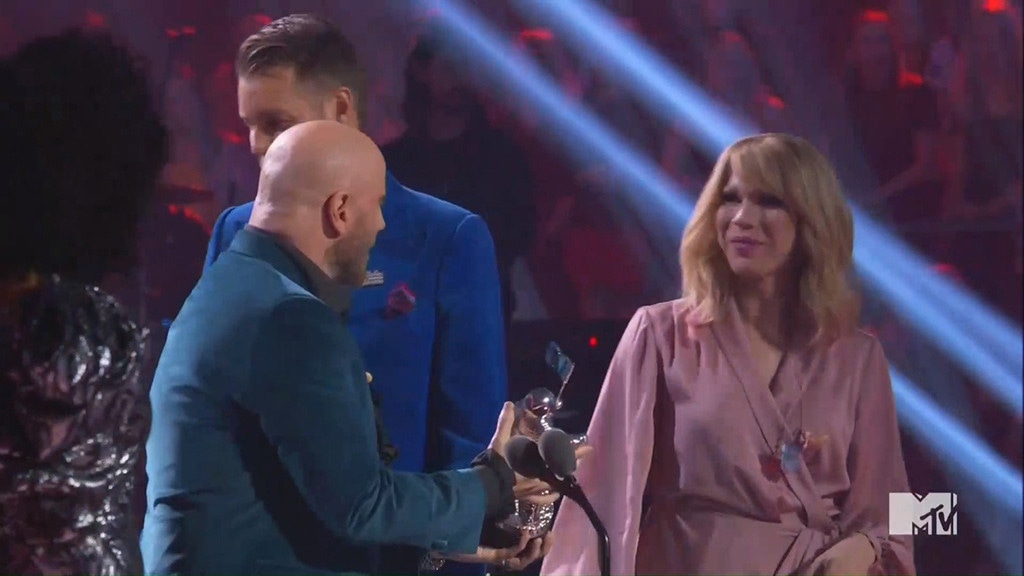 MTV
Sometimes the truth is stranger than (pulp) fiction.
As always, the MTV VMAs was chock-full of memorable moments, whether it be because of Cardi B's wild jokes or Lizzo's twerking, the list can go on. But the award for the viral moment of the year goes to a surprise celeb: John Travolta. 
While presenting the award for Video of the Year, the Pulp Fiction star tried to hand the Moon Man trophy to RuPaul's Drag Race alum Jade Jolie. With a slight look of confusion, the drag queen effortlessly shook it off, before giving the actor a kind side-hug. Eventually, Taylor was rightly bestowed with the Moon Man, but it was too late. Travolta's slip-up was noticed by thousands. Awk!
Although, it must be said that Jade does bear a striking resemblance to the pop star. Jade Jolie is literally known for her spot-on impression of the 29-year-old. So, honestly, who can blame Travolta for mixing up the two stars?
"John Travolta just gave the VMA to 'Drag Race' alum Jade Jolie in Taylor Swift drag, FULLY not knowing that it was NOT Taylor Swift, thinking that it was IN FACT Taylor Swift. I am....reeling," one person tweeted. 
Stephen Lovekin/Shutterstock
Another shocked viewer added, "John Travolta mistaking Jade Jolie for Taylor Swift. DRAG RACE EXCELLENCE."
Even Jade poked fun at the mishap, writing on Instagram, "Almost got my first award tonight thanks to @johntravolta."
Unfortunately, this small snafu made people recall the time when John called Idina Menzel "Adele Dazeem" in 2014. Yep, that's right. Adele Dazeem. 
Nearly a year after the fact, John blamed Goldie Hawn for distracting him from a production assistant who tried to explain that her name would be spelled phonetically on the teleprompter. Hence the flub. 
He did apologize to Adele, er, we mean, Idina. "He sent her a big, gorgeous bouquet of flowers to her dressing room. It was HUGE. It was his apology to her," a source exclusively told E! News at the time. 
So it looks like Taylor has a huge bouquet being sent her way in the coming days!