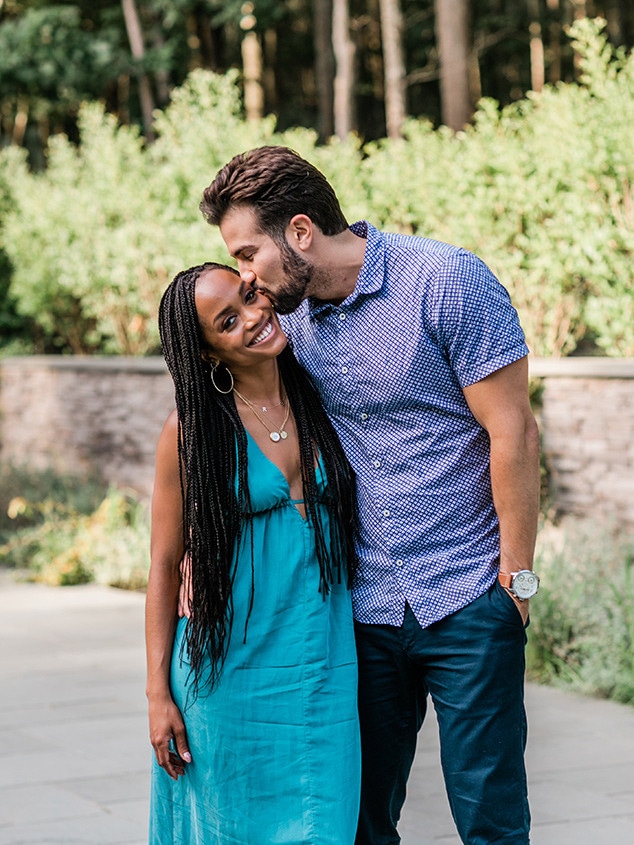 Asher Gardner
The Bachelorette season 13 star Rachel Lindsay looked like a princess at her wedding to show winner Bryan Abasolo, which was elegant and cool.
The two tied the knot in front of family and friends at the Royalton Suites Hotel in Cancun, Mexico on Saturday evening. The 34-year-old bride wore a cream Randi Rahm wedding gown with a short sleeve lace bodice and full tulle skirt.  The 39-year-old groom wore a cream and brown trimmed tux and brown pants.
The ceremony took place on a terrace overlooking the ocean around 6 p.m. "Pachelbel's Canon" was played as the wedding party walked in.
"All the guests were in awe as Rachel entered," an eyewitness told E! News. "She looked like a princess in her wedding dress with a big tulle skirt and lace top. She had a big smile on her face and locked eyes with Bryan immediately."
"Everyone was seated in white chairs and looked out at the water as they said their vows," the eyewitness continued. "The decor was minimal. There was white drapery overhead and a white aisle runner with green leaves. The green leaves were used throughout the wedding decor at both the ceremony and reception. The ceremony was brief as it was very hot outside. Rachel and Bryan took turns holding a microphone as they read personal vows. At the end, they kissed and everyone cheered."  
The reception was also held outdoors and was set up around a lighted dance floor surrounded by cabana daybeds, the insider said.
"There was a screen with big green leaves illuminated on it and their gold emblem R&B in the middle of the dance floor," the eyewitness continued.
Lindsay removed her tulle skirt and sported white shorts and sparkly ankle boots for the reception, which probably made it so much easier to dance to all the hits on the dance floor! 
The bride and groom danced their first dance to Maxwell's 1999 ballad "Fortunate." Lindsay and her father danced together to Maze and Frankie Beverly's 1981 hit "Before I Go." Abasolo danced with his mom to Boyz II Men's 1997 track "A Song for Mama."
"Everyone had a great time and was very happy for Rachel and Bryan," the eyewitness said. "They didn't want the night to end."
During the reception, the bride made a speech, telling the guests that you can find love on a TV show.
"But if you didn't believe it there, you'll believe it today, watching us as we celebrate with you guys," she said. "We can't say thank you enough for being here."
Instagram / Rachel Lindsay
On Sunday morning, Lindsay posted on her Instagram Story a video of crumpled up wedding attire on a bed and a photo of hair extensions and a bottle of Hennessy.
Instagram / Rachel Lindsay
The morning after...there were a few casualties," she wrote.