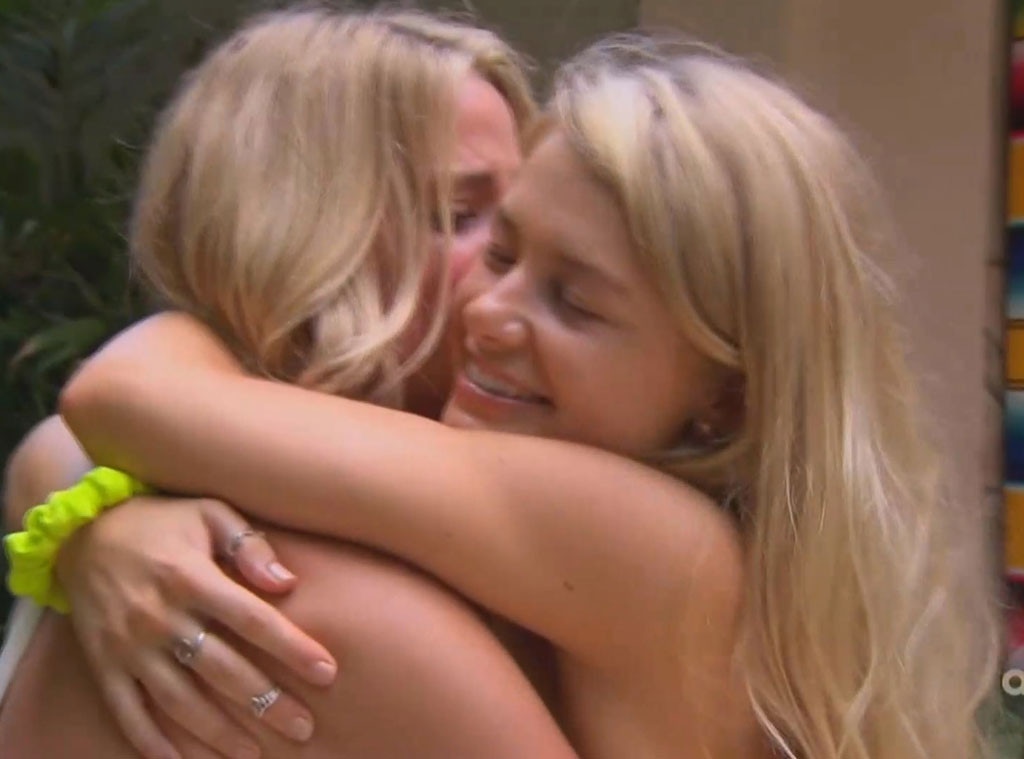 ABC
Demi Burnett got the surprise of a lifetime on Tuesday night's episode of Bachelor in Paradise.
In the episode, host Chris Harrison told the reality TV personality that he wanted to help her find love, so he arranged something for her. "We've come to a decision that I think is going to put you in the best position," he told Demi. "So why don't you head upstairs."
Before reaching the final step, Burnett saw the woman who holds a special place in her heart, Kristian Haggerty. The two couldn't hold back the tears, as they hugged and kissed each other. "I missed you," Haggerty whispered.
"My name is Kristian and I am 27-years-old," she told cameras. "I came down here to pursue Demi. I have a lot of hope and a lot of excitement. I know that she's been here for a couple weeks, so there's definitely some worry about her having feelings for somebody."
"That would be really hard for me to hear," she added.
Fans of the ABC series have seen Demi get close to contestant Derek Peth. And the Texas native came clean about it when talking to her lady love.
"I did meet a guy, Derek, who's amazing," the Bachelor in Paradise star revealed. "I really did give him a lot of me, emotionally, physically."
When asked by Haggerty if she had "feelings for him," the Texas native responded, "It's been really tough. I've been really conflicted about all of it... I've been feeling like a f--ked up person for it. I've been crying all the f--king time."
However, Demi later reassured the 27-year-old star that she only has eyes for her.
"I thought not seeing you, I wouldn't think about you as much. But the opposite happened," Burnett shared. "The more I was away from you, the more and more I thought about you. The second that I saw you, I realized it's you and it's always been you. I want to be with you."
In the end, the reality TV personality called things off with Peth and dropped a major bomb that Haggerty would actually stay in Paradise. "I'm gonna pursue my relationship with her here," the Texas native explained, to which the 27-year-old star agreed that she'd very much like that.
So before Kristian becomes a Paradise star, here a few things to know about her!
She's an Ordained Minister: She will certainly be able to put this skill to use after joining Bachelor in Paradise! She's already married her two besties, according to her Instagram. "Words truly can't describe the overflow of love, tears and laughter that was shared on this beautiful, rainy day in Palm Springs. It was an absolute honor to marry my two best friends," she captioned her heartwarming post in February.
She Has Beauty and Brains: The 27-year-old graduated with a Bachelors in Business Administration at Stetson University. Moreover, she attended college on a scholarship, which is no small feat, and joined a sorority during her time there.
She and Demi Have a Mutual Bachelor Connection: It appears Haggerty is gal pals with a contestant from Colton Underwood's season of The Bachelor, which was the same season Demi also appeared on. Their mutual Bachelor Nation connection? Commercial real estate agent, Catherine Agro. "18 years & counting," the 27-year-old captioned one of her Instagram pics with the Bachelor alum.
She's a Master at Improv: Kristian is an improv actor from the looks of her social media. She began taking improve classes in 2016 at the SAK Comedy in Orlando. Fast forward to two years later and she graduated from The Second City Improv program in October 2018. "May the adventures continue," she wrote on Instagram, alongside a photo of her Second City crew.
She Works in the Entertainment Biz: The 27-year-old works in the industry, mainly behind-the-scenes, in commercial and video production. In fact, she's worked on projects with celebs like Jennifer Lopez, Calvin Harris, Hailee Steinfeld and more, according to her website. However, with her new role on Paradise, she's certainly a natural in front of the camera!
She's a Cali Girl: From her Instagram account, she's been living in Los Angeles for quite some time. She's shared several snaps of the City of Angels, including a special weekend she shared with Demi back in April. "The one thing missing to complete a perfect weekend," she shared. In fact, the two can be closer now more than ever, because Burnett recently moved to L.A. "Let's goooo west coast," she tweeted on Monday, revealing the news about her big move. "I am a new resident and the anticipation has been killing me :-)."
She's a Proud Godmom: Take one peek at her Instagram, and you'll see an array of pictures that feature her adorable godson. "Missing my monster more than usual today," she wrote on a recent Instagram photo. She's certainly proud to hold that title.
Bachelor in Paradise airs Mondays and Tuesdays at 8 p.m. on ABC.