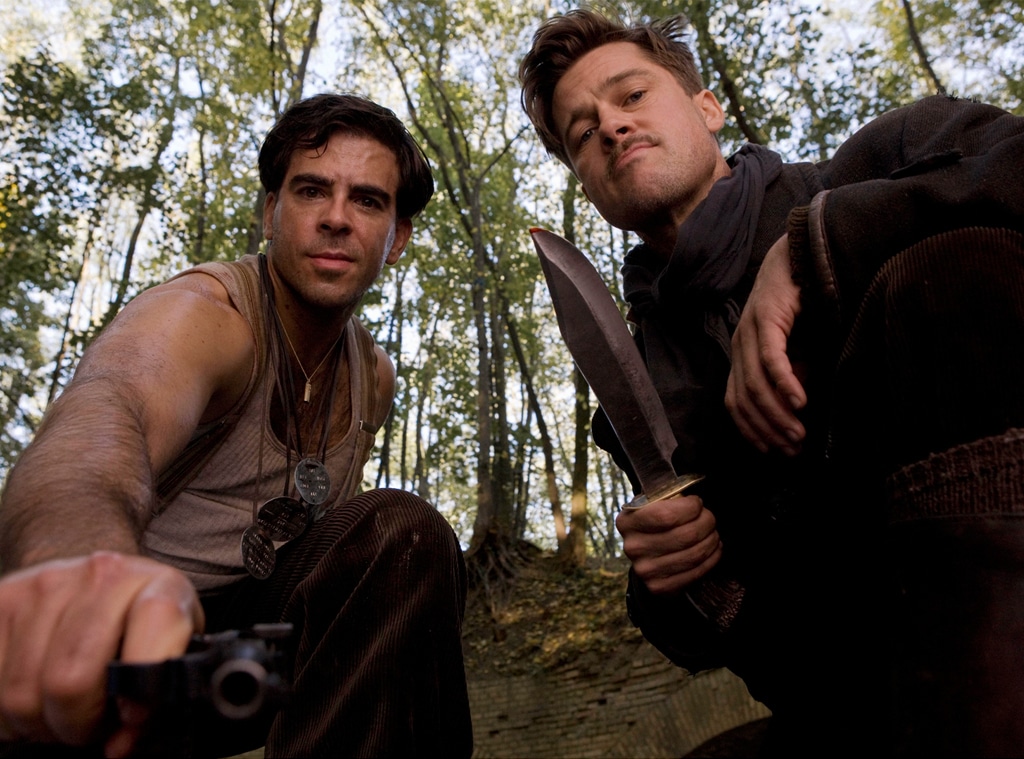 Francois Duhamel/ TWC 2009
Quentin Tarantino has never made a film that doesn't involve vengeance or settling scores—and from Reservoir Dogs and Pulp Fiction to Django Unchained and The Hateful Eight, nothing ever turns out quite as planned for the main characters as they put their schemes in action.
Well, Tarantino has planned it, down to the last word and drop of blood. And coming off his latest, Once Upon a Time...in Hollywood, when inspired-by-true events go spectacularly awry, we're once again left thinking... if only.
Though the physical settings couldn't be more different, the writer-director's ninth film is a natural successor to his sixth, Inglourious Basterds, which came out 10 years ago in a blaze of history-rewriting glory, also starring Brad Pitt as a magnetic, enigmatic and violent hero who's got a lot of issues, but who also gets it right.
And that can't be a coincidence.
"If for some reason I couldn't have used the title Inglourious Basterds, I probably would have called the movie 'Once Upon A Time in Nazi-Occupied France," Tarantino told Rotten Tomatoes in 2009. The original trailer for the film and its first "chapter" do indeed open with those words, and it's not hard to envision Tarantino filing that nugget away, making a little deal with himself to use "once upon a time" in another film down the road.
What you see in either case is hardly a fairy tale, but both gory fantasias improve upon reality.
Tarantino's Basterds don't stop years of Nazi atrocities from taking place, and the Germans are already losing the war by the time they arrive in France, but they do get to personally play a role in bringing down Hitler and his henchmen, not knowing they're being helped in their cause by a Jewish woman who's been hiding in plain sight in Paris as a theater owner and who hatches her own plan to set literal fire to the Nazi effort. 
In this case, Tarantino—who spent 10 years working on the script on and off—sat down to write not knowing entirely where his story was going. But the explosive climax ultimately seemed like the likely progression of events to him, as seen through the eyes of his characters, who, had they existed, in theory could have pulled off what Hitler's real-life would-be assassins failed to do.
"When you start writing," he explained to Rotten Tomatoes, "you have your characters on a metaphorical paved road, and as they go down it, all these other roads become available that they can go down. And a lot of writers have roadblocks in front of those roads: they won't allow their characters to go down those roads. For whatever reason—usually movie conventions. Well, I've never put any roadblocks on any of these paths. My characters can go wherever they would naturally go, and I'll follow them."
Here are at least 10 things on Inglourious Basterds' 10th anniversary that you totally forgot about, or perhaps never even knew:
Tarantino said a decade ago that he initially planned to honor the "roadblock" that was true events. That plots to assassinate Hitler failed and the Nazi leader eventually killed himself on April 30, 1945.
"But then at some point, deep, deep, deep into writing it, it hit me," he told Rotten Tomatoes. "I thought, Wait a minute: my characters don't know they're part of history. They're in the immediate, they're in the here, they're in the now, this is happening. Any minute, they're dead. And you know what? What happens in this movie didn't happen in real life because my characters didn't exist. But if they had, this could have happened in real life. And from that point on, it simply had to be plausible, and I had to be able to pull it off."
Inglourious Basterds was nominated for eight Oscars, with Waltz winning for Best Supporting Actor, and the ensemble took the SAG Award for best cast performance.
Asked at Cannes if he made a Jewish revenge fantasy, Tarantino said, "That wouldn't be how I would define it 100 percent. You could definitely say that and it works completely in that way. That wouldn't be the section in the video store I would maybe put it in." Ultimately, "there are aspects of that but to me, more than anything else, it is that my characters change the outcome of the war."
Once upon a time, it happened.