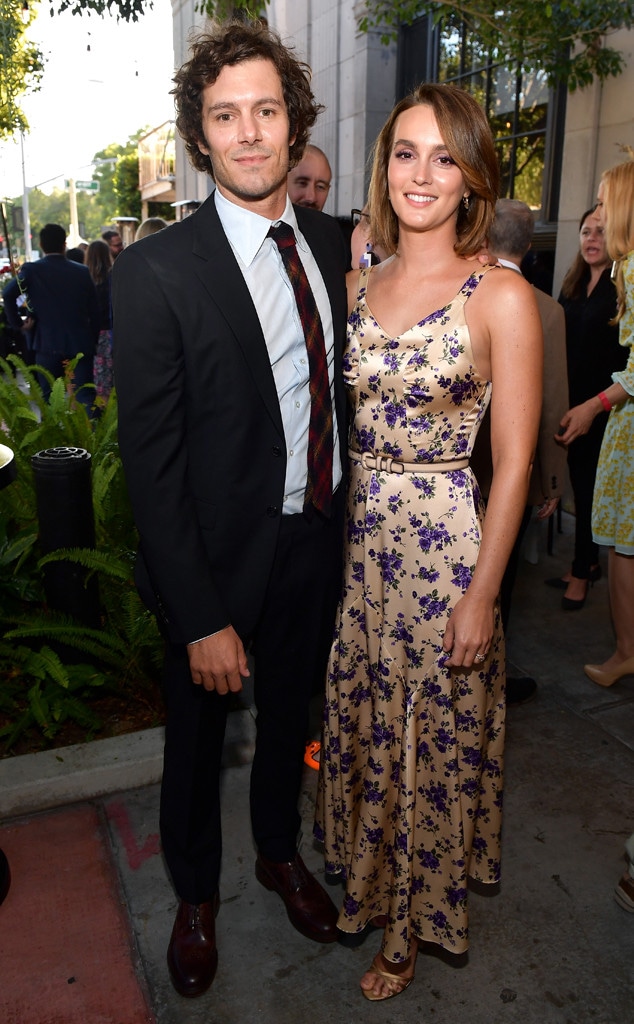 Matt Winkelmeyer/Getty Images
Adam Brody is giving a rare glimpse into his family life with Leighton Meester. 
The 39-year-old O.C. alum and the 33-year-old Gossip Girl actress, who tied the knot in 2014, like to keep their romance out of the spotlight. While they do make the occasional red carpet appearance together, the couple tends to keep their private life off of social media. In a new interview with GQ, published Tuesday, Brody explains that they've found a "great balance" when dealing with the public eye.
"She's more inherently private than I am," Brody says of his wife. "I don't seek publicity but if I'm sitting next to you on the subway, I'll tell you everything about me."
"We're homebodies. We don't go to a lot of things that perhaps we could, and don't seek out promotion in that way," the Ready or Not actor tells GQ. "I'm not s--tting on anyone who monetizes that aspect of their life because I get it. But we've found this great balance so far that really works for us. We're also not very active on social media."
Watch:
Adam Brody Guest Stars on Leighton Meester's "Single Parents"
When word spread years ago that Brody and Meester (a.k.a The O.C.'s Seth Cohen and Gossip Girl's Blair Waldrof) were together IRL, it sparked a social media frenzy. So, what does Brody think about the interest?
"It's not bizarre. To be perfectly honest, it was a little embarrassing," Brody admits. "I guess love knows no bounds?"
In 2015, Meester and Brody welcomed their first child together, a daughter named Arlo. When asked how becoming a dad has impacted his life, Brody tells GQ, "It's the best in every way."
"I mean this cliché—pride and joy. It's very apt," he says. "She's the thing I'm most proud of and gives me the most joy. She's just so dang awesome. It just gives you a new perspective in the best way—something to focus on that's greater and more important than yourself. Also that's 100% true and even in another way. She has even become my security blanket for the outside world in terms of 'I don't need your approval I have my daughter, f--k you.'"
Stefanie Keenan/Getty Images for InStyle
Now that many shows, like Gossip Girl, are being given a reboot, does Brody think that The O.C. will make a comeback?
"I think it could. I don't know what the new take is," Brody, who recently bumped into co-star and ex-girlfriend Rachel Bilson at the airport, shares. "I'm sort of a fan of the reboot culture moment we're having, I don't get too put-off by re-doing shows from my youth. I actually like it, and if it doesn't work—which mostly it doesn't—then fine, it's flattering to the original show. If it works, then you get a new addition. It would have my blessing."
"As for me, no [I wouldn't be involved], I'm in another stage in my life," he says. "And I feel silly saying no because they're not doing it and I haven't been asked, so who am I to turn down non-existent work? But the truth is, it's not that I mind talking about it, and I haven't fought hard to not to talk about it, I don't care, I'm talking freely about it now, and I enjoy it to a certain degree. But as someone who would also like to be known for my other work, I can't imagine dipping back into that pool to have another decade of conversation."
After The O.C. premiered, the cast was thrust into stardom, so how did Brody handle that level of fame?
"Honestly, I was fairly well-insulated from it. It was pre-social media so I wasn't interacting with the world at large that way," Brody explains. "I even think there was so much less outlets for paparazzi so I think there was less of that. I was dating my co-star [Bilson] for the majority of the show and all of our friends were dating each other, so there was this bubble."
"I was young, but I was 23. I wasn't 16 or 17. I was an adult," he continues. "And also, I had been working for a couple of years. It was the thing that made me famous for sure, but I was coming off of Gilmore Girls and I had done an MTV series, so in my somewhat naivete, I felt like a veteran. I don't even have too many stories of anything crazy. The people who knew me got a kick out of it, or my hometown. I'll tell you what, I'm very happy that mostly I'm anonymous. I'm very happy it didn't happen before then. I got to live a full 20+ years before of anonymity."
For more from Brody's interview, head on over to GQ.