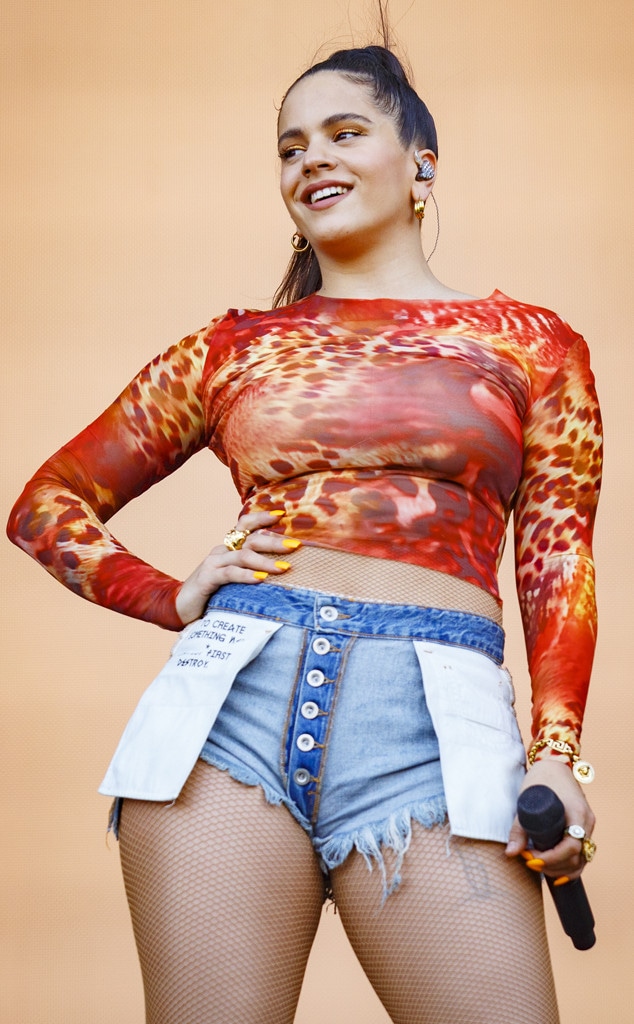 Mark Horton/Getty Images
Everyone wants a piece of Rosalía.
In just a few short years, the Spanish-born singer has risen up from flamenco student self-producing her own albums, in part, as her college thesis statement to an in-demand international superstar-in-the-making, collaborating with the likes of James Blake and J Balvin and becoming the first MTV VMA Best New Artist nominee who sings primarily in Spanish. As the globalization of music continues, allowing for artists to break through language barriers and top the charts in countries where their language might not be considered the primary one—think BTS or Bad Bunny—the 25-year-old stands on the precipice of becoming the next Latinx artist to break big.
After the sort of summer she's had, complete with spots on festival line-ups from Coachella to Made In America and a steady stream of new singles from her upcoming third album, it would actually be more surprising if she didn't. 
Growing up in a small town near Barcelona, she sang all the time—"I'd sing the things that I heard on TV or the radio, just repeated," she told Entertainment Weekly in May. "I didn't know why, I just did it"—but it wasn't until she was seven years old and asked to sing at a family lunch, encouraged by her father, that she realized that it might be her calling. "I didn't understand what had happened," Rosalía told the newspaper EL PAÍS in May, recalling how everyone listening teared up. "But I knew that I could do something in music."
After confiding in her mother at age 10 that she'd like to study music, she began her studies in earnest at 13. " I started with modern music, I studied guitar, piano, I got a taste of everything," she told Billboard in October 2018. Though she didn't grow up listening to much flamenco, the folkloric musical tradition that calls southern Spain home, she was exposed to it on the streets in those early teen years and fell—hard. "From the beginning, I knew," she told The Fader in May. "I realized, This is my path."
Ethan Miller/Getty Images for LARAS
After appearing on—and losing—the televised talent competition Tu Si Que Vales at only 15, she began studying flamenco under the tutelage maestro José Miguel Vizcaya (also known as Chiqui de La Línea) at 16, eventually landing a spot at the ESMUC (Catalunya College of Music) in a program that only accepts one person a year. "That was me," she told Billboard. "It is difficult to get in, but it made me force myself to work harder." Still studying under Vizcaya, she earned her bachelor's degree in flamenco vocal performance, graduating at 24. 
For her first album, 2017's Los ángeles, she reworked a series of flamenco cantes that all feature death as their central themes. (The title translates to "the angels." It is not a nod to the California city of the same name.) "I feel like with Los Ángeles, I wanted to establish my musical legacy... and honor the classic sound of flamenco in the most traditional sense, respecting them to the maximum, with a pop and experimental structure, but with very basic instrumentation and a minimalist sound—just guitar and voice," the singer told Jezebel in November 2018. It earned her a Best New Artist nomination at the 2017 Latin Grammy Awards. (She lost to Dominican singer Vicente Garcia.)
"But after I found that," she continued, "I thought, I want something new."
For her second album, 2018's El mal querer, she teamed with Spanish musician and producer El Guincho to elaborate on her university thesis and take the sound to a more modern place, gravitating to a more electronic sound. The concept album, inspired by the anonymous 13th century novel Flamenca, revolves around a toxic relationship, with each song a new chapter in the story. The sound marries the traditional flamenco with the modern electro-pop and R&B flourishes. As with her first album, it was done all without the help of a record label. (She signed with Sony Music Spain in August 2018, three months before releasing El mal querer, and signed a global deal with Universal Music Publishing Group in June of this year.)
"I compose, produce, arrange — I don't just perform," Rosalía told Pitchfork last September. "I'm playing keyboards, playing bass, doing everything. At the end of the day, I'm the one working my fingers to the bone."
The song "Malamente" and its eye-popping accompanying video shot her to a level of international stardom that might've once seemed impossible for an artist from Spain. The video alone has over 98 million views on YouTube.  It won her two Latin Grammys last year, for Best Urban Fusion/Performance and Best Alternative Song. 
With her second album taking the music world by storm last year, her 2019 has marked by one charmed moment after the next. She's released smash hits from her upcoming third album, including the massive "Con Altura" with J Balvin, which has 735 million views on YT. (Yes, you read that right.) Her cinematic music videos and daring fashion choices have become events in and of themselves. She had a track featured on For the Throne, a concept album released in conjunction with Game of Thrones' final season, released collaborations with James Blake and Ozuna, and has clocked studio time with the likes of Pharrell, Billie Eilish and Dua Lipa.  "We're hopefully going to finish all these songs soon and I can't wait to share them," she told The Guardian in June. "I'm excited." 
Hell, she even earned an invite to perform at Madonna's 60th birthday party in Morocco last August. Sadly, it never came to pass. "I don't want to get into this too much," she told the UK outlet, referring to Madge's story about the complications she alleged arose on Rosalía's end. "But I can tell you that...I was happy to go there and sing for her, but it just didn't work."
As she waits to find out whether or not she'll take home any of the three Moonmen she's in contention for at this year's VMAs, where she'll also take the stage to perform on Monday, Aug. 26—aside from Best New Artist, she's nominated for Best Latin Video and Best Choreography for "Con Altura"—there's no telling what she might do next. And that's what's so exciting.
"I don't know what my work will mean in a few years," she told The Fader. "But I am clear that above all else I am experimental. It's a necessity for me. I don't know how to live any other way. I don't know how to do anything else. There is no alternative."