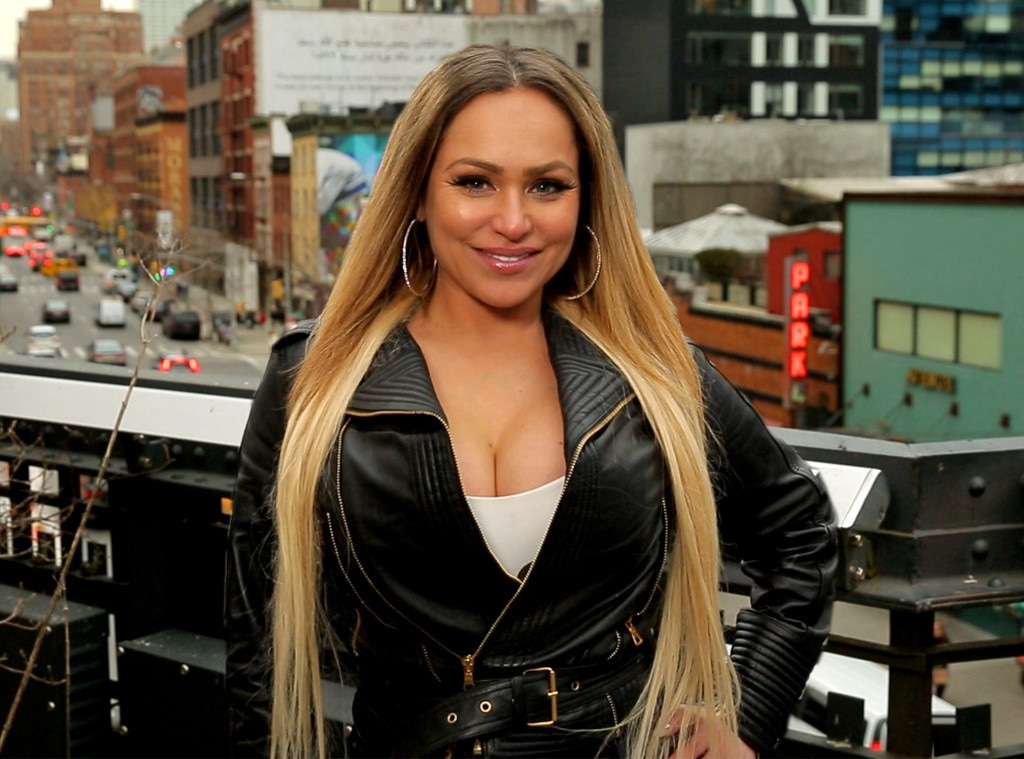 TLC
It was an episode full of first meetings, weary travelers and blatant manipulation for 90 Day Fiancé: Before the 90 Days.
Darcey, formerly of Darcey and Jesse fame, made her way to the United Kingdom to meet Tom, a man she has already proclaimed her love for despite never meeting. Darcey thinks Tom could be "the one." Tom? Well, he thinks Darcey sure is special, despite his barber's shade over her many Instagram filters, but isn't quite sure if she's "the one" just yet. He admitted he's been a player of sorts and wants to get to know her. His delightful sister Emma urged him to be open and not rush into or out of things.
Upon her arrival in the UK, Tom arranged for a car to pick Darcey up so she could take some time to freshen up before their first meeting. And time she sure did take. Darcey spent 45 minutes in an airport bathroom dosing herself in perfume and changing her outfit.
When the two finally met at a restaurant…were there sparks? Sort of? He said she looked better than her pictures. She said he looked different. Better? Sure.
Tom revealed to Darcey that they won't be sharing a room together, he got her some place separate so they can take their time. This, uh, didn't really sit well with Darcey. She was coming on strong, he wanted to take their time.
Meanwhile…
Avery and Omar
Despite her missing phone, Avery and her mother Teri made it over to Lebanon to meet Omar. After many hours in transit, they made it…without their luggage. But that didn't stop Avery's excitement, she was more than ready to meet her fiancé, Omar, a dentist, for the firs time.
Omar and Avery met on a Muslim dating app. He lives in Syria, and said he has lost friends in the war, but "life changed after meeting Avery."
Teri deemed their first meeting "sweet," but is more than just a little worried about the cultural differences between the two. Holding Avery's hand was the first time Omar ever touch another girl in that manner. She worried she was coming on too strong—and that wasn't the only thing she was worrying about: Avery hasn't told her mother about her plans to move to Syria.
Angela and Michael
Yes, for some reason they're still engaged and on this show. Angela met with a lawyer to discuss the K-1 visa process some more and she was surprised to learn that she would be financially responsible for him should they go through with everything, move him to America and eventually divorce.
Throughout her time on the episode, Angela kept telling people she loves Michael, but his lies and shadiness could be the end of their relationship. Michael told Angela they'd celebrate his birthday together, but when Angela tried to talk to him on the actual day, he was nowhere to be found. "Do I look like a thirsty bitch?" Angela asked her friend while talking about Michael's lies. She thinks he's taking advantage of her.
Rebecca and Zied
Safely in Tunisia, Rebecca dealt with Tunisian traffic for the first time—Zied needed her to rent the car and drive it, he hasn't had a driver's license for the correct amount of time yet—and spent her first night ever with Zied. Despite his promise to his parents, the two slept together. Zied admitted he was nervous to have sex with her because she's 20 years older than him and a grandmother, Rebecca said she was nervous because it was almost a year since she had sex, but they did it.
Benjamin and Akinyi
TLC introduced a new couple, Benjamin and Akinyi, who met on a dating app. Benjamin's a divorced single dad who is very active in his church and studying to be a pastor. His divorce, which his wife filed on their anniversary, hit him hard in the finances and confidence. He's now worried he won't have enough to pay the "bride price" for Akinyi's hand in marriage, and to meet her and her family. One thing he didn't seem to think about: what if Akinyi and his son don't mesh well? What if she's not prepared to be a step-mom?
Caesar and Maria
Caesar's trip to Mexico to meet his Ukrainian girlfriend was fast approaching…and she didn't buy her ticket yet. According to Maria, she needed the money to get her nails and hair and teeth done before the meeting, and would need more money…and she couldn't go on the planned dates because it was her mom's birthday. On the advice of friends/clients, Caesar decided to take control and said he'd buy her ticket himself for the dates she floated out and she could use the money he sent her for her nails and what not.
90 Day Fiancé: Before the 90 Days airs Sundays, 8 p.m. on TLC.