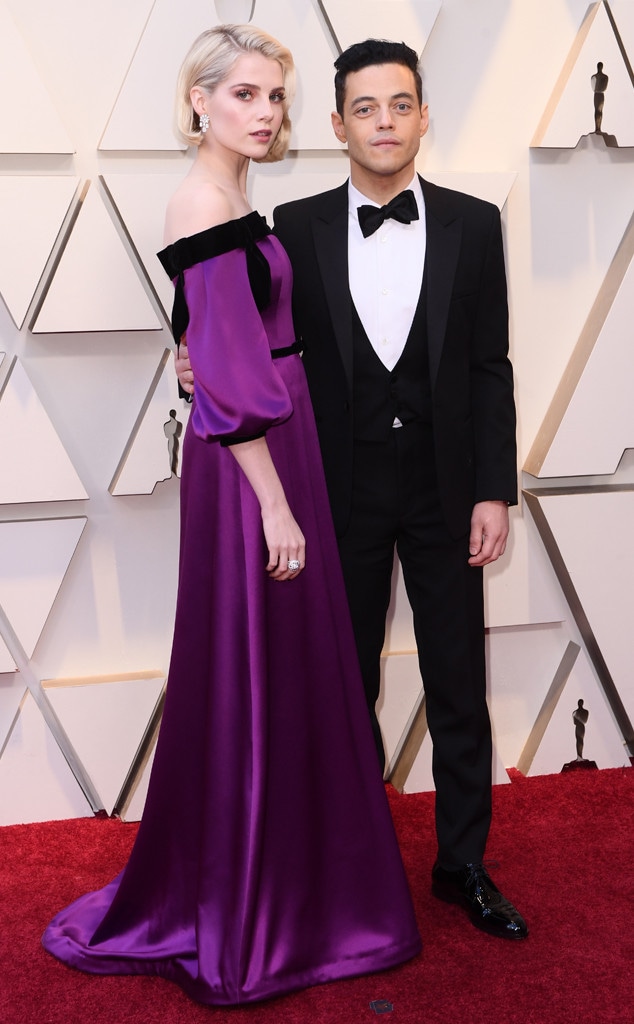 David Fisher/REX/Shutterstock
Rami Malek has found somebody to love—in Lucy Boynton.
The 38-year-old actor proved just how much of a doting boyfriend he can be in GQ's September issue.
At one point during the interview, Malek headed into a local Goop shop in New York to purchase a gift for his leading lady. While the two weren't celebrating any special occasion, Malek wanted to give the 25-year-old actress a little token of appreciation.
From champagne coupes to bath salts, the Mr. Robot star examined several items before settling on the right one—a container of Schmidt's Jasmine Tea deodorant.
"She'll be so 'chuffed,'" he told the interviewer. 
However, he didn't stop there. He then picked out a gold chain with a crescent-shaped pendant. As a little joke, he asked the salesperson to place the deodorant in a jewelry box and put the necklace in an informal shopping bag. 
"Good. This will be funny," Malek said. "She'll think I'm being goofy."
Malek fell in love with Boynton after working on Bohemian Rhapsody together. As fans are well aware, Malek played Freddie Mercury in the Queen biopic while Boyton played Mary Austin.
During an interview with The Cut, Boynton recalled meeting Malek for the first time at Abbey Road Studios in London just before they started shooting. According to the publication, it was an "intense day" and Boynton had been reading in a corner to help deal with her anxiety. Malek then approached her and made a plan for their scene. 
"Rami felt so much the leader of that set," she recalled. "The cast became so close going through that, as you always do when going through a particularly stressful experience, to put it politely."
Ryan McGinley for <i>GQ</i>
 At first, the two kept their relationship quiet. However, Malek kissed her after being named Best Actor at the 2019 Oscars and admitted she had captured his heart during his acceptance speech.
 Looking back at that moment, Boynton remembered feeling calm—a feeling she attributed to the CBD candies she ate before the show. Then, she said she "blacked out."
 "Him winning for his performance was like winning for the tip of the iceberg of everything he had done," she said, recalling the major moment. "You kind of forget that there are hundreds of other people in the room."
Despite this public PDA, Boynton still keeps the details of their relationship private.  
"I had an interview recently where I was asked such crude and candid questions about my relationship," she said. "It kind of forced me to pull way back."
However, it's clear the two are in love. Could Boynton also have wedding bells on the brain? After meeting at the Morgan Library in New York for her interview with The Cut, Boynton said, "Imagine having a wedding here." After learning that the establishment doesn't technically hold weddings, she was told a few strings could probably be pulled.
"Perfect," she said, "because I want to have a wedding here, but I don't want anyone else to." 
With all their personal and career success, it certainly has been a great time for the duo. As Malek said during his GQ interview, "If you can find any type of happiness in it, latch on."