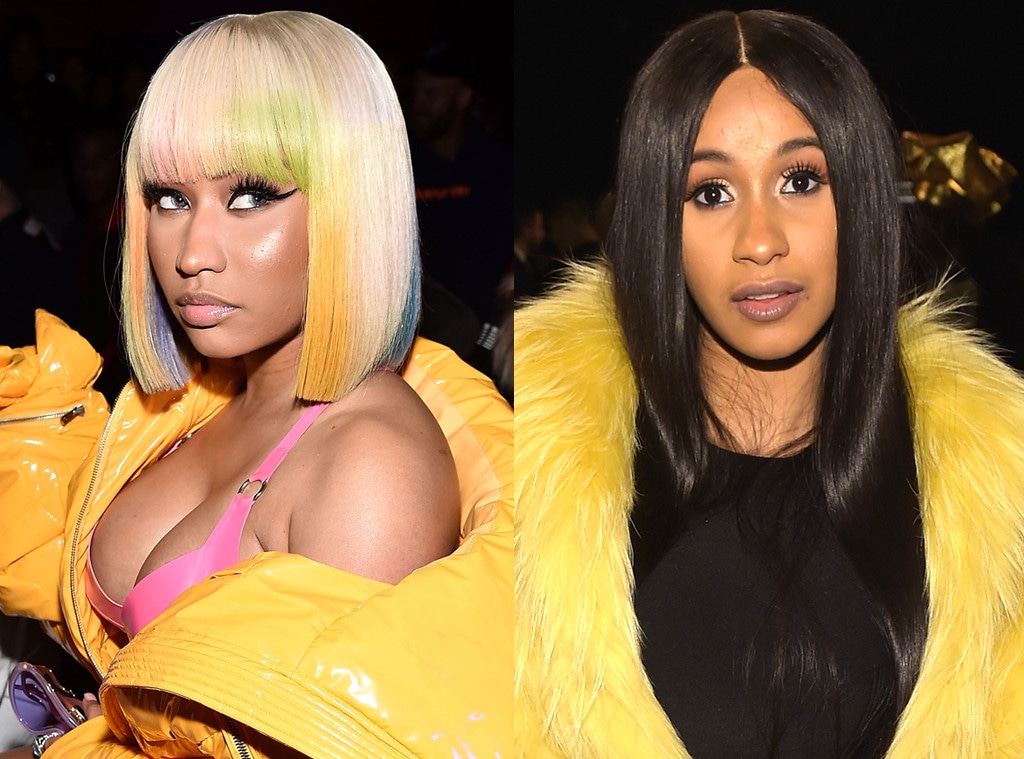 Jason Kempin/Theo Wargo/Getty Images
Nicki Minaj and Cardi B's feud might've been reignited this week.
The "Bang Bang" artist and the "I Like It" rapper, who have a long history of tension between them, appear to be throwing some subtle digs at each other. While talking about her career and the music industry on the Joe Budden Podcast, Nicki referenced the posts going around on social media listing the 50 greatest rappers of all time.
"This is what I want to say, I would feel so f--king crazy if I had numbers ones and Grammys and ain't on nobody top 50 list," Nicki said. "I'm not talking about myself."
"We just sat here and spoke for an hour and all I've seen, stuff on the Internet about this top 50 thing, have not once seen anyone say, 'Well does he have a Grammy?'" Minaj continued. "Yet, the Grammys have brainwashed us into thinking for years that the Grammys are about what? Talent."
After hearing Nicki's podcast quotes, many fans believed that the rapper was throwing shade at Cardi, who won Best Rap Album at the 2019 Grammys in February and has reached the top spot on the charts.
Cardi, seemingly responding to Nicki's statements, posted a photo of a world album sales chart. "One year and some change later and my album is still SELLING," Cardi wrote about Invasion of Privacy. "Only list I give a f--k about. Have a beautiful day everybody."
"Welp Cardi Heard the podcast," one commenter wrote on Cardi's Instagram post, while another social media user simply wrote, "Nickiiiiiiiii," along with heart and fire emojis.
This September will mark the one-year anniversary of Cardi and Nicki's New York Fashion week fight, where the duo got into an altercation during the Harper's Bazaar Icon party at The Plaza Hotel. Months later, the superstars appeared to call a truce, promising to "keep it positive and keep it pushing." However, tension still seems to be on the rise between the artists.