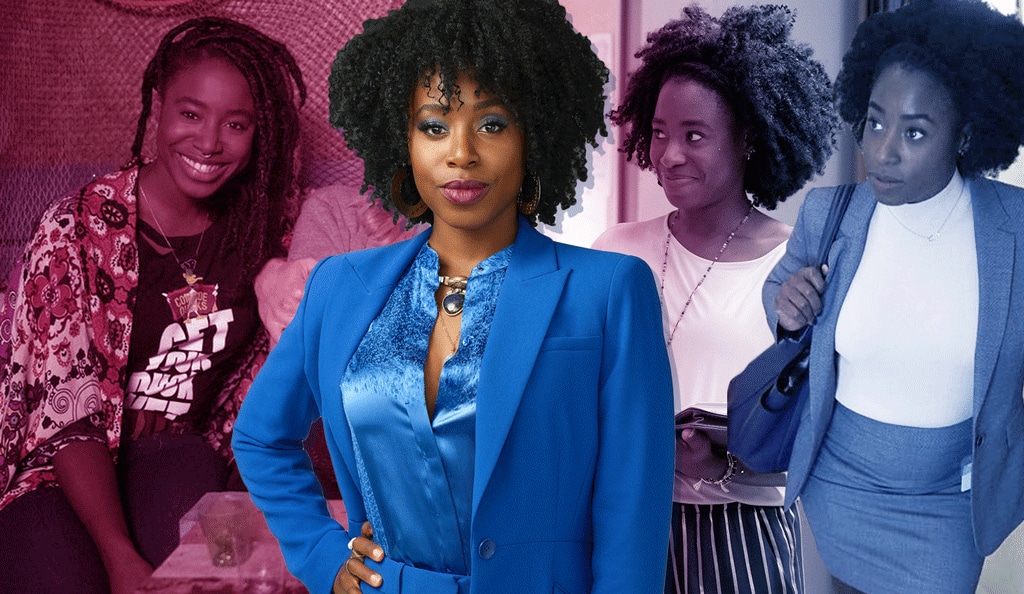 E! Illustration
If the name Kirby Howell-Baptiste doesn't ring a bell just yet, give it time. Her face, however, certainly should.
With the arrival of Desperate Housewives creator Marc Cherry's new CBS All Access series Why Women Kill on Thursday, Aug. 15, the scene-stealing actress makes the much-deserved leap from supporting to lead actress, capping off a ubiquitous past few years that have seen her pop up in just about every buzzed-about series there is. In 2019 alone, she's had key roles in The Good Place, Barry and Veronica Mars. Not too shabby.
The omnipresence may seem sudden, but the 32-year-old London native insists that it wasn't meant to be this way. 
"It's been three years of work that all kind of came out at once," she told W Magazine in July. "I'm actually quite selective about the jobs that I pick but it just so happens that these things hit really hard in a very small window of time."
As she told The Hollywood Reporter this month, "I shot the Barry pilot in early 2016 and kind of jumped from job to job. When everything started being released and recognized around the same time, even I was like, 'Whoa, that's a lot of shows.'" (Howell-Baptiste declined to be interviewed for this story.)
It didn't just happen overnight, though. "There's years and years of hard work, rejection, and gritting your teeth that has come before the final product, which is getting to be on cool shows," she told Entertainment Weekly in March.
Howell-Baptiste arrived in Los Angeles in 2012, leaving behind the film extra and stage work she'd been doing in London simply for a change of scenery. "It wasn't like how most Brits move here when they have a job," she told EW. "It was more like going on an adventure than a big life decision for my career. Like, 'Oh, you're moving to L.A.? I'll come with you!'"
Finding work in commercials and student films while also waiting tables at a cafe, she soon found herself in classes at the Upright Citizen's Brigade, the famed improv troupe and school with locations in New York and L.A., on the recommendation of a co-worker at the restaurant. "It felt like getting to be a kid and have fun and mess around," she told W about her first class. "I had always skewed slightly more comedic and when I started at UCB, it just clicked."
From there came appearances on IFC's Comedy Bang! Bang!, starring and produced by UCB alum Scott Aukerman, followed by the big break: a guest-starring role on Showtime's House of Lies opposite Kristen Bell, marking the first of three shows on which the two actresses would come to work together. 
"That was the big, notable thing that pushed me forward," Howell-Baptiste told W. "It was nerve-wracking, though, because it was essentially a monologue. It was a scene with just Kristen Bell and I, but it was completely integral to the episode, so that was wonderful because I was like, 'This can't be cut.'"
A spot in the ABC Talent Showcase—"If you've got the talent but not the connections, if you don't necessarily have the financial means to do classes and never work," she told THR "it gives you a springboard"—opened more doors, leading to a starring role in the network's short-lived comedy Downward Dog in 2017. By 2018, though, everything started to fall right into place.
That spring, she co-starred in the first season of Killing Eve as Eve's (Sandra Oh) assistant, Elena, while appearing on HBO's Barry as Sasha, one of the other students studying acting under the hilarious tutelage of Henry Winkler's Gene Cousineau. Come fall, she was recurring on the third season NBC's The Good Place, playing Chidi's (William Jackson Harper) Australian love interest Simone.
"With Killing Eve and Barry, I'm in the first season of those shows, so it was much more of a surprise of what they would be," she told EW. "But The Good Place [opportunity] was so exciting. I remember not thinking I was going to get the role but just being so happy that I got to audition, because it was — and still is — one of my favorite shows."
While she didn't return to Killing Eve for its second season earlier this year—her absence was explained away as Elena wanting a less deadly line of work—her performance on the Phoebe Waller-Bridge-created BBC America series is what caught the eye of her new Why Women Kill boss. Cherry told THR that he cast Howell-Baptiste as the polyamorous lawyer Taylor, one of three women the show's 10-episode first season follows in her own decade with her own love triangle that pushes her to, you know, kill, with no audition required. 
Comparing the her top-billing casting alongside co-leads Ginnifer Goodwin and Lucy Liu to hiring a then-unknown Eva Longoria for Desperate Housewives in 2004, Cherry told the trade publication, "Whether it's through this show or another one, Kirby is about to become a very big deal."
Her work as the kick-ass nightclub owner Nicole Malloy in Hulu's revival of Veronica Mars last month came about, in part, thanks to repeat co-star Bell vouching for her when she was mentioned by the producers.  "I told them the truth, which is that Kirby brings something special to every scene, that she would elevate our show tenfold, and that we'd be lucky to have her," Bell told EW. "Kirby is the perfect scene partner. She is very good at staying present as an actor — listening and reacting in a natural way. She's incredibly prepared and professional, yet she doesn't take herself too seriously. She is genuinely fun to be around and a hell of an improviser."
As for the future, her dance card is a bit full—she'll be back for the fourth and final season of The Good Place this fall and, though Why Women Kill tells a fully-contained story in its first season, Cherry has declared his intention to "bring back as many people as I can" for a yet-to-be-ordered second season, taking a page from Ryan Murphy's American Horror Story playbook—she's hoping to venture into writing some projects of her own.
"We all have stories to tell," the actress told EW. "We're in a really exciting time right now of hearing a lot more interesting stories, so I want to continue to be a part of that. I get to do the thing that I've always wanted to do, and that's the coolest feeling in the world."
As she told THR, "Casting is changing, and what I'm doing now is proof of that. Ten years ago, Why Women Kill would not have looked like this."
All we can say is: Thank goodness it does.
New episodes of Why Women Kill drop every Thursday at 3 a.m. on CBS All Access.