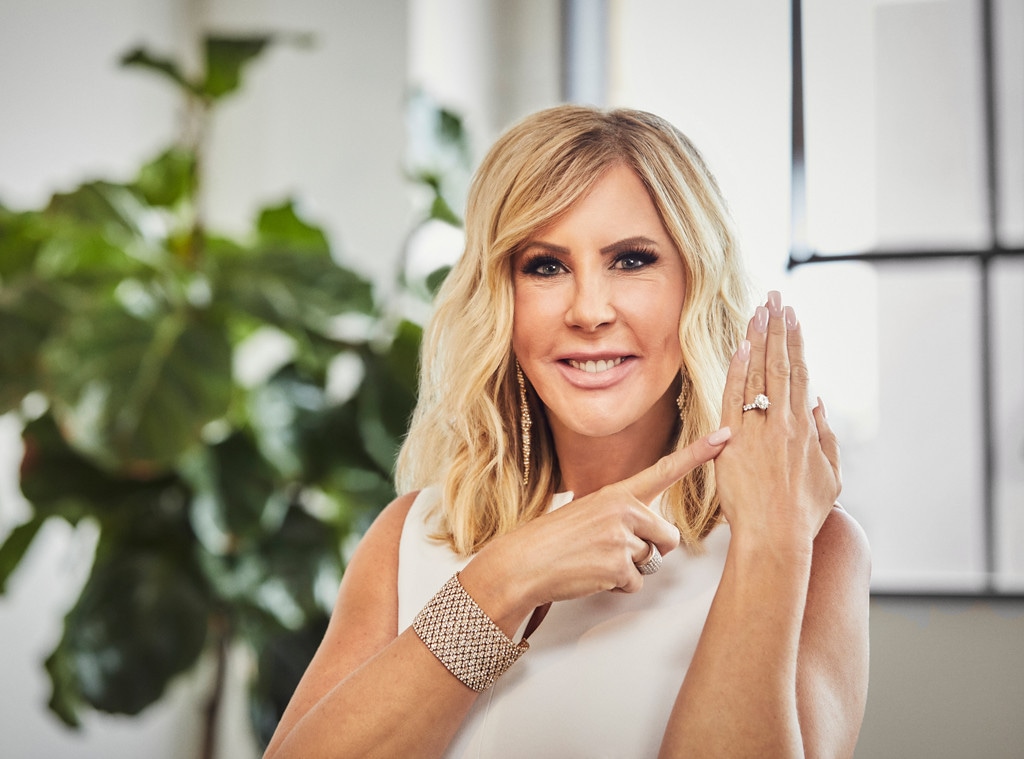 Bravo
For the first time in The Real Housewives of Orange County's history, Vicki Gunvalson is not holding an orange. Yep, the OG of the OC is not a main cast member after being with the show for the last 13 seasons. However, that doesn't mean you won't see her in season 14. No, Vicki is still very much part of the show—and the drama.
"I talked to [Andy Cohen] last night, because I said, 'What do I say?' He said, "You know what, nobody has ever lasted 14 years on a reality show, be happy and proud of that.' And I'm still in," Vicki said on the Jerry O' talk show. "Our producer Scott Dunlap said, 'Unless they kick you off the horse, don't voluntarily get off the horse.' So, I'm still on the horse. I'm still on the pony! I don't know what my future is, but I'm having fun and they're my friends."
Vicki sat down to talk about RHOC with the two other members of the "Tres Amigas," Shannon Storms Beador and Tamra Judge.
"She'll be back next year," Tamra said about her (current) pal Vicki.
"She'll always be the OG," Shannon added.
Vicki has long maintained The Real Housewives of Orange County is her show and is quick to acknowledge her contribution to the reality TV phenomenon.
"I have a very much love for my franchise and love for what I've created in 14 years…we've been through hell and back, but truthfully it's our reality," she told Jerry O'Connell. "It's what my life has gone through in the last 14 years and it's been some bumpiness…"
It's not uncommon for the Housewives shows to change casts, including having original cast members appear in more supporting roles. Jacqueline Laurita did so on The Real Housewives of New Jersey before returning full-time, as did Luann de Lesseps on The Real Housewives of New York City. On The Real Housewives of Atlanta, both NeNe Leakes and Sheree Whitfield have departed and returned again as guests and friends before picking up a peach as a series regular.
This season of RHOC, Vicki is celebrating her engagement to Steve Lodge. "He's just a good guy," she said about her fiancé. But it's not all happiness for Vicki, she's dealing with a fallout with Kelly Dodd.
"Kelly and I were friends and it went bad fast…At the end of the day, I feel really bad about it. I don't like having enemies… I like having peace in my life and the unfortunate thing is Kelly and I went sideways and kept going sideways and she is just not a kind person…I don't want to be around not nice people at this time in my life," Vicki said.
The Real Housewives of Orange County airs Tuesdays at 9 p.m. on Bravo.
(E! and Bravo are both part of the NBCUniversal family.)