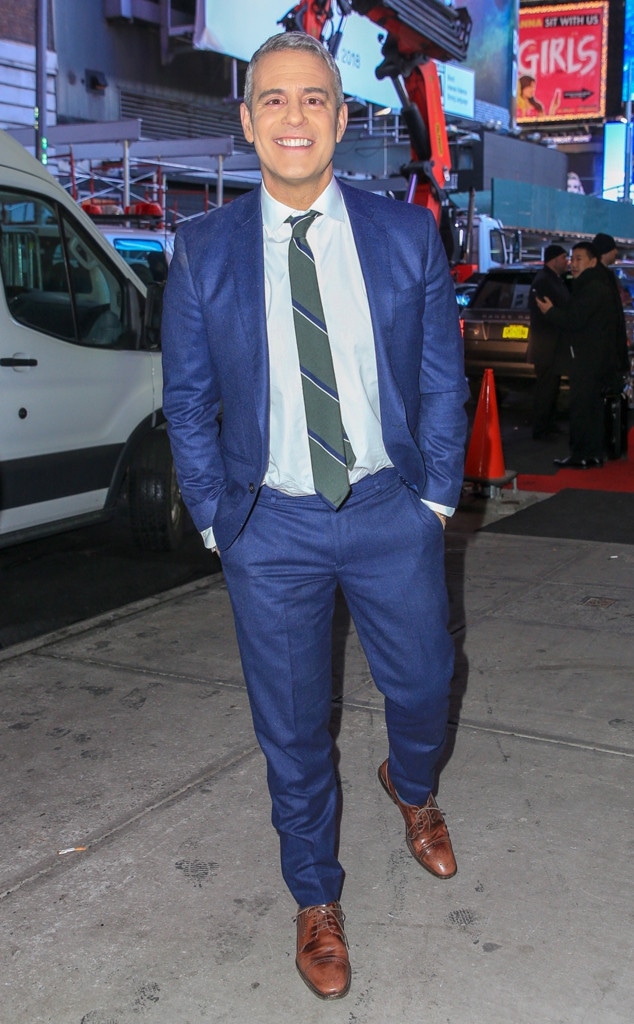 BACKGRID
It's only Tuesday but we're awarding Andy Cohen's Mazel of the Week to this fan for his self-assurance.
On Monday night's episode of Watch What Happens Lives, Jacob from Austin Texas called in with an, er, proposition for the Bravo host. "I just think you're so attractive, Andy," he raved to the 51-year-old. "I mean, if you ever come to Austin, I would love to take you out on a date."
For his part, Andy was…intrigued. "I like your voice," he complimented the deep, alluring tone. "How old are you?"
As it turns out, Jacob is just 22. But, it's 2019 and this Texan refused let age be a deterrent. "I want to take you out," he confidently explained. "I'll pick you up at the airport, take you out, pay for everything. It's good." Or, better yet, he'll fly to NYC. Whatever Andy wants!
Alas, before this romance could take off, the show had to go on.
"I'll DM you and we can talk about this on Instagram DMs," Jacob said, moving the conversation over to Million Dollar Listing's Steve Gold, who was the evening's guest.
"He's running the show here!" Andy quipped. "Alright, I like it. Maybe I need a bossy 22-year-old."
Perhaps it'll be a match made in late night heaven. After all, the dad of Benjamin Cohen certainly knows the trials and tribulations of modern dating. 
"I am on Tinder and there is a gay dating app that I'm on that I keep getting kicked off of because they think I'm impersonating Andy Cohen," he previously admitted. "And they're like, 'Your photos don't meet our guidelines.' I'm like, 'No, it is me!'"
Wishing these two a lifetime of happiness...or at least, a response to those DMs. We can't wait to watch what happens next.