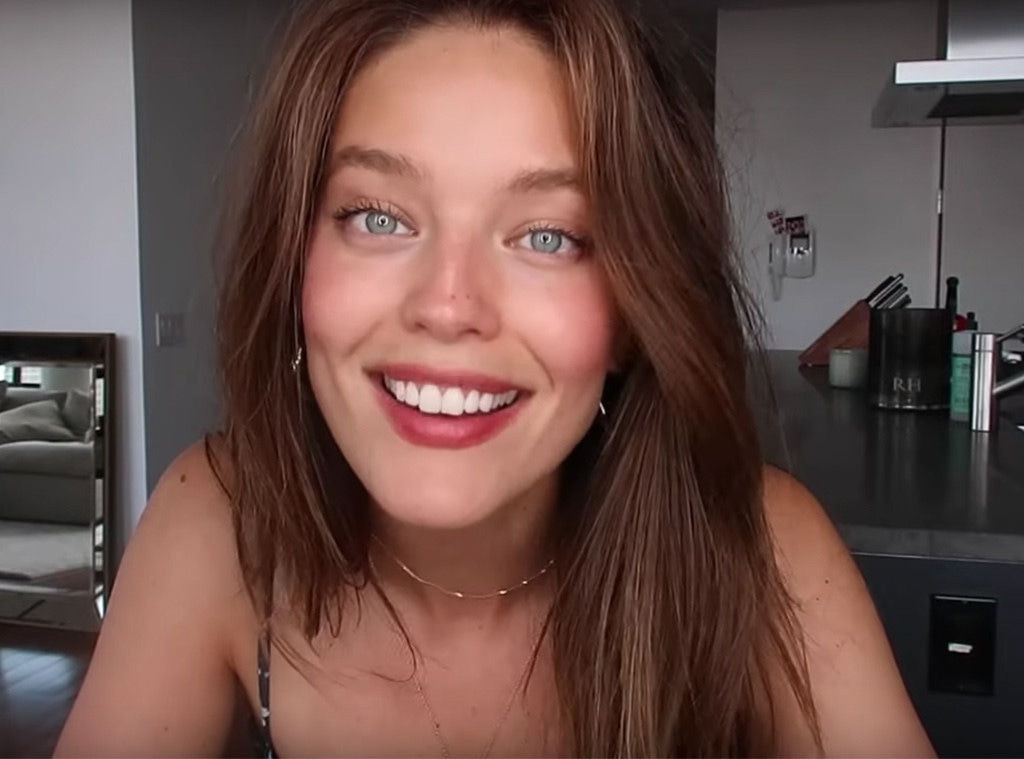 YouTube
Emily DiDonato is loving the skin she's in. 
The 28-year-old model opened up about her "road to self-love and body positivity" in a candid YouTube video on Sunday.
During the video, DiDonato admitted there were moments in her life when she was "very unhealthy" and "went to extreme measures to look a certain way."
DiDonato moved to New York to pursue modeling at age 18. After meeting with agencies, she was consistently told she was "too curvy," "too big" "too athletic" or "too commercial." 
"It was a bummer," she said. "I was kind of like 'What do I need to do to succeed?' To me, to be successful, it was to be thin. So, I was like 'I'm going to do whatever it takes.' And I did."
DiDonato started eating "as little as possible," over-exercising and becoming "obsessed" with what she was putting in her body. 
"I went, I think, from, like, 140 pounds to 118 pounds, which is very, very small for my frame," she said. "I'm like 150 pounds now and feel great about it, but then that was very small for me."
After putting an "obscene amount" of pressure on herself, DiDonato became depressed.
"I was lonely. I was homesick. I missed my friends. I didn't know what I was doing in this big city. I didn't know anyone. I didn't even know how to make new friends because, like, making friends as an adult is actually very hard," she recalled. "I was going to castings, and I still wasn't getting great feedback."
Then, at one of her castings, she was approached by fellow model Julia Stegner and makeup artist Charlotte Willer. They took her aside and asked if she was OK. After hearing similar concerns from agencies and her family, DiDonato ended up "gaining all the weight back and then some."
"That ended up being a whole different struggle, I think, in itself," she said. "I remember really not liking the way that I looked. When I gained the weight back, I felt really embarrassed. I really wanted to hide. I felt like I was failing all of these agencies and people who believed in me and wanted me to succeed. I just thought, I was fat. There's no way that I'm going to succeed now."
At one point, she told her agency she wanted to pose for Sports Illustrated.
"I feel like that is a magazine where they have curvier girls, and maybe I can fit in somewhere there," she recalled telling them.
But after seeing the photos from the shoot, DiDonato was "so upset" and "hated" the way she looked. While she expected to receive negative feedback, the opposite happened. In fact, she started working more than ever. 
"It also felt freeing to me because I felt there was no way I could hide now," she said.
She also said finding new friends and hobbies that weren't focused on her looks helped. In addition, she said she tried cutting off negative thoughts and bringing in positive self-talk. Furthermore, she praised her husband Kyle for providing additional support.
While DiDonato said she's now "at peace" with her body and in a much better place, she said she still experiences "challenging days and times." Still, she tries to not let one brand or person's viewpoint "derail" her self-confidence.
"Part of my sharing this with you and this audience is I wanted you to know that I've struggled with this," she told her viewers. "I wanted you to know that I wear a size six, and I'm in an industry that that's not always super accepted. But that's OK. I know that I am OK and successful in many areas of my life—and many areas of even this industry—and that's OK. Not everyone is going to love you and think you're perfect. And they shouldn't, and that's fine because nobody is perfect."    
In the end, she told her followers that "there's nothing sexier than a woman who is comfortable in her skin and her body" and that she tries to remember this every day.
She also opened up about her experience on Instagram.
"It took me a long time to feel comfortable in my body," she wrote. "I've fluctuated over the years from a double zero to a size 10 and I remember being so embarrassed and ashamed of that. I wish I was kinder to myself because I am only human but I thought models were meant to be a 00 and stay a 00. I was always hesitant to talk about body positivity or body diversity because I am aware being a size 6 or 8 is nothing groundbreaking but in the modeling industry, my size hasn't always been represented, celebrated or accepted. For me, feeling comfortable in my skin has taken a lot of work and effort and I wanted to share that with you guys." 
Watch the video to hear DiDonato share her story.