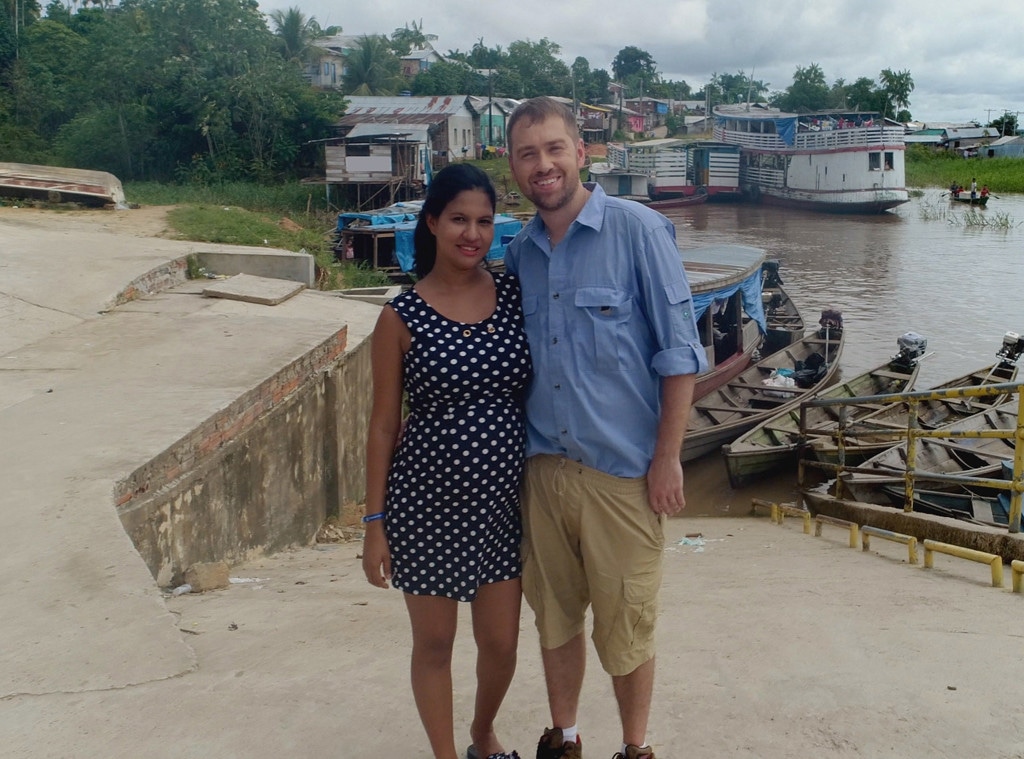 TLC
Old flames, mystery men, and big birds rocked 90 Day Fiancé: The Other Way.
In Brazil, Karine and Paul continued to clash over, well, just about everything. They're living with Karine's parents in a remote part of the country, Paul is still not sure if he'll be deported due to a translation error that has labeled him a terrorist, and Karine is very pregnant. So, yeah, a lot of tension there.
"He needs to grow up," Karine said, especially now that he's going to be a father, she added.
After looking at and fighting over their own apartments, the two settled in for a fight in front of her mother. After demanding pregnancy tests before, the topic came up about whether or not Karine will submit to a DNA test for their baby. Paul said he doesn't need it now after spending so much time with his pregnant wife, but the embassy might when they apply for papers for the baby. While bickering, Paul saw his wife got a text, in English, from another man.
"Because they help," Karine said about the mystery man. "Before they send money."
She said this man is the son of a woman who has been sending her money. She said she thinks of him as a friend and a brother. This obviously doesn't sit well with Paul.
Meanwhile...
Tiffany and Ronald
Ronald faced his addiction head on when he went to pick up Tiffany's father, Carlos, from a hotel with a casino. Tiffany called it a small step in the right direction. They walked down the aisle, surrounded by family, but still remained unsure of where they'll live and start their life together.
Laura and Aladin
In Qatar, Laura and Aladin continued to face the fallout of the vibrator. Aladin took Laura to get some traditional clothes, mainly so she'll fit in and show respect during Ramadan.
"Society dictating what a woman wears is a little bit scary to me. When you start to lose your choice of freedom, it starts to go against my grain, actually," Laura said. "I feel asking a woman to cover up is BS."
Now married and together, Laura worried about how conservative Aladin started acting. While meeting his boss and facing down many big and small birds, Laura learned Aladin could take more than one wife if he wanted—and he wouldn't have to get her permission.
Deavan and Jihoon
With the baby on the way, Deavan got some troubling news: Her scheduled c-section will need to be moved up due to her high blood pressure. Will Jihoon change his ticket despite the price? Can Jihoon change his ticket?
Corey and Evelin
In Ecuador, Corey got mistaken for Evelin's previous American boyfriend. Evelin said everybody loved her ex, and that Corey needs to start speaking more Spanish and endear himself to the other townsfolk. This obviously rubbed Corey the wrong way, as did finding out Evelin still considers her ex a friend. While they were "on a break," Evelin had an encounter with the ex. According to Corey, it may not have been a break, he said she wanted to have her space, he didn't want that. With just 60 days left to get everything done before his visa expires, Corey said he'll stop fixating on the ex-boyfriend to move forward.
90 Day Fiancé: The Other Way airs Mondays, 9 p.m. on TLC.