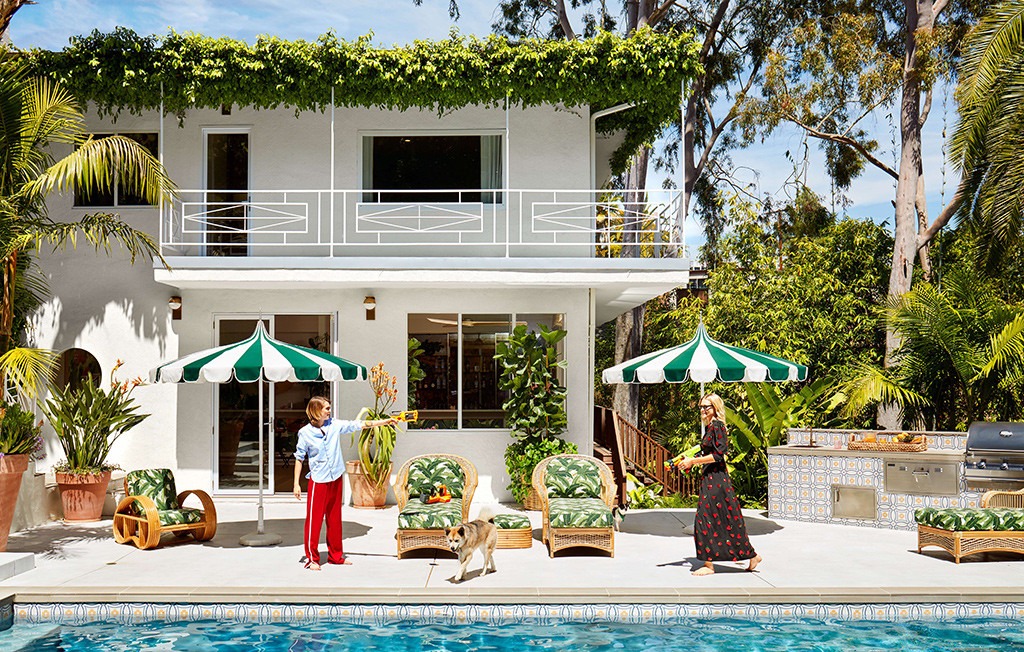 Trevor Tondro for <i>Architectural Digest</i>
What do a soundproof party bunker, monkey chandelier and Playboy pinball machine all have in common? They all can be found in Cara Delevingne and Poppy Delevingne's home. 
The sisters gave fans a peek inside their Los Angeles pad for the September issue of Architectural Digest.
Not everyone would choose their siblings as their roommates. However, the move was the perfect fit for these famous family members. 
"L.A. can be a lonely place," the Carnival Row star says. "You really have to make an effort to reach out to people. Since one of us was always coming here for one reason or another, being with family just made sense."
Still, the sisters make sure to maintain their privacy. According to the magazine, the "gracious but unpretentious" 1950s dwelling features two master suites—each one on a different floor with its own entrance.
Poppy's light-filled suite features a wall covered in a hand-painted de Gournay paper that showcases monkeys and toucans living amongst the trees.
"For my bedroom here, I wanted to create a calming atmosphere, with pale pinks and blues, Moroccan rugs, and super soft fabrics," she tells the publication. "It feels like heaven."
Trevor Tondro for <i>Architectural Digest</i>
Cara's room is a bit different. Architectural Digest describes the supermodel's lair as "a much moodier affair, reminiscent of a proper gentleman's club, albeit one with serious sex appeal." 
"The room feels like the Playboy Mansion with a touch of Art Deco and a David Hicks pattern thrown in for good measure," Cara says about the room, which features an 11-foot-wide bed set on a mirrored platform. "I wanted to reclaim the concept of the bachelor pad and make it my own."
Off of her bedroom is a "soundproof party bunker," which is complete with carpeted walls, a stripper pole, disco lights and black velvet paintings of topless women.
The home also features several pops of color. From the pink and green upholstery in the living room to the emerald dining room and monkey chandelier, the two-story house is bursting with character.
To see more photos of the house, check out the video and new issue of Architectural Digest.