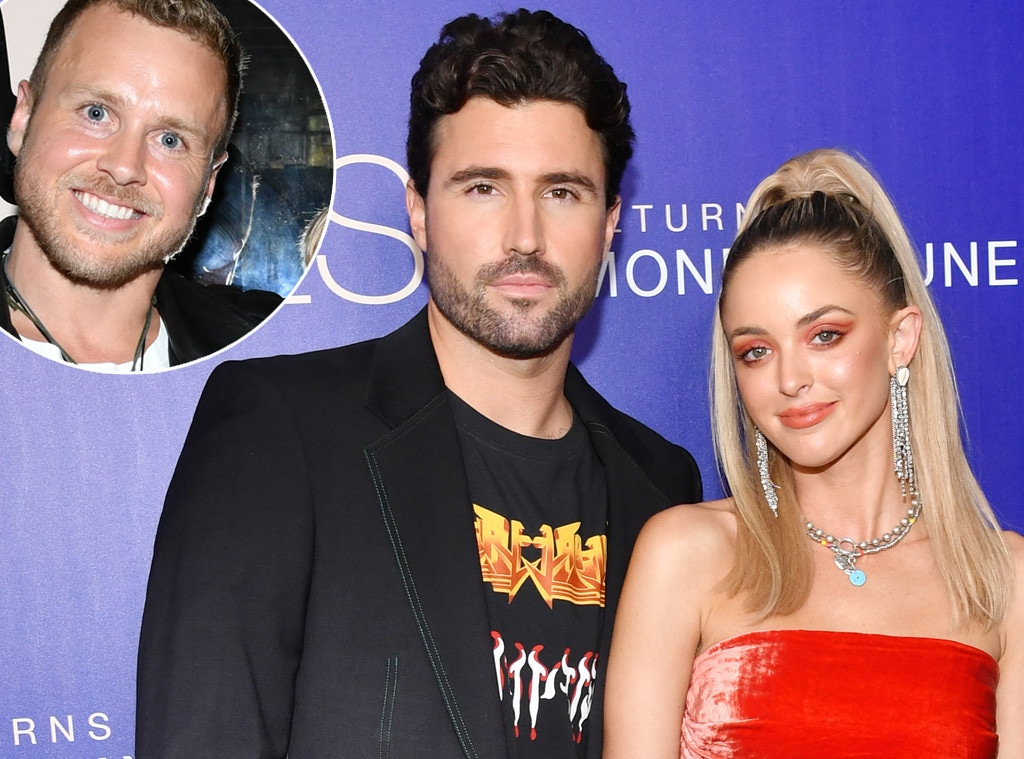 Getty Images
Spencer Pratt and his crystal ball were on to something.
On Friday, news broke that Brody Jenner and Kaitlynn Carter decided to call it quits for good. Making things even more shocking about their split, a source told E! News the two weren't technically married during their June 2018 ceremony in Indonesia. "Kaitlynn pressured Brody into marriage, although it was never legal," our insider shared.
Now, Spencer Pratt and his wife Heidi Montag are opening up about their The Hills: New Beginnings co-stars and their tumultuous relationship. Speaking on their Make Speidi Famous Again podcast, the crystal aficionado recalls feeling like Brody needed his help with his marriage.
"I'm not surprised," Pratt said of co-stars' break up. "I feel like I said it, maybe it hasn't aired yet, but that he almost was like a hostage. It felt like he was trying to tell me, 'Get me out. Get me out.'"
Pratt feels like fans of The Hills will get to see the "real Brody" in Season 2. "I kept saying this season [of The Hills] it comes off like, 'He's just not partying,' [but] I think Season 2, we're gonna get to see real Brody and the show is going to be freakin' incredible."
He continued, "[Brody]'s way more fun, he's way less intense. I hope we get to see relaxed Brody, having fun."
Donato Sardella/Getty Images
And while Spencer is excited to have his old partner in crime back, Heidi pointed out how "fascinating" it was that both Kaitlynn and Brody threw "digs" at them this past season of the MTV reality series.
"It's fascinating that I felt like they tried to say digs at us about marriage and certain things on the show. We've been together for almost 13 years, we've been through multiple reality TV shows and you're being weird about us," Montag said. "We're not trying to say anything about your relationship."
Al Powers/Powers Imagery/Invision/AP
During this season of The Hills, fans have seen Brody and Kaitlynn get into heated discussions. In fact, the two fought in the first episode of the MTV reality series.
After coming home late, the two got into it and viewers learned the 35-year-old star slept in his car. Of the incident, he called his wife a "psychopath" and "nightmare." 
Moreover, the two seemed to be on different pages when it came to having kids. "While I don't have kids," Brody said in a confessional on the show, "I'm gonna pretty much do what I wanna do and live for myself, as opposed to live for another human being. I think that's why she wants kids, she wants me to change in that way."
The pair also fought after Brody revealed they were in an "open relationship," something the blonde beauty seemed hesitant to share in front of cameras.
Reps for the reality TV stars confirmed their breakup in a statement to E! News. "Brody Jenner & Kaitlynn Carter have decided to amicably separate. They love and respect one another, and know that this is the best decision for their relationship moving forward."