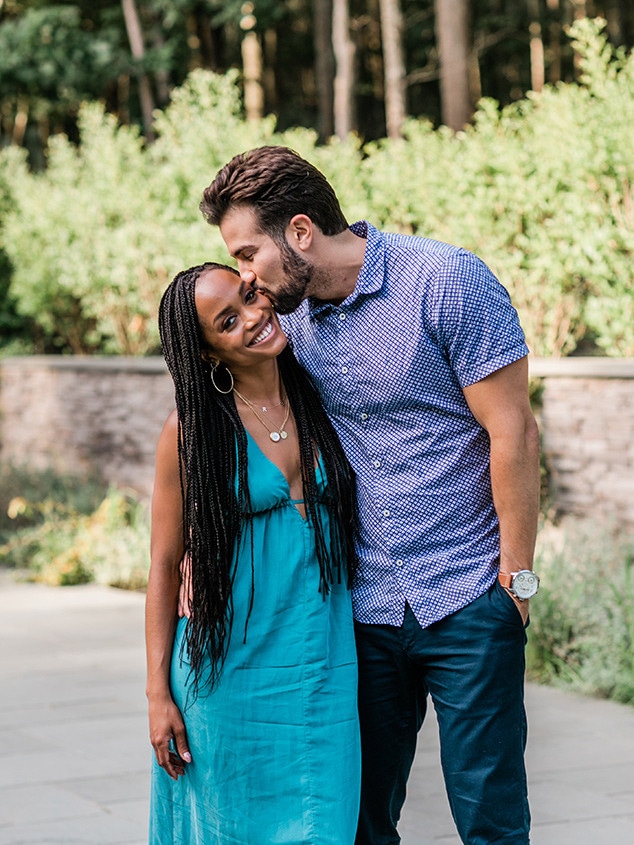 Asher Gardner
It's almost time for Rachel Lindsay to say "I do."
The Bachelorette alumna is getting ready to tie the knot with Bryan Abasolo later this month. Overall, the bride-to-be has been keeping the pre-wedding jitters at bay. Still, like many brides, she admits she's had a few "freak-out" moments.
"I had two weeks off, kind of—more time than normal," she tells E! News at The Knot Registry House in Southampton, New York, where the couple shared a few registry picks and showed their support for the Alzheimer's Association with The Knot Gifts Back charity registry. "So, I started to think about the wedding, and I started to overthink. I mean, I'm texting Mikie, my wedding planner, and I'm like, 'Where do I need to get a marriage license from?' Or, 'How does this work?' I didn't even tell Mikie this, [but] I printed out a steps-to-do thing before the wedding. Did I ever read it? No, but I had a freak-out moment, like, 'At this many weeks, you need to be doing this.'"
She also says she's debated over whether the couple should recite traditional or personal vows and how she'll feel the moment she walks down the aisle.
"So, yes, I've had my freak-out moments and getting nervous," she admits. "I'm not nervous to get married. I'm just nervous to be vulnerable in front of so many people. And I just don't know which 'Rachel' is walking down the aisle. Like, is it Rachel putting on a show—you know, just having a good time and just happy to be surrounded by so much love and friends—or is it Rachel who is going to tune everything out, not see anyone and just be focused on what's in front of her? I have no idea."
Of course, wedding planning can be a hectic time for many couples, and several brides can likely relate to how Lindsay is feeling. She's also enjoyed several parts of the process—including celebrating her bachelorette party with her besties and picking out her wedding dress. While the Texas attorney originally wanted to wear pants, she says her Randi Rahm gown shows off a "softer side of me that not everybody gets to see."
"You know, [when] people describe me, they say 'She's bold; she's vibrant; she's rough around the edges' and I am," she tells E! News. "But there is a softer side of me that Bryan knows and that most people don't get to see, and I feel that my dress encompasses that and is something Bryan would really want to see me in. My wedding planner is actually the one who picked it out." 
While Lindsay says she wasn't sure if the dress was the one at first, she says she hugged herself after she put it on and falls in love with it all over again every time she puts it on.
Watch:
Rachel Lindsay Shares Details About Spring 2019 Wedding
All in all, she's just ready to marry the love of her life.
"We just connect in a certain way," she says—adding that the two are at an age and place in their careers where they're "just ready for each other." "My journey with Bryan has been surreal, in the sense that I never, coming onto the show, thought I would meet a Bryan. When I met him I just thought 'Oh, he's cute.' We had this banter. But then just hearing, 'Oh, I'm 37 and I have a career,' and I'm like, 'Wait, no, guys like you aren't supposed to come on this season.' So, it's just been a really beautiful surprise."
As Bachelor Nation will recall, Lindsay met Abasolo on the 13th season of The Bachelorette. The two fell in love and the chiropractor from Miami proposed with a stunning Neil Lane ring. Now, it's almost time for the big day!
"It's going to be very, very relaxed," wedding planner Michael Russo tells E! News. "There's no around it. It's just super, super relaxed—so tropical chic."
So, who does Lindsay want to be the next Bachelor?
"We've seen Peter [Weber] before, whatever season we're on. We've had 20 Peters. We've never had a Mike [Johnson]," she says. "Mike is fantastic. He checks all the boxes, and I know, personally, my friend is good friends with him from college. He's really, really good friends with him from college. So, I'm totally rooting for Mike. I think he's the best pick. I'd have to pick him."