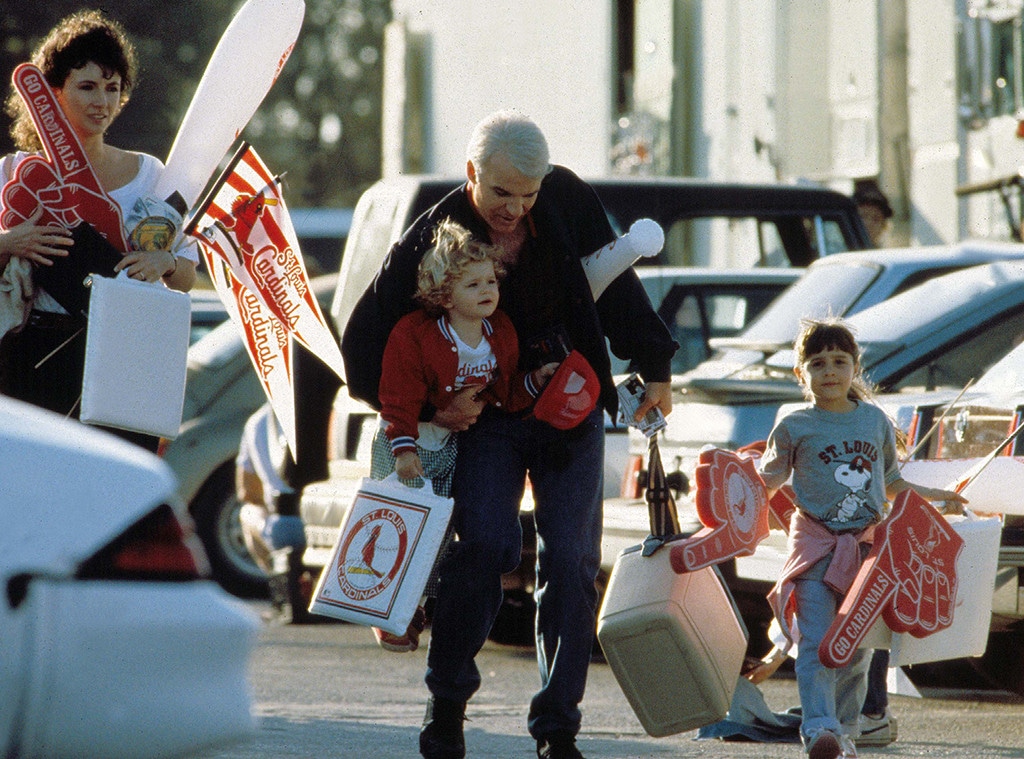 Moviestore Collection/Shutterstock
In 1989, family was everything.
"That whole idea was born on a plane flight," director Ron Howard told Off Camera host Sam Jones in 2017, reminiscing about his hit comedy Parenthood, which made $100 million at the box office, earned two Oscar nominations and cemented Steve Martin's status as the ultimate exasperated dad.
Howard, who was coming off a string of successes including Night Shift, Splash and Cocoon, was traveling to Buenos Aires to shoot Gung Ho (access to an auto factory was involved in that destination) with his family, including his then 4-year-old daughter, Bryce Dallas Howard, and 7-month-old twins Jocelyn and Paige. It was a 17-hour flight.
"We needed the diapers and the formula, and all the stuff that we needed, with us," he recalled. "So we were only allowed two carry-on items. I had 24 carry-on items. So I got the crew to all carry on stuff for me and my job was to look after Bryce on the flight."  
Bryce was game enough to try some vegetarian sushi they were serving. "And within the first 40 minutes of the flight she projectile-vomited all over my shirt and I had no change...And the babies were crying, and I was helping Cheryl, and we were just walking them and driving the crew crazy." As Howard was pulling their pile of luggage from the baggage carousel upon arrival, sweating, feeling like an old man at 32, cursing the heavens...he realized he had a comedy on his hands.
After Gung Ho was finished, Howard directed the fantasy epic Willow and then tackled Parenthood, which hit theaters on Aug. 2, 1989, the perfect summer release for kids of most ages, including the ones who are actually in their 40s and are sometimes startled to realize they're working full-time and married with three children.
Moviestore Collection/Shutterstock
And while Parentood remains eminently watchable to this day, full of one-liners that have aged quite well, it also has more stars packed into two hours than you could possibly remember—including some who you may not have ever realized were there.
So here's a look at the already famous faces, the newcomers, the uncredited, and the actors whose careers would take some very unexpected turns:
"Parenthood is a project that I really cherish," Howard told Collider in 2010. "It's a great memory. It was a great creative experience. To this day, it's probably the most personal film or story that I've ever really been involved with. And so, it's something that I hold near and dear."
Asked why he didn't think it worked as a TV sitcom in 1990, he acknowledged it was a "misguided" project at the time. "It didn't work and, in my mind, it didn't live up to the potential of all the stories and characters, as they existed in the movie," Howard said.
He gave his blessing to the 2010 NBC drama, which went on to last for six seasons and emotionally destroy everyone who invested in the Bravermans, because he felt his baby was in good hands with Friday Night Lights executive producer Jason Katims.
"It's about the unbelievable ups and downs of parenting, the absurdity of it, the pain of it and also, significantly to me, the nobility of it. But, it's also just about being responsible and being in a family," Howard observed. "That always creates great suspense and great drama, and that was the thing that Jason started talking about."
Just like Grandma, we like the roller coaster.