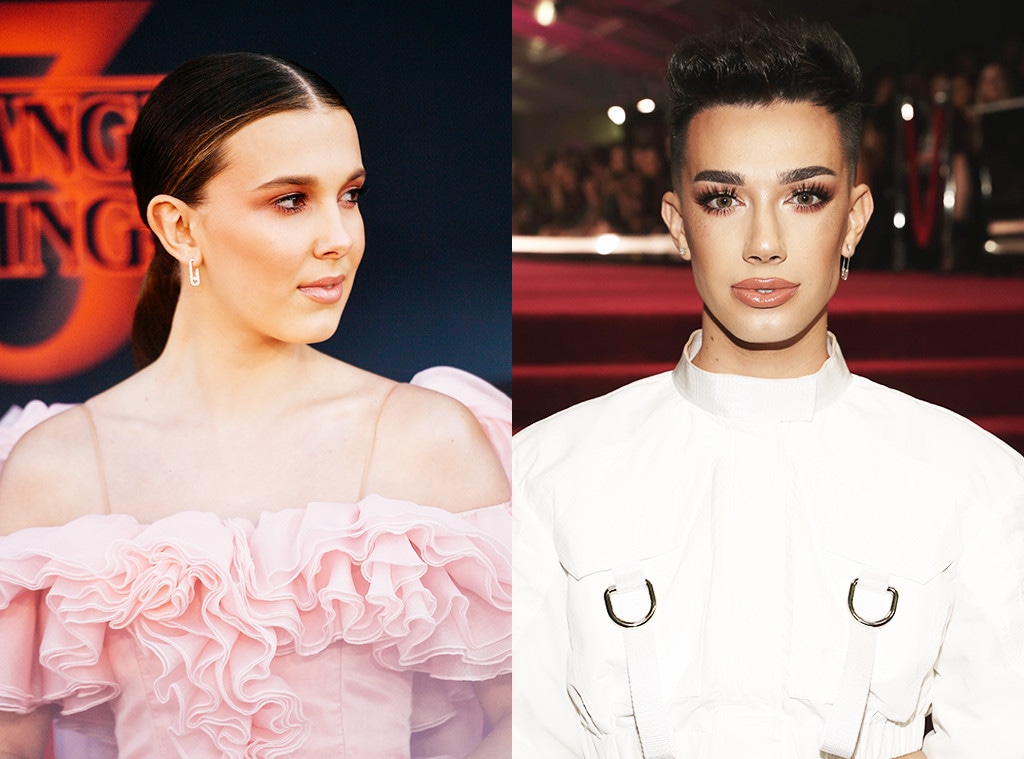 Getty Images/NBC
When it comes to the Internet, actions may just speak louder than words.
It's no secret that YouTube star James Charles really wants to do a collaboration video with Millie Bobby Brown.
So perhaps it's only fitting that when the Stranger Things star went on Instagram Live last month, James decided to watch and make a request.
"Millie, let's film a makeup video & talk abt season 3 hehe," he wrote. When the comment appeared on the screen, the Stranger Things star appeared to make a face that convinced fans she's not a fan of the idea.
"Millie Bobby Brown's reaction to James Charles offering to do her make up on instagram live is simply hilarious," one user wrote on Twitter. Another follower asked, "Can we all stop this drama to take a moment on how Millie Bobby Brown ignored James Charles' request for a collab?"
Before you spend too much time focusing on the video, some fans were quick to remind skeptics that Millie recently found herself in one of James' YouTube clips.
Last week, the Internet superstar dropped his video titled "DMing Celebrities To Pick My Makeup." In the post, James reached out to a variety of Hollywood stars in hopes they would share a beauty product they use.
Lo and behold, Millie received a message from James and decided to respond.
"Do you want to participate and tell me which blush I should use?" James asked. "Aww that sounds fun! Sure thing," Millie replied. "I like Charlotte Tilbury. Any [shade] u want, you'll look BOOTIFULLL."
Sounds pretty sweet and thoughtful to us, right?
While both parties haven't commented on the speculation, it's safe to say these two are cool. Besides, Millie receives hundreds of comments every time she goes live on Instagram.
"I think Millie Bobby Brown is an actual angel that accidentally ended up on earth," James wrote on Twitter all the way back in January 2018. We agree, James.