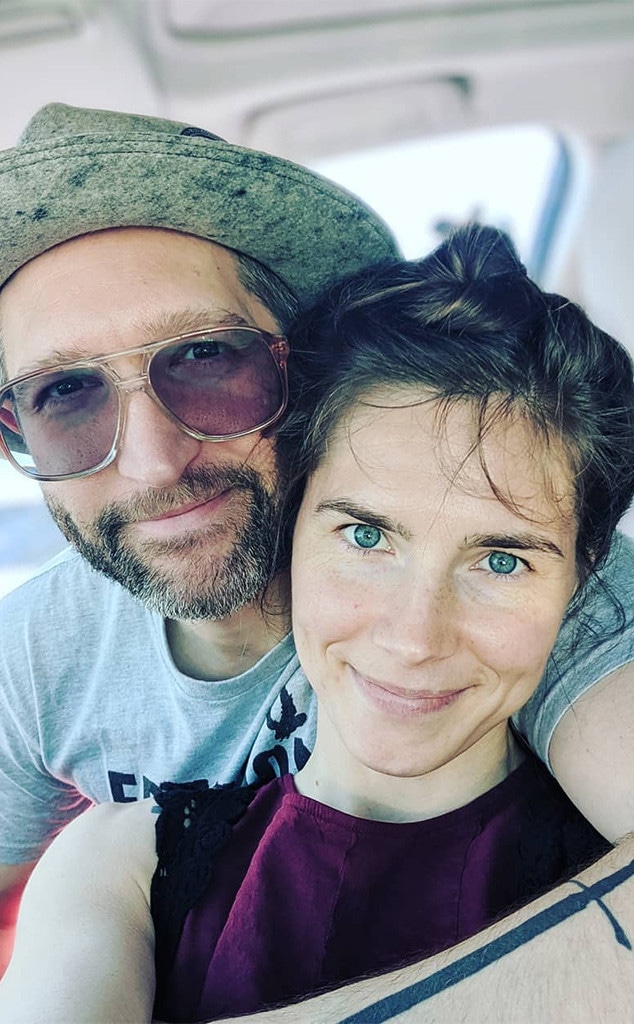 Instagram / Amanda Knox
While her wedding is not for another six months, Amanda Knox is already a Mrs. 
It was less than a year ago that the criminal justice activist, who was famously exonerated in the murder case of her roommate Meredith Kercher, announced her engagement to boyfriend Christopher Robinson following an elaborate science fiction-inspired proposal. While their wedding will take place in February 2020, it turns out they are already legally married. 
According to their marriage license application and certificate obtained by E! News, the pair applied for a marriage certificate in King County in Knox's native Washington shortly after the proposal on Nov. 21, 2018. According to their marriage certificate, they tied the knot on Dec. 1, 2018. The discovery made headlines on Thursday, spurring the pair to issue a statement on their wedding website. 
"We filed paperwork to be legally married in December of last year to simplify our taxes and insurance. But we have not yet celebrated our wedding with our loved ones," the press release read. "This is, frankly, no one's business but our own, and should be no more shocking than the fact that we've been living together for years." They noted their wedding will take place on Feb. 29, 2020. 
In response to reports criticizing the pair for accepting monetary donations toward the wedding, the two also noted they "are paying for everything upfront ourselves" and refuted how their registry has been depicted by the press. 
"Like many young couples today, we've replaced the traditional gift registry with a wedding fund," the press release read. "Thousands of people do this every year because traditional gift registries are outmoded—couples who already live together don't need toasters and dishware. This practice is so common that popular websites like www.theknot.com and www.zola.com host wedding pages and cash registry funds. The RSVP pages are password protected and the registry pages are not. That is also normal. We shared our wedding story on social media, but we did not advertise our registry or ask strangers to donate. The tabloids sent our registry page out to the world, and then blamed us for their actions."
Last month, Knox was accepting input for their upcoming celebration, writing on Instagram, "@emcee_carbon & I are getting married! How? Oh so weirdly! Time travel & so forth. Check out our wedding story at knoxrobinson.com/coalescence We're still figuring out our crazy costumes, sets, props, and food. Fashionistas? Prop wizards? Chefs? Got any advice? I'm all ears!"