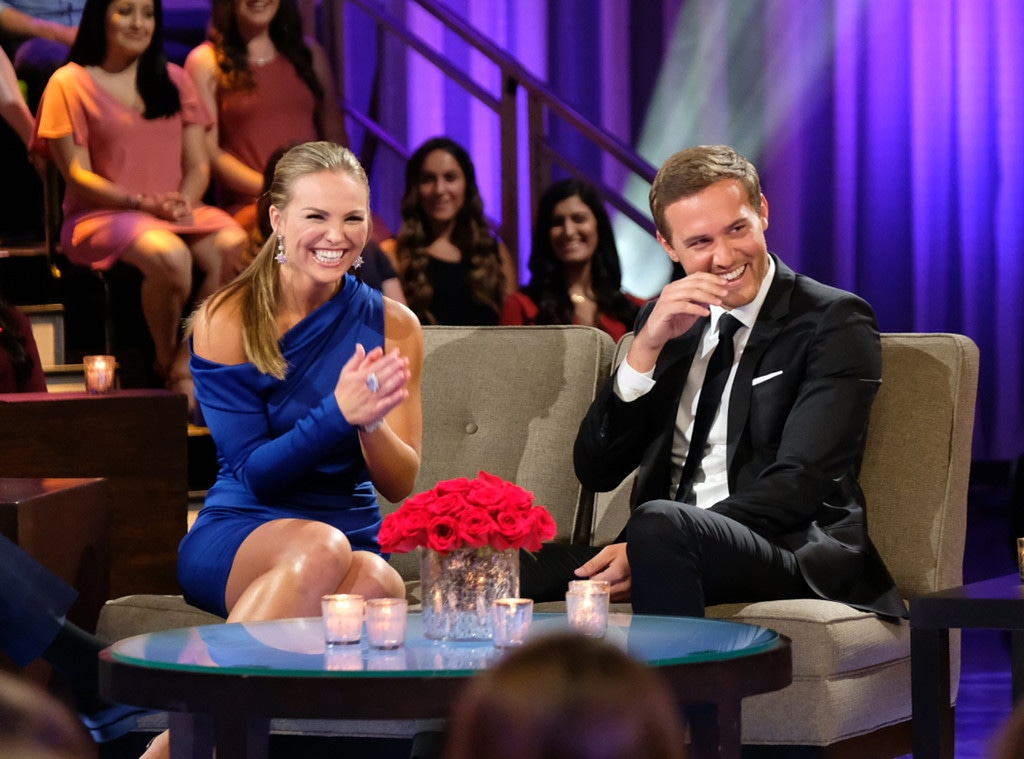 ABC
This season of The Bachelorette has been a season unlike any other. 
Beauty Queen Hannah Brown, a contestant who didn't even make it to the final four (or five or six) of Colton Underwood's season of The Bachelor, seemed like an odd choice back at the start, when her biggest onscreen moment was giving the most awkward toast ever given. 
After another awkward showing when she was announced as the new Bachelorette on Colton's After the Final Rose, even Chris Harrison admitted he was terrified of what this season would bring, but none of us could have predicted back then that Hannah, the girl who self-proclaimed herself a "trainwreck" in her intro, would turn out to be maybe the best Bachelorette in the history of the show, and maybe even the best star in the history of the franchise. 
Sure, Hannah was plagued with one of the worst contestants on the franchise and ended up briefly engaged to a liar who just wanted to promote his music career, but both of those things only gave Hannah more opportunities to be exactly the kind of charm bomb of a star this franchise needed to liven it up and bring it solidly into 2019—which it desperately needed, after we watched a somewhat traumatized virgin man hop a fence to escape production last season. 
Hannah, at all times, was happy to ask for what she wanted, say what was on her mind, and put anyone who crossed her into their place, but she most importantly was finally fully saying things that had only been an undercurrent on the show for years. She talked openly about her religion, about sex, about being excited to have sex, about what the fantasy suites are actually for (alone time, not just sex). She was firm about what she wanted in a relationship, and when she knew she wasn't getting it, she broke it off. And she not only broke it off, but she broke it off concisely, summing up exactly what went wrong. 
Watch:
Hannah Brown's Message to Jed Wyatt's Ex-Girlfriend
While we were all rooting for Hannah to find her happy ending, it was almost the happiest ending of all that she ended up single, grinning even after grilling her ex-fiance about his questionable definition of the word "relationship,' and asking her (incredibly deserving) runner-up out for a drink on live TV. There was absolutely no doubt that Hannah was in charge of the season, no question of whether she'd be OK in the end, and no guilty pleasure feeling about watching a woman get manipulated by multiple men and a production team, because she'd figured it out and handled it on her own. 
It's a little sad that this is the first time in a long time (or maybe ever) that we've felt this way at the end of a season of this show, though it's not as if we haven't had good stars before. Kaitlyn Bristowe, Rachel Lindsay, Andi Dorfman, JoJo Fletcher, and the Arie-scorned Becca Kufrin have all been great leads, but there was a sense at the end of it all that they had been participating in something they had no control over, and that they had things they felt like they needed to defend or apologize for. 
This season, it felt like Hannah Brown's show, and not only did she not apologize for anything other than making us all sit through the Luke P. debacle while she figured that out for herself, but she added to some of her previous "controversial" statements. She didn't just have sex in the windmill twice, she did it four times, and she doesn't care who knows it!
It was an actual thrill to watch Hannah handle herself, and beg for real conversations with the guys she was dating, and actually sing about how excited she was to spend some time alone with them, and then expose their lies and hypocrisy on TV. It was a thrill to root for her not to end up engaged, but to end up with the truth and all the tools she needed to make the right decisions for herself.
Watch:
Has Hannah Brown Set a Time With Tyler Cameron to Grab a Drink?
She claimed on stage that the end of her relationship with Jed was not something to clap for, and in a way she's right, but in a lot of ways she's wrong, because on a franchise so obsessed with its men proposing to its women after just a few weeks of "dating," it's something to applaud when we see a woman hold a man accountable for things he never even realized were something to be held accountable for. 
Sure, if we had seen Hannah get happily engaged to Tyler or Peter, that would have been nice, but this ending was even better. This ending felt real, and like Hannah's now free to live what's sure to be an entertaining single life. 
The franchise in general is actually better when its ending feels more human, like Colton abandoning plans of a proposal just to date Cassie Randolph, and even Arie Luyendyk Jr. breaking up with the girl he knew everyone wanted him to choose and going for the girl he knew he really wanted to choose, as brutal as that was to watch. 
Since the beginning of the show, the ideal ending has always been one proposal and one happily ever after, but it's the best thing for the franchise that that's not the case anymore. It's more fun and more realistic to watch regular people balance the prospect of Instagram fame and fortune with the prospect of maybe also finding true love in the process, and navigating the reality of what all the contestants on a reality show are actually there for. It's more enthralling to watch Hannah handle men who lied to her for their own gain, and to slowly realize the things she couldn't realize while filming the show, like how she should definitely ask Tyler out for a drink. 
So, producers of this franchise who are absolutely reading this, know that this season succeeded in major ways, not because it stuck to the show's tried and true format, but because it leaned fully into the reality of what the show has created and went with the flow. You'll probably never find another Hannah, but any successor of hers has got to be willing to be as open and honest and in charge as she was, because you can't go back now. 
The Bachelorette airs on ABC.