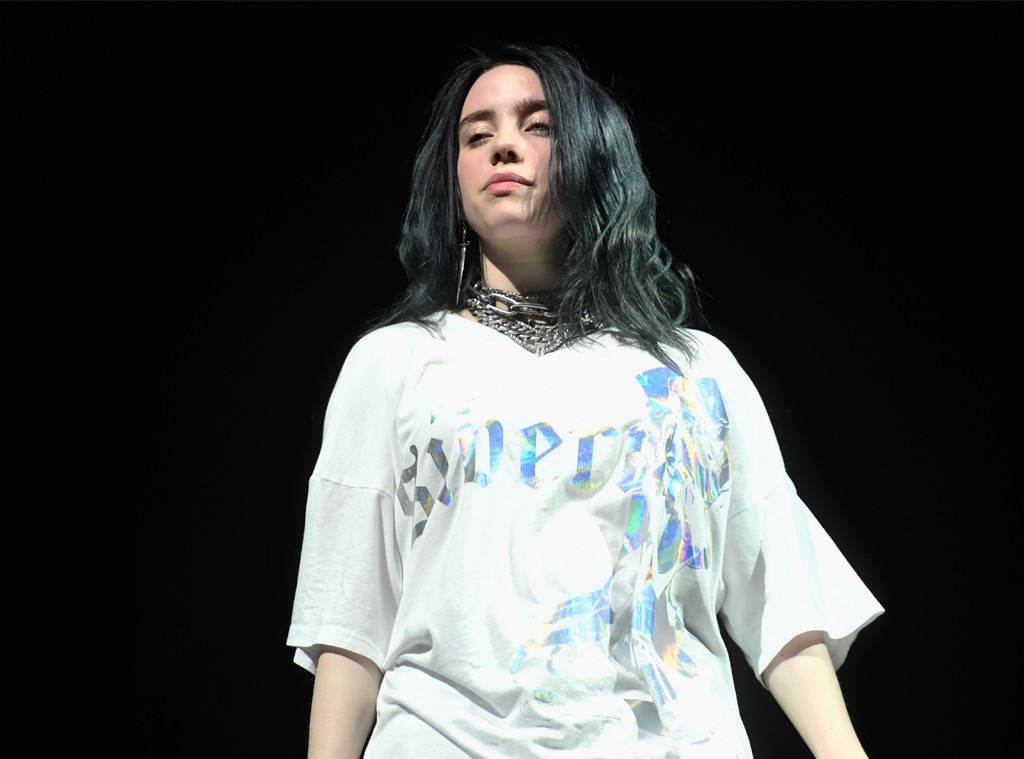 (Photo by Frazer Harrison/Getty Images for Coachella)
As Billie Eilish told Rolling Stone, "I've loved attention my whole life...but I don't think anyone knows what fame actually is. Because if I did want to be famous—it wasn't this kind."
With an EP that went platinum in some countries when she was 15 and a blockbuster debut studio album just as she was old enough to drive, the 17-year-old breakout hitmaker has quite literally grown up on the road to stardom. 
While Eilish can appreciate the fruits of her labor and the benefits of fame—telling Rolling Stone as the August cover star, "I have an amazing job, dude. I really do. The things I get to do in my career have just been unbelievable"—she continues to face the personal challenges that such a life can bring. 
As she recalled to the magazine, the "Bad Guy" star initially faced mental health struggles after joining a competitive dance company at 12. While in the group, she battled with insecurity and body dysmorphia. "I couldn't look in the mirror at all," the performer described the height of that time.
However, as she was improving, the star suffered a hip injury in a hip-hop class, causing her to quit dance and spurring depression. "It sent me down a hole. I went through a whole self-harming phase—we don't have to go into it. But the gist of it was, I felt like I deserved to be in pain," she told Rolling Stone. "When anyone else thinks about Billie Eilish at 14, they think of all the good things that happened. But all I can think of is how miserable I was. How completely distraught and confused. 13 to 16 was pretty rough."
It's an experience she can relate to with her devoted fans. "Sometimes I see girls at my shows with scars on their arms, and it breaks my heart," she told the magazine. "I don't have scars anymore because it was so long ago. But I've said to a couple of them, 'Just be nice to yourself.' Because I know. I was there."
While Eilish said she has not "been depressed in a minute," she later admitted to the writer that at the time of part of their interview, she was experiencing one of "the hardest weeks I've ever had. I've never felt more hopeless in my life." She described having nightly panic attacks, something she had not suffered with before. "I cried for two hours every night. It was really, really bad," she told Rolling Stone. 
While the singer noted she is "fine now," the attacks were a result of her current When We All Fall Asleep Tour, which began in April and goes into November. 
"I just couldn't take the fact that I had to leave again," she explained. "It felt like an endless limbo. Like there was no end in sight. And, I mean, it's true: There really is no end in sight with touring...Thinking about that literally made me throw up...I'm not a throw-upper, but I threw up twice, from the anxiety."
According to the interview, Eilish experiences such feelings to a lesser degree before touring. To combat the anxiety and her fear of being by herself during that week of "bursting misery," she saw a therapist and spent time with friends—the latter of which she's prioritized on tour with a chartered "friends bus." "It cost a lot of money, and I don't know if we can even afford it," she told Rolling Stone. "But I needed it for my mental health, you know?"
Ultimately, "I'm really trying hard to make it as good as possible for me, because I want to love what I do," Eilish said of the tour. "I don't want to be miserable, because it's not a miserable thing. But when there are things that make you miserable...it's miserable!"