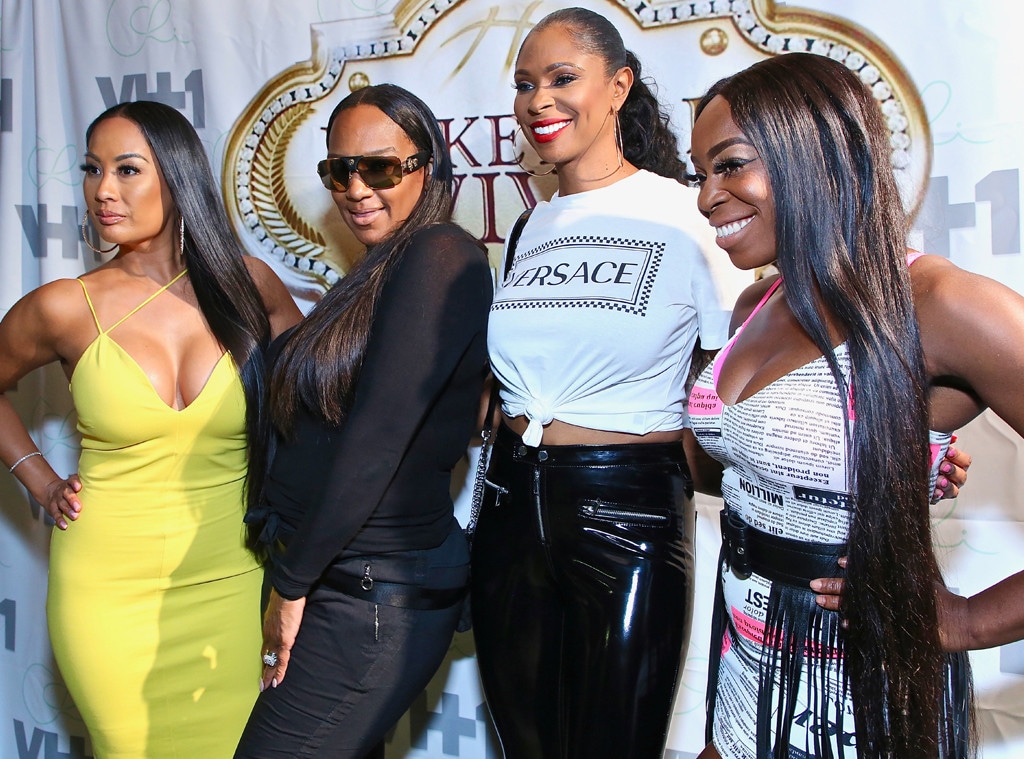 Robin L Marshall/Getty Images
When it comes to the drama, the Basketball Wives cast is going balls to the wall!
Just when you thought the group's trip to San Diego couldn't get more dramatic, tonight's all-new episode promises to bring a whole-new set of fireworks.
Instead of Evelyn Lozada vs. Jennifer Williams, it's all about Feby Torres facing off against Ogom "OG" Chijindu.
"That [situation] was very surprising because if I ask you a question and you claim to be a boss, a boss owns up to it," OG shared with E! News exclusively at the Booby Tape launch party. "She clearly denied making a rap song about me and the world saw that she tried it, so.."
She added, "There's very much more to come."
It's been a season to remember for OG who says she is "getting vindicated" in each and every episode. In addition to developing close friendships with some cast members including Jackie Christie and Cece Gutierrez, the former professional football player is ready for any and all curve balls.
"For me, the season's going great," she explained. "It's a definite win. Every lie they tell, I come out with my receipts."
And while we may be halfway through the season, OG promises that the cast is just getting started in the drama department.
"I think the viewers are going to see some new relationships develop, and old relationships dissolve which is going to be very interesting," she teased.
One relationship that doesn't show any signs of ending is OG's sisterhood with Tami Roman. Throughout the season, the pair has had each other's backs. And while anything can happen at the reunion that has yet to tape, it appears these two are staying loyal to one another.
"Tammy is my boo. We instantly clicked," OG shared. "I think when naturally and organically you can vibe with someone, that's when you have the long-lasting relationships and she's somebody that I can see I'll be friends with for a long time."
And while the secret just came out about Tami being married to Reggie Youngblood, OG says she's still the same great friend.
"I see the same Tammy, just even happier," she explained. "I see the glow, I see her and Reggie doing what they do best, which is supporting each other and I couldn't be more happy for them."
Basketball Wives airs Wednesday nights at 8 p.m. only on VH1.