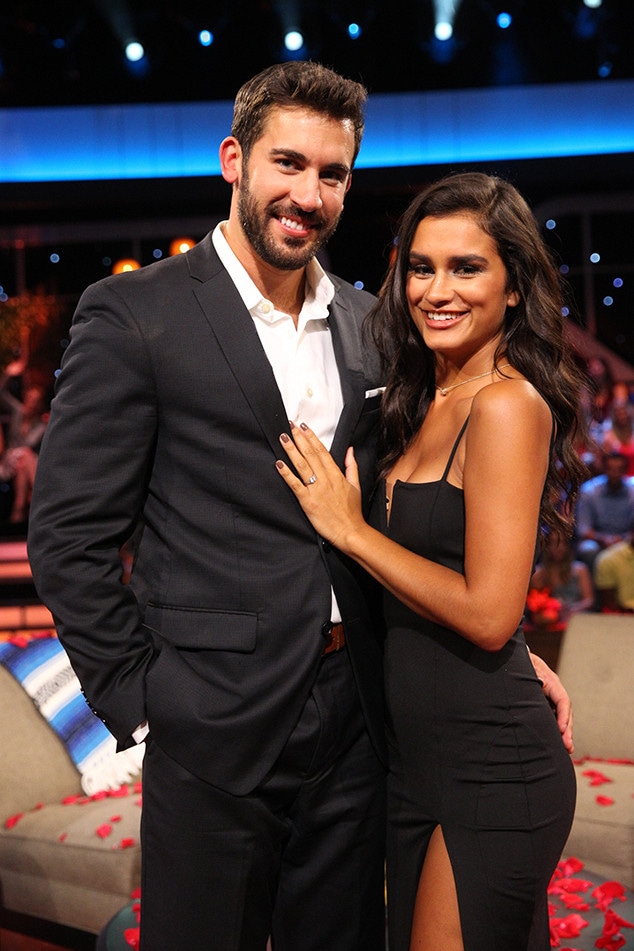 Paul Hebert/ABC
Talyor Nolan is speaking out about ex-fiancé Derek Peth's upcoming appearance on Bachelor in Paradise.
The mental health counselor, who appeared on Nick Viall's season of The Bachelor, met and fell in love with Peth on the fourth season of Bachelor in Paradise in 2017. Peth, a contestant from JoJo Fletcher's Bachelorette season, even proposed to Nolan on the after-show. However, after about a year together, the couple announced that they'd decided to end their engagement.
"It is with much sadness that we have decided to end our engagement. We put everything we could into our relationship and are heartbroken to go forward separately, but we know this is the best decision for the both of us," the duo told E! News in a joint statement at the time. "We will still be present in each other's lives with support, admiration and respect for each other."
So, how does Nolan feel about her ex returning to Bachelor in Paradise, the place where they fell in love, for the show's sixth season?
On the latest episode of Nolan's Let's Talk About It podcast, she's asked by her BFF Vanessa Grimaldi if she'll be watching BiP this year. And while initially Nolan thought she'd watch it, since she's "several seasons removed now," that all changed when she learned Peth will be on the show.
"And then I was like, you know, maybe [I'll watch] next season," Nolan told Grimaldi. "I mean, I won't lie, part of me is definitely curious to watch. The other part of me feels like I don't know if it's a smart decision to invite that stress and anxiety back in my life, because it's not just this fun form of entertainment, it's watching someone that I was in deep relation with and tried really hard with and didn't work out."
"I'm going to be filled with so many thoughts and feelings if I watch, that part of me doesn't want to be fully consumed by that. So, I feel like I shouldn't," Nolan says. "I also don't have cable so it's not like I can just turn it on. I would have to intentionally go to Hulu and watch it on Hulu."
In a preview for the upcoming season of BiP, which premieres next week, we see Peth crying. 
"That cry was so familiar," Nolan notes. "It's so strange. It takes me right back to that."
"I'm sure it was very emotional for him just to be there," she adds. "Let alone to try to pursue a relationship or something."