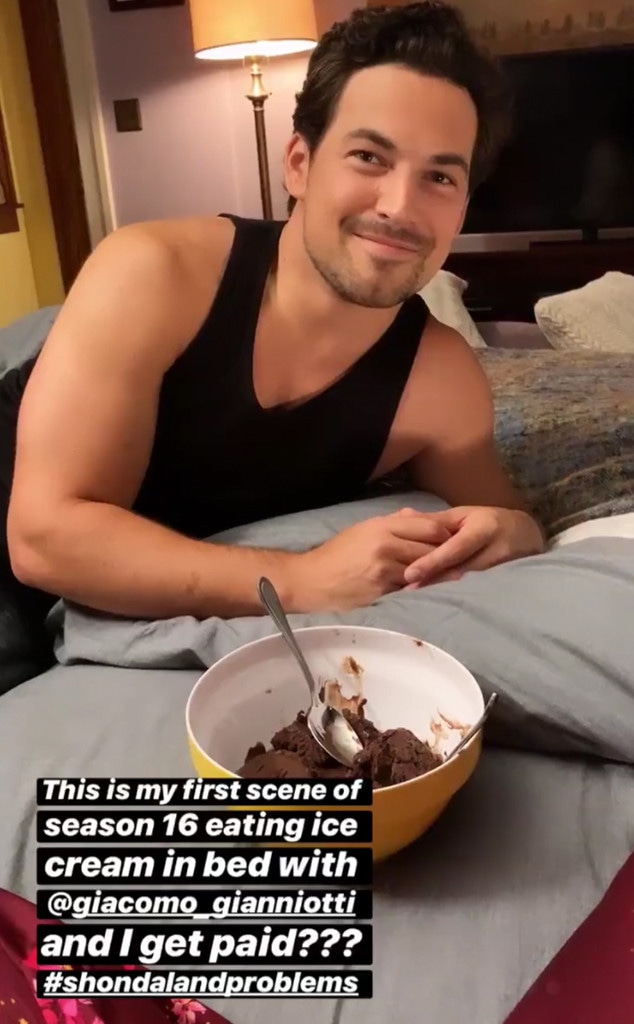 Instagram
This is not a drill: Grey's Anatomy is back in production!
The ABC medical drama got to work on season 16 and series stars Ellen Pompeo and Giacomo Gianniotti wasted no time showing viewers that MerLuca is alive and well. And for those confused, MerLuca is the couple now of Meredith Grey and Andrew DeLuca. Get with it!
Gianniotti posted a very cute selfie with Pompeo and used some curious hashtags: "pajamadayeveryday" and "#icecreamforbreakfast," which make more sense when you take a gander at what Pompeo posted on her Instagram story. "This is my first scene of season 16 eating ice cream in bed with @giacomo_gianniotti and I get paid?? #shondalandproblems," she posted.
See the posts above and below.
Grey's Anatomy season 15 ended with DeLuca, Meredith, Richard (James Pickens Jr.) and Alex (Justin Chambers) all getting canned after the insurance fraud scheme comes to light. In the finale, Mer went to the police to clear up the charges with DeLuca after he initially took the fall for her. So, that explains why it's a pajama party day…or every day for DeLuca and Meredith, at least for right now.
"It was a big swing we took, and I can't promise that Grey Sloan isn't going to have to do without those doctors, at least for a while," executive producer Krista Vernoff told TVLine. "I mean, they got fired!"
In May 2019, Grey's was given a two-season renewal by ABC, bringing it to at least season 17. The network also added spinoff Station 19 to Vernoff's purview, meaning "two hours of feels on Thursdays" because of the "seamless crossover narrative on both series."
"I'm thrilled to continue at the helm of Grey's Anatomy, and I'm honored and energized by the opportunity to run Station 19, as well. To expand upon the world Stacy McKee created, and further merge it with the world of Grey's, is an exciting challenge," Vernoff said in a statement.
Fellow Shondaland series How to Get Away With Murder, created by Pete Nowalk and starring Viola Davis, was also renewed for a sixth and final season.
"Everyone at Shondaland is thrilled that our fans' commitment to TGIT continues," Shonda Rhimes and producing partner Betsy Beers said in a joint statement. "We are so proud of Krista and Pete and the work they do. Making the choice to have Krista oversee Station 19 was easy — the creativity she brings to the Grey's Anatomy universe continues a tradition of storytelling we hold dear."