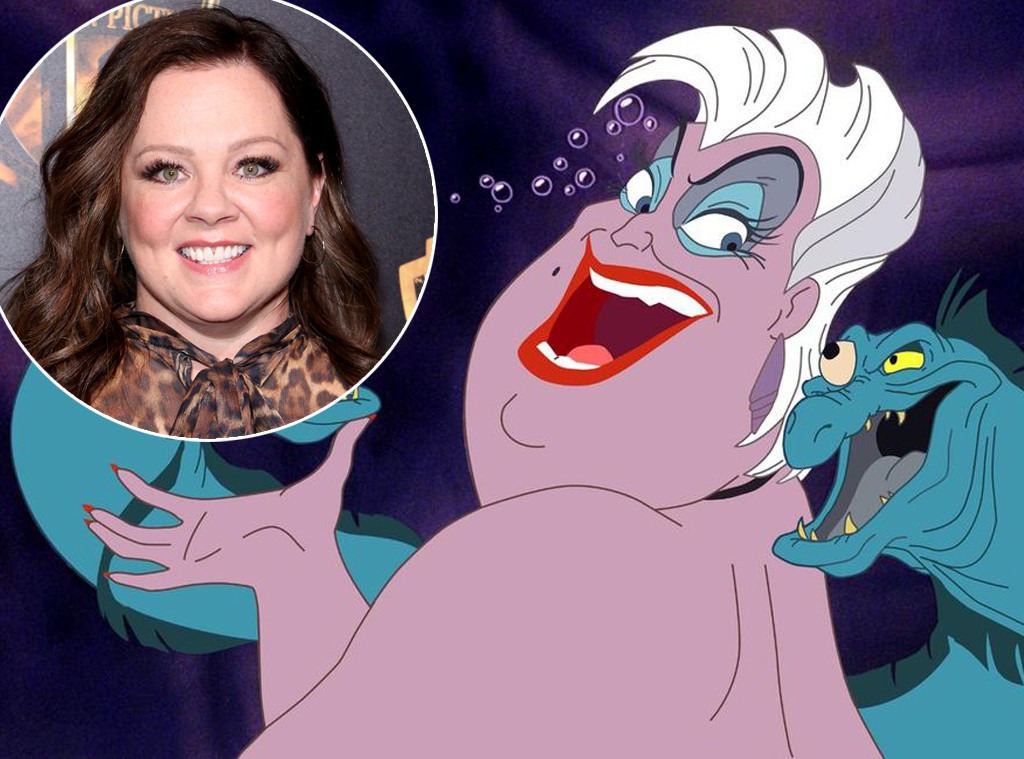 Gabe Ginsberg/WireImage, Disney
Darling, Melissa McCarthy knows it's better down where it's wetter. That's why she's heading under the sea. Well, we think.
Following news that she is in early talks to play villainous Ursula in the live-action Little Mermaid, the actress overtly hinted at the rumors during her appearance on Jimmy Kimmel Live Monday night.
"What's that?" she teased when asked about the remake. "I hadn't heard about that. It seems like it will be an awfully fun thing to do. Oh, I'd love if Disney gave me a little ringy dingy. We'll see." And cue the most exaggerated wink there ever was from McCarthy.
"If it did happened," she continue to allude, "It would be very wonderful, Disney."
After all, she is a stan of the animated original, which hit theaters in 1989. "I feel like everyone has watched that," the Emmy winner mused. "I was a nanny when it first came out and one of the little girls I was watching, we watched it every single night for about a year and a half. No, I'm kidding at all. I'm like, I know it. I know it to my core and I weirdly still love it."
Her daughters, however, are less impressed. Amid the casting speculation, "they were like, 'really?'" she joked to host Jimmy Kimmel. "There's also a little whisper of like, 'Oh God. Don't embarrass me."
The flick, not even yet in production, is already making serious waves. Earlier this month, Disney announced that R&B singer Halle Bailey has been cast as Ariel. And though her casting sparked debate on the Internet, the studio and its properties stand behind their decision.
In an open letter to the "Poor, Unfortunate Souls," Disney's cable network Freeform applauded Bailey. 
"Ariel...is a mermaid," the network posted on Instagram. "But for the sake of argument, let's say that Ariel, too, is Danish. Danish mermaids can be black because Danish *people* can be black. Ariel can sneak up to the surface at any time with her pals Scuttle and the *ahem* Jamaican crab Sebastian (sorry, Flounder!) and keep that bronze base tight. Black Danish people, and this mer-folk, can also *genetically* (!!!) have red hair."
"After all this is said and done, and you still cannot get past the idea that choosing the incredible, sensational, highly-talented gorgeous Halle Bailey is anything other than the INSPIRED casting that it is because she 'doesn't look like the cartoon one'," the post continued, "Oh boy, do I have some news for you…about you."
But there are certainly more headlines surrounding the hotly-anticipated remake. Including who else will join the cast. While rumors continue to swirl, keep scrolling to see who is on the Disney's short list. And, check out McCarthy's full conversation with Kimmel above!