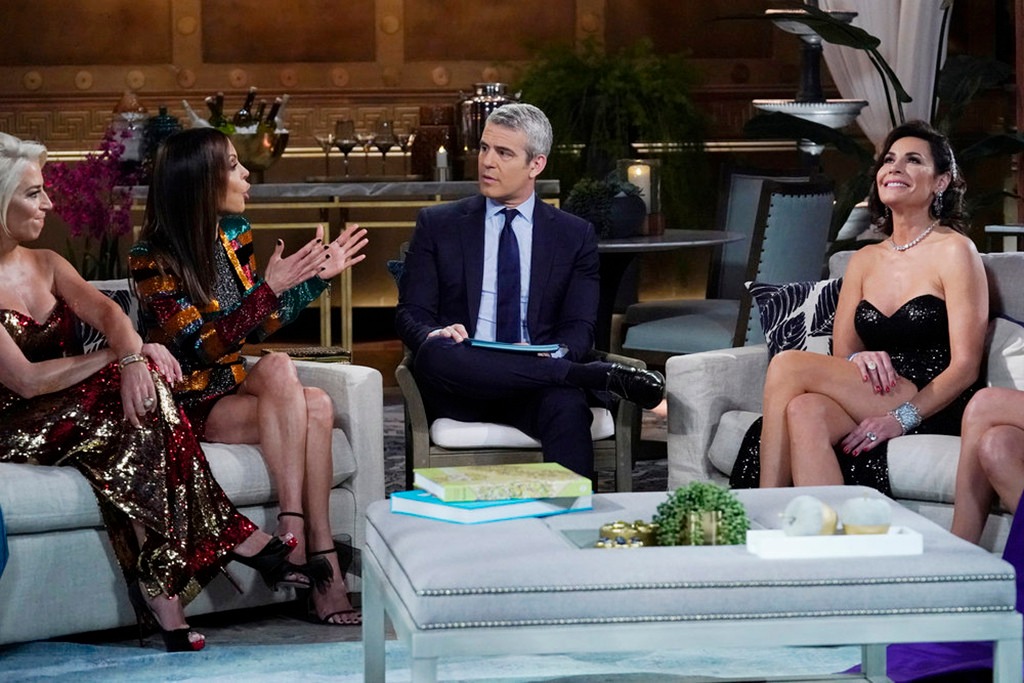 Bravo
Can Luann de Lesseps sing? 
That was the major question of tonight's part three of the Real Housewives of New York reunion, after Barbara was caught saying she couldn't during her cabaret show earlier this season. 
If she can't sing, why would Luann have been cast in Chicago on Broadway, Luann wondered. And then wondered again. Luann was cast in Chicago on Broadway!!! That means she must be able to sing. 
When Andy posed the question to the rest of the women, a little bit of silence ensued. 
"I think it's more about the jokes and the diary and bringing people together," Sonja said as everyone just sorta made noises. 
"She's a great performer!" said Ramona. 
"Do you think you're a very good singer? Honestly?" Bethenny asked. 
"No! I don't pretend to be a great singer, but I am a performer..." Lu said. "Why is the issue my singing? I just got cast in Chicago on Broadway and I'm gonna kill it." 
Andy even read a viewer email that wanted to make sure Lu knew that the joy of her show is "the spectacle" and that she's not Liza Minelli. 
"OK, well there's always gonna be haters. That's all I got to say," Lu said, though it wasn't. "And people that are negative. And you saw that she said she loved the show and found it very entertaining, so..." 
The first half of the night was all about Barbara, who finally made her reunion debut to face discussion of her spray tan, her short tops, and the fact that she's a turnip...? 
She also found herself having to explain that she had no regrets about revealing her bisexuality—if you wanna label her like that, and not as gender fluid or gender liquid—because people need to see that some people just love everyone. 
After Barbara admitted she was just a really good friend, as opposed to a housewife willing to open herself up in the way the show requires, she took her leave, and it was back to discussing Luann being selfish or ungrateful or a bad friend, but it ended very nicely. Luann apologized for any time she was absent, and she and Bethenny had a big hug to follow up the big hug that Lu had with Barbara earlier, and then everyone shared their biggest regrets of the season and toasted their juices to life being a cabaret. 
Now what on earth are we supposed to do until this show comes back? We'll let you know when we figure it out.
The Real Housewives of New York airs on Bravo. 
E! and Bravo are both part of the NBC Universal family.