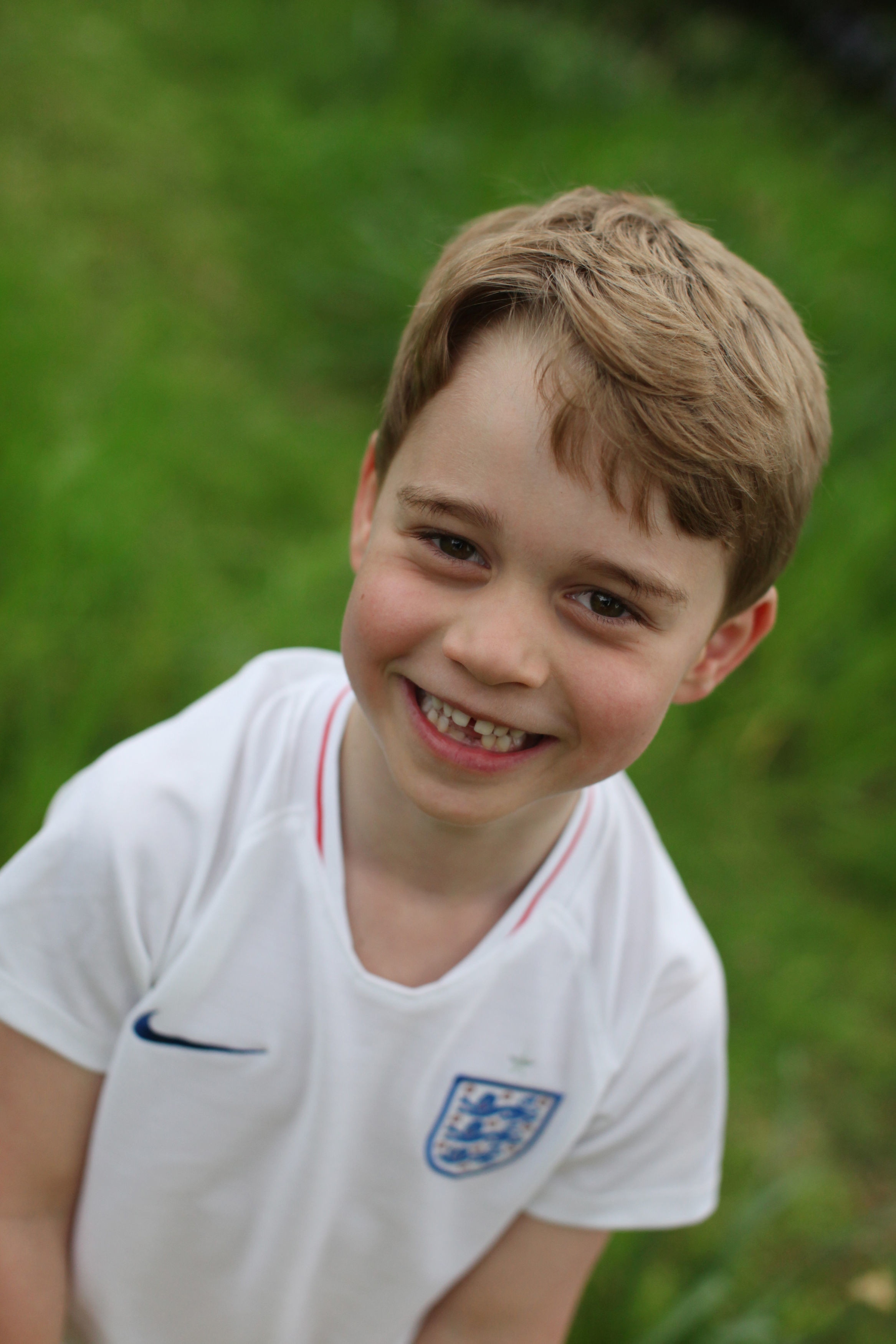 The Duchess of Cambridge.
Prince George is living his best life!
The little royal (and future king) has plenty to smile about now that he's 6-years-old. That's right, the eldest son of Prince William and Kate Middleton is celebrating his birthday on Monday.
However, ahead of his festivities his famous parents couldn't help but reveal new images of the birthday boy.
"Happy Birthday Prince George! The Duke and Duchess of Cambridge are very pleased to share new photographs of Prince George to mark His Royal Highness's sixth birthday," the royal couple's joint Instagram account read on Sunday, alongside an adorable snap of their son smiling from ear to ear.
"This photograph was taken recently in the garden of their home at Kensington Palace by The Duchess of Cambridge," the statement continued. "Thank you everyone for all your lovely messages!"
In the three portraits uploaded to social media, Prince George dons the official England National Soccer Team jersey and a forest green polo shirt with blue and white striped shorts. Très chic.
In each swoon-worthy snap, the 6-year-old royal adorably shows off his missing tooth!
The Duchess of Cambridge.
While each photo by Kate is too cute for words, the candid shot of his infectious smile and missing tooth is extremely heartwarming. In the snap, the 6-year-old birthday boy lays on a field of grass and it seems like he can't contain his laughter.
Cue the waterworks!
These photos are the latest addition to the Duke and Duchess of Cambridge's family albums. Over the years, both William and Kate have shared portraits of their three children, Prince George, Princess Charlotte, 4, and Prince Louis, 1.
While the royal family is keeping details about the 6-year-old's birthday party celebrations, The Sun reported earlier this week that they could be enjoying a trip on the private Caribbean island of Mustique.
"They are going to Mustique again," a source told the publication's Fabulous digital magazine. "It is incredibly private and incredibly discreet but not remote. They know and trust the staff who work there and they are creatures of habit. Kate used to go there, the Middletons used to go there. The family love it."
The Duchess of Cambridge.
They love it, indeed! The royal family celebrated George's fifth birthday on the island.
Kate, William and their kids were joined by her parents, Carole Middleton and Michael Middleton, sister Pippa Middleton and her ­husband James Matthews.
In 2014, the family also vacationed there when their eldest son was only five-months-old. It marked his first international trip at the time! The island is a special spot for the royal couple, too, who babymooned there during their first pregnancy.
The Sun pointed out that both George and Charlotte have been on summer vacation since the first week of July, so the whole family could very well be celebrating at Mustique.
Happy birthday, Prince George!