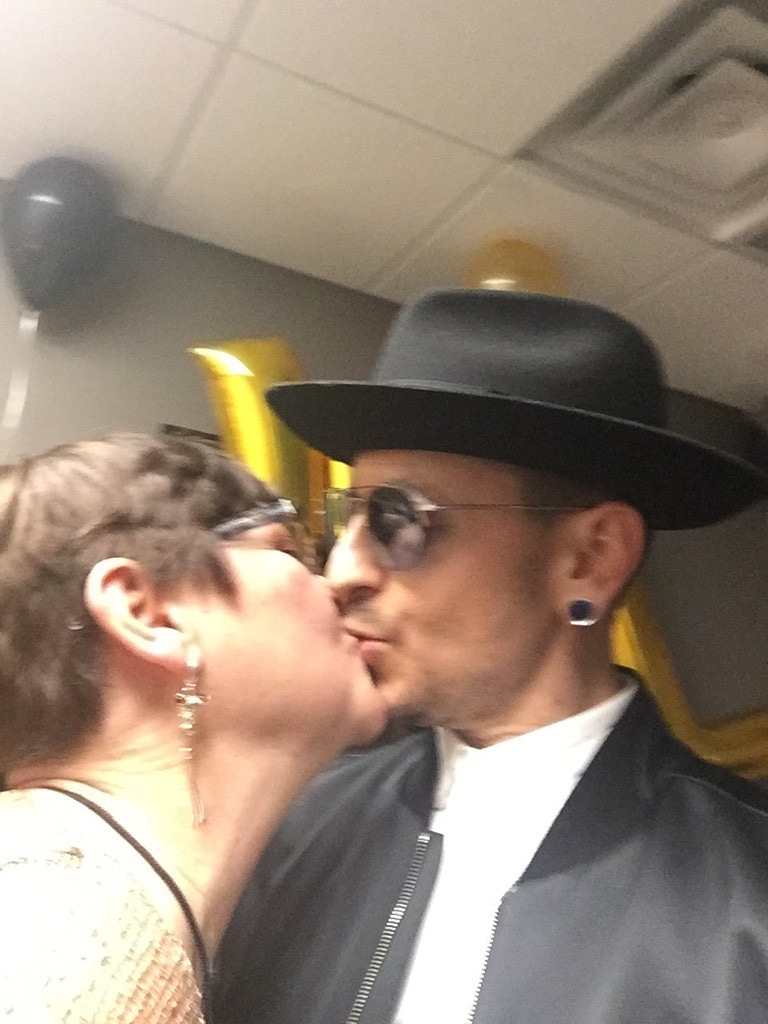 Twitter / Susan Eubanks
Chester Bennington's loved ones paid tribute to the late rocker on Saturday, the second anniversary of his death.
The Linkin Park frontman committed suicide in 2017. He was 41. Chester was survived by his family, including mom Susan Eubanks, wife Talinda Bennington, their son and twin daughters and his three children from previous relationships.
The star's mother took to Twitter early on Saturday to post one of the last photos the two took together, which shows them exchanging a kiss on the lips at a party.
 "The last kiss I ever got from my wonderful boy!" she wrote. "There are no words to explain how much I miss him! I want us to all celebrate his life today! Love you all! Please take care and celebrate Chester's life today! He would want us to celebrate!"
"Hey guys, I woke up this morning to lots of messages of love and support from my friends and family, and I wanted to pass along to you the same love and support," Talinda said in a selfie video posted on her Instagram on Saturday. "Today is going to be a really hard day for a lot of people, and that may be you, and I just want you to know that you're loved, you matter, and the world means something with you in it. And today let's make Chester proud, and take care of each other, because that's what he would want us to do."
She wrote, "I woke up and this was on my heart... take care of each other today. Enjoy every moment of it. #makechesterproud #320changesdirection."
After Chester's death, Talinda co-founded the 320 Changes Direction initiative, a resource for friends and family members who are seeking answers to questions about mental health, mental illness and addiction in order to help their loved ones.
Bennington's Linkin Park bandmates Mike Shinoda, Brad Delson, Dave Farrell, Rob Bourdon, and Joe Hahn also paid tribute to Chester on Instagram on the second anniversary of his death. They posted a photo of him smiling with the group, writing, "Remembering Chester today. Feel free to share your favorite moment of Chester / LP in the comments below."
If you or someone you know needs help, please call the National Suicide Prevention Lifeline at 1-800-273-TALK (8255).